How do you enter a market as big and competitive as the US with a new product? That's the question that beauty and skincare brand "Yours" (also known as LoveFromYours) had when they decided to partner with Nativex to tackle this challenge. Brands entering the US market will generally face an uphill battle as the competition is fierce and campaign costs can be quite high.
Yours is a Swiss-based brand that focuses on eco-friendly skincare products. The brand recently unveiled a new personalized skincare service that analyzes users' skin conditions and recommends tailored products. By leveraging this new service, the company hopes to better understand its customers and their needs while simultaneously providing them with the products they actually want.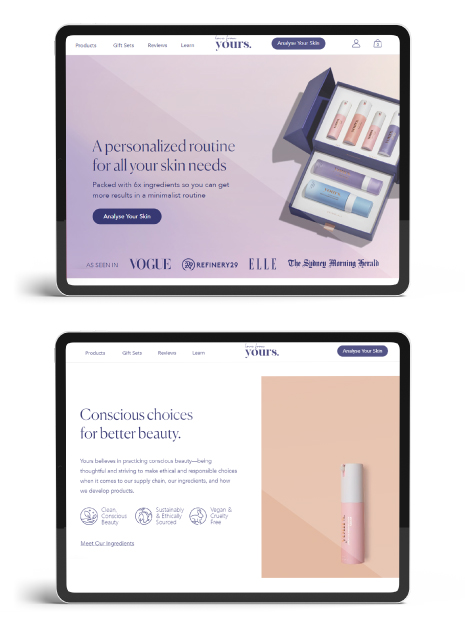 Leveraging the power of influencer marketing in the US market
In order to expand its global presence and enter the US market, Yours partnered with Nativex. The brand wanted to generate brand awareness in the market but had a relatively limited marketing budget.
After analyzing the client's needs, we decided that social media marketing would best match their goals. This is where our influencer marketing solution came into play. We understood that generating strong brand awareness and high conversion rates via social media marketing would require working with influencers, also known as Key Opinion Leaders (KOLs).
The 3 goals needed for success in the US market
We designed 3 marketing goals in order to help Yours find success in the US market:
Platform selection and user targeting.

Analyze the client's market in the US region, focus on TikTok as the platform of choice for this campaign, and find the main user segments most likely to fit the campaign's goals.
Innovative social media marketing.

Partner with local influencers in the skincare and beauty fields, cooperating with them on quality content to build brand awareness and reputation.
Call to action-based content.

Help generate low-cost, high-quality content while keeping the conversion path minimal to maximize sales
Leveraging influencers to lower CPM by 99%
Following our campaign, our campaign videos were viewed over 3.3 million times and generated over 137,000 likes in the process, helping Yours maximize its brand awareness in the US market. At the same time, our efforts resulted in 99% lower CPM – only $0.06 compared to an industry average of around $15 – $20.
So how did we achieve these results?


The 3 marketing strategies used to achieve our goals in the US
After carefully analyzing the US skincare market and getting a good understanding of target users and potential competitors, we decided to focus on 3 key strategies:
Partnering with the right influencers. We paid special attention to selecting only the best-suited influencers for this campaign, partnering with mid-size influencers specialized in producing high-quality cosmetics content. The influencers produced promotional videos, interacted with fans, and acted as brand ambassadors by highlighting product features and recommending their fans to increase conversions.
Timing campaigns to maximize impact.

We researched the best time to release our campaign and launched it in early October. The timing was based on several factors, including the time of the year, COVID pandemic restriction relaxation, increased spending willingness among target users, and more.
Optimizing the link between brand and influencers.

We acted as the bridge between Yours and the influencers recruited for this campaign, ensuring all communication between the brand and the influencers was quick and clear. We also followed up with data right after the campaign videos were released and used the insights to continuously update and improve campaign results by asking influencers to reach out to their male fans (a relatively smaller target audience for the brand) to expand the brand's reach. Lastly, we provided an in-depth campaign analysis at the end to help the brand gain valuable insights that can be used for future campaigns.
How Nativex can take your influencer campaigns to the next level
Understanding and navigating the influencer market across regions and verticals is a significant challenge for most brands and advertisers. This is why our influencer marketing solutions can help our partners save time and resources while simultaneously maximizing their campaign ROI worldwide.
With a strong influencer marketing team working across 10+ verticals, including gaming, e-commerce, beauty, and more, Nativex has the skills and resources to run high-quality influencer campaigns tailored to your needs.
Our one-stop solutions are data-driven and results-oriented. Whether you're looking for short, mid, or long-term goals, we believe we can take your campaigns to the next level, so contact the Nativex team today and you can be the next success story.