Brands across the U.S. are making significant changes to their social media strategies to reach out to Generation Z and appeal to their unique sensibilities and mobile behavior. No better app embodies this than TikTok.
TikTok is huge in the U.S. The country is third in overall downloads with 165 million installs, behind its country of origin, China, in second and India first.
Q1 2020 was especially successful for TikTok, with the app generating over 315 million installs through the App Store and Google Play, according to Sensor Tower. With TikTok having the best quarter of any app ever, marketers are becoming hip to the potential growth their brands might be able to achieve.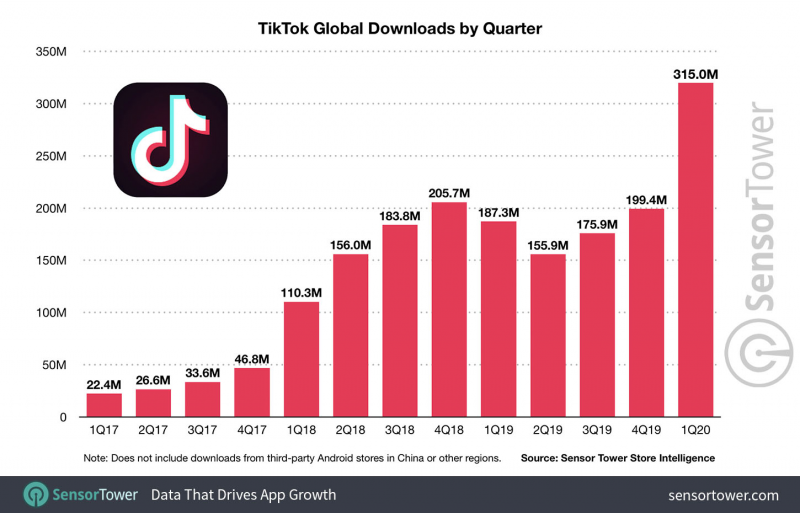 Credit: Sensor Tower
But what's the best way to advertise on TikTok to reach out to those young audiences in North America?
TikTok's taking attention from other social platforms in the U.S.
Before we talk about engagement it's important to underline that, as well as seeing astonishing growth in the U.S., TikTok is also pulling younger users away from other social platforms.
Snapchat reported in October that it saw around 210 million daily active users; well below TikTok's 400 million in January. Bank of America's analysis in September 2019 also found that mobile app downloads of Facebook and its Instagram platform were down a combined 13% year-on-year.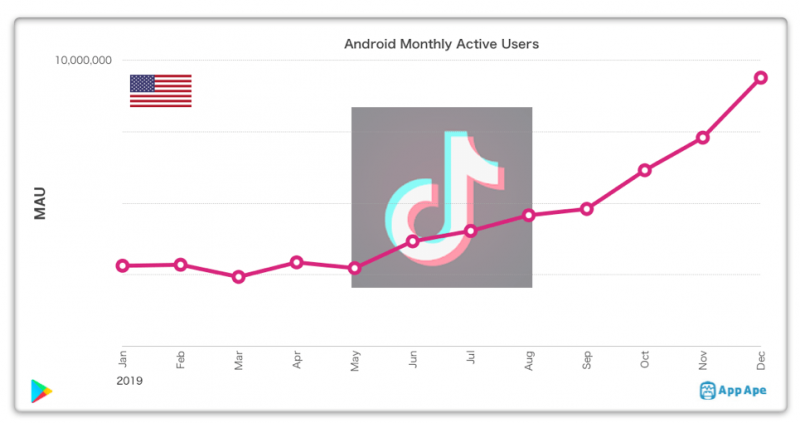 Credit: App Ape
The most worrying thing for those companies is that TikTok is still relatively new and still has many strategic developments up its sleeve in both app development and attracting advertising dollars.
The differences between TikTok and other social platforms
TikTok's international success relies, in part, on how it reinvents the traditional social media platform and offers a unique user experience. That unique experience has also helped to attract younger users, who are part of a media generation gap that continues to widen, according to the IPA.
The differences between TikTok and other social platforms include:
Virality: Any person of any background can reach millions of people with their content on TikTok. Its algorithm is different in that respect when compared against Facebook and Twitter; TikTok is designed to share an individual's content as far and as wide as possible, similar to the early Instagram days.
TikTok's algorithm sends a user's content out to groups of 5-10 people based on the engagement the post gets, according to reports. That helps TikTok provide an inclusive user experience and a platform where anybody can go viral.
In fact, TikTok recently published an article detailing its recommendation system. This was the first time TikTok gave outsiders a look behind the curtains at the key ingredients that make its algorithms work, how they keep users engaged and how they adjust the recommendations to address the so-called "filter bubbles".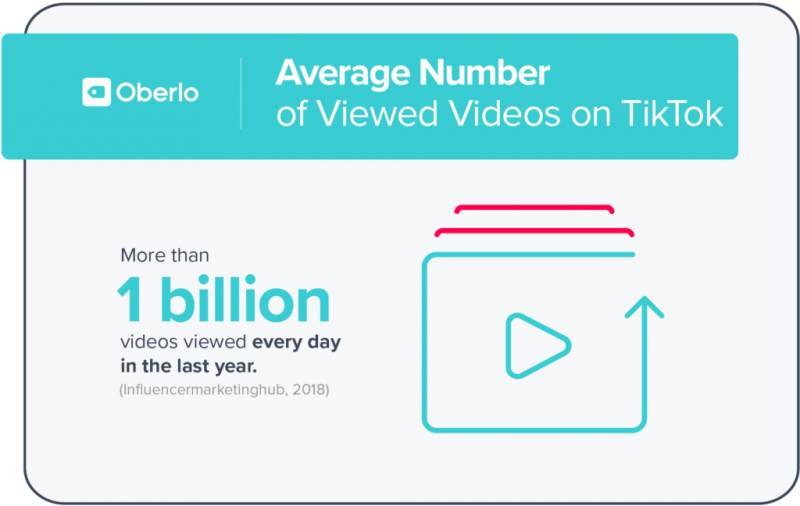 Credit: Oberlo
Engagement: One thing that Facebook, Instagram, Twitter, Google, and Youtube all have in common is clutter. Each platform has various bits of content on screen at once, each vying for the viewer's attention. The in-feed video experience of TikTok means a user is engaged in one single full-screen video.
This is hugely important for performance advertisers, too, who want their target audience's undivided attention when they create content as part of their social marketing strategy.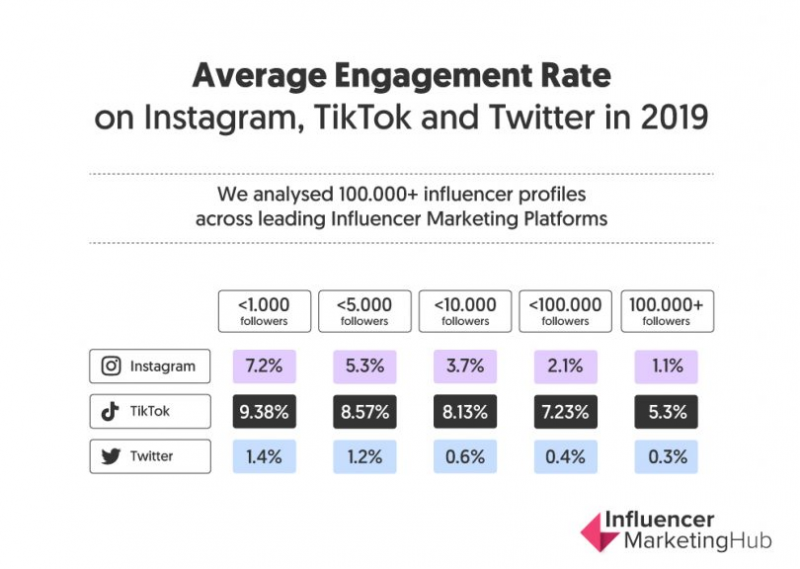 Credit: Influencer Marketing Hub
Challenges: Remember the Ice Bucket Challenge? Starting in 2014, it has since raised hundreds of millions of dollars for the ALS Association, and they couldn't have done it without social media. Challenges are hugely popular on TikTok especially and seem to have found their natural home on the platform.
TikTok creates challenges for its users to do, and there's a special 'Hashtag Challenge' ad unit that brand advertisers can invest in to reach out to new audiences in novel ways. Some examples include Colgate's #MakeMomSmile challenge for Mother's Day, and Guess's #InMyDenim challenge, which increased engagement and click-through rates for the brand.
Creativity is the best way to go viral on TikTok in the U.S.
The value within TikTok is in its intrinsic ability to create such a fun and pure social media experience that centers on creativity and spontaneity.
Its greatest asset, though, must be recognized by all marketers looking for results. The most successful brands can mirror the most popular content on the app continually, with fresh and unique ad creatives paramount to ad performance.
One of the best ways for brands to avoid ad fatigue is by partnering with TikTok creators. That approach will also help those brands advertise directly to the creator's audience, and increase the chances of your content being seen by others.
The benefits of TikTok creators go beyond reaching out to an audience. That strategy can be cost-effective, and creators have a more personal relationship with TikTok's audiences, increasing trust.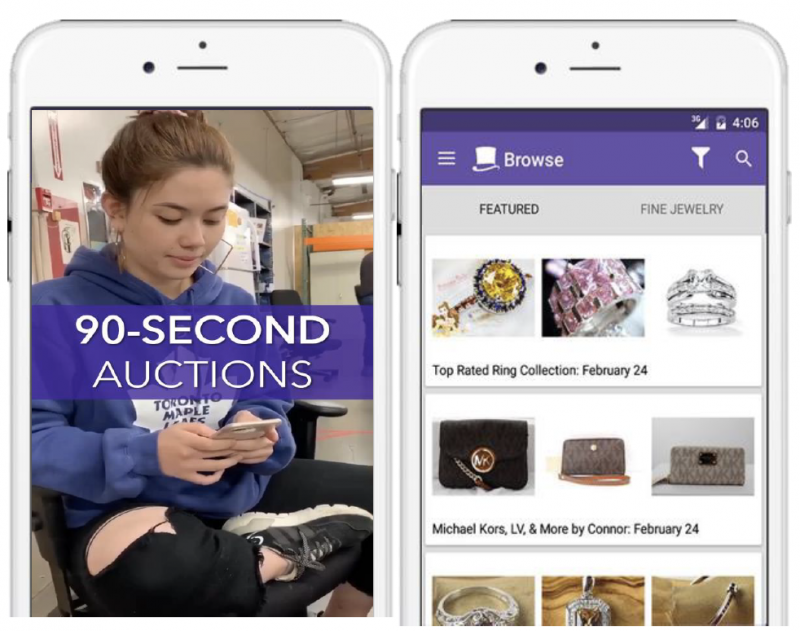 Credit: Nativex/Tophatter
An excellent creative strategy can also help your brand go viral. Take auction app Tophatter, and its foray into TikTok in the United States. The Tophatter app acts as a 90-second auction house, and Tophatter's TikTok ads were angled in a way that appealed to not only the apps' every second counts' model but also to the fast-paced lives of TikTok's young audiences.
Quick auctions were shown in short-form videos – most important to the success of the campaign was the use of original, fresh content, instead of repackaging video content from their other social media campaigns.
The marketing benefits of TikTok
We've mentioned Challenges as a way for brand advertisers to reach new audiences. As Guess's campaign shows, get a challenge right and not only can you increase engagement, but encourage users to produce brand-friendly content of their own.
Users created more than 5,500 videos for the #InMyDenim challenge, an incredible outcome for a single Challenge investment that introduced new, younger audiences to the brand and encouraged them to engage with it positively.
Again, TikTok is nowhere close to fulfilling its potential. It could even surpass Facebook Ads in the future. Brands that integrate TikTok into their marketing strategies now will not only be seen as a trend-setter but will also be tapping into audiences willing to engage with the messages you put out there.
Other benefits for advertisers can include:
Greater bang for your buck:Your advertising budget will make a larger impact on TikTok than on any other platform, especially with it being relatively new. It would be wise to get on board with it now while prices are lower than on other social media platforms.
Greater reach:As we've highlighted (and with the right approach), TikTok is marvelous for engagement. You'll also be competing less with other brands due to its algorithm, as users focus on your video rather than being distracted by other content.
Greater exposure for specific verticals:These two points are true in the U.S., especially for certain verticals. The verticals that see the most engagement and best performance include gaming, utility, eCommerce, shopping, fitness and health.
How you can advertise on TikTok across the U.S.
Partnering with influencers is just one of many successful social media strategies that can be used to boost your TikTok presence in the U.S. Advertisers can get in front of Millennials and Generation Z with fully immersive video content that promotes the brand, generates leads, and engages with new prospects.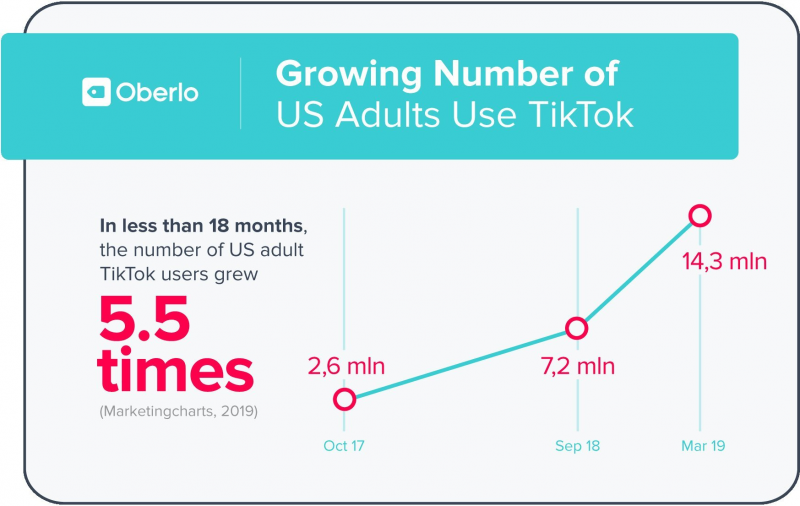 Credit: Oberlo 
Performance advertisers just starting on TikTok will best be able to achieve growth with in-feed ads, which are still an instant, highly-effective and engaging way to reach out to new audiences. Partnering with a performance advertising agency with experience in how TikTok works and how the U.S. market uses it can help you achieve those growth goals even faster, whether you're based in North America or are looking to break into the market from beyond.
An agency can also help with building creative campaigns for specific verticals and younger audiences. Another key benefit of partnering with a TikTok performance advertising agency is battling campaign fatigue and improving campaign optimization.
TikTok audiences thrive on the creative, and there will be a need for weekly creative campaigns for tangible growth. An agency will provide the right tools for creative production and partner with the right creators to join a campaign. The right agency will also – crucially – be a TikTok partner, authorized to work with the performance team to discover new tips and trends before anyone else, master the TikTok Ads platform, and talk to the teams behind TikTok itself.
Nativex works with established brands to get them in front of their target audiences across the U.S. on TikTok, creating engaging narratives and social strategies that perform. Contact our team today to find out more.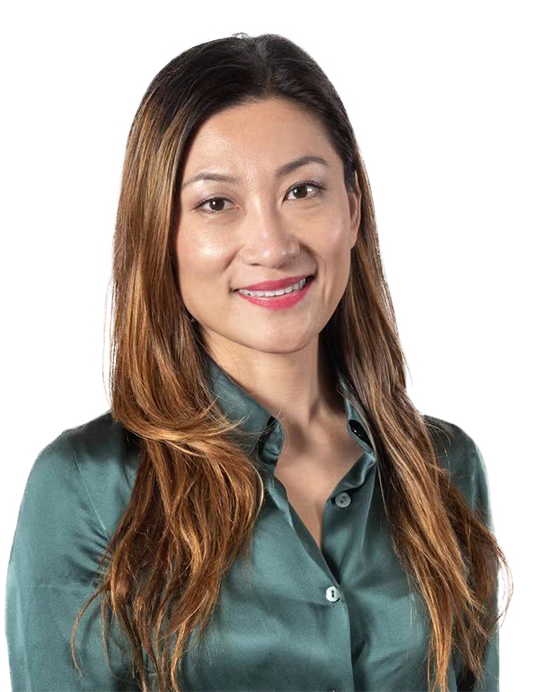 Tiffany Ou
General Manager, Americas
Tiffany Ou is a seasoned mobile advertising professional, bringing over 17 years of industry experience to her clients. Tiffany has been General Manager, Americas at Nativex for two years and leads the go-to-market strategies for leading game and app developers. Prior to Nativex, Tiffany managed multi-channel advertising projects at a number of major advertising agencies.