It's a common misconception that when we talk about 'the Chinese market', we really just mean the major cities like Beijing, Shanghai, Guangzhou & Shenzhen. In fact, China has an incredible 337 cities, which are divided into a number of tiers based on their size, demographics, and economic importance. So for any brand or advertiser that's serious about building an audience in China, it's important to understand how the inhabitants of cities in different tiers get their news, entertainment and shopping from different platforms, brands, and apps.
China's ranking of cities into different tiers may sound overly bureaucratic, but it's actually an elegant way of grouping together cities of similar demographic and economic indicators. Unlike other countries that might have at most a dozen major cities, China's vast geography requires a different approach. 
The shift to consumer-led economic growth is coming
Tier 1 cities are the largest and most economically important; this includes Shanghai, Beijing, Guangzhou, and Shenzhen. Shanghai is China's largest city, with more than 26 million residents, making it the third-most populous city in the world after Tokyo and Delhi. If you've ever travelled to China, the chances are you've been to either Shanghai or Beijing. But although tier 2 cities – the likes of Tianjin, Chengdu, Dalian, and Wenzhou – may be considered smaller, they still boast bigger populations than cities the size of New York or London.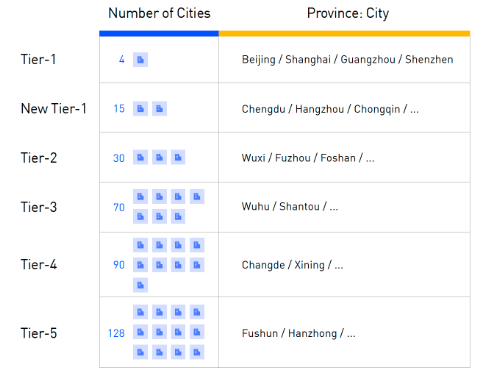 If these tier 1 and tier 2 cities are the economic powerhouses in today's China, it's the cities lower down the tier system that will fuel China's growth in the coming years. A joint report between PineBridge Investments and The Economist Intelligence Unit predicts that some 480m Chinese consumers (more than the entire population of the US) will reach upper-middle and high-income status by 2030. It's this enormous additional spending power which will be behind the shift to consumer-led economic growth, making it a crucial audience for advertisers.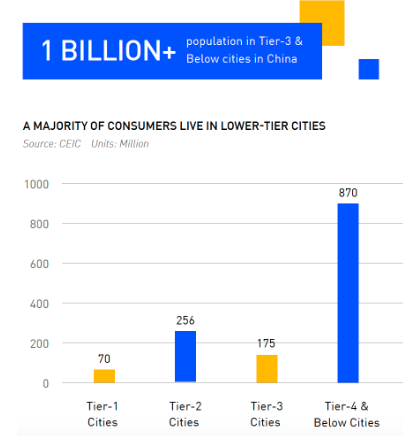 China's lower-tier cities are the top games and video content spenders
China has many millions of consumers lower down the economic scale but which still make up a considerable market in their own right. Moreover, we can see that when it comes to spending on certain items – in the case of the chart below, video and gaming content – inhabitants of tier 3 and below cities actually outspend those from tier 1 and 2.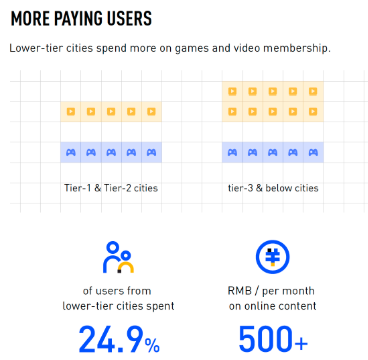 The 4 key apps for your go-to-China strategy
For any advertisers targeting Chinese consumers, understanding the motivations and day to day lives of this much bigger group of more price-conscious citizens is important. After all, the average pay of someone living in a tier 3 or 4 city can be up to 75% lower than a worker in a tier 2 city like Chengdu. When it comes to reaching this audience, there are four major platforms that are absolutely essential for any advertising campaign to succeed. With literally hundreds of millions of users, these are the apps that should form the cornerstone of any go-to-China strategy.
Kuaishou is a short-form video sharing app that's huge in China, and which has also been successful outside China where it's better known as 'Kwai'. It's been around for some time, having originally launched in 2012 – but it really gained popularity in recent years, with more than 300 million daily active users in 2020. Every day more than 15 million videos are uploaded to Kuaishou, and more than 15 billion videos are watched.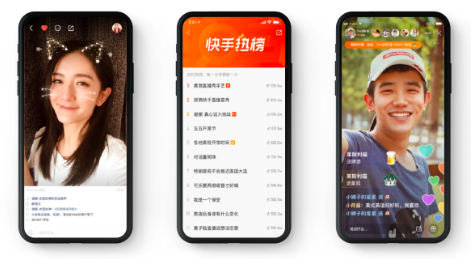 Its biggest rival is TikTok (called Douyin in China), but the key difference between the two apps is the popularity of Kuaishou amongst citizens of lower-tier cities. One out of every five people in China's 832 rural counties is an active user of its app. Unlike Douyin, which has partnered with the Alibaba-owned shopping platform Taobao, Kuaishou hosts its own e-commerce platform. That may be why Kuaishou has 3-5 times higher e-commerce conversion rates compared to Douyin.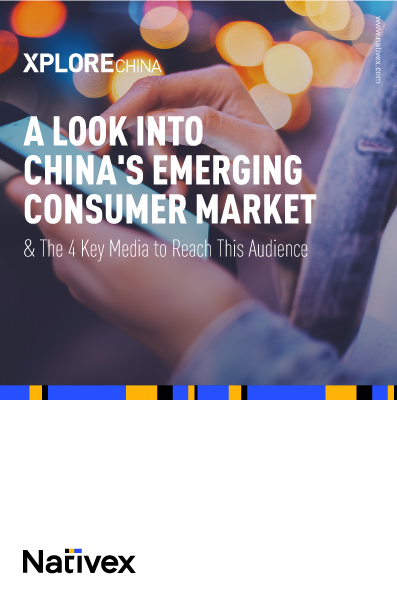 Find out how you can leverage 4 key media platforms to reach over 1 billion Chinese consumers.
1
DOWNLOAD EBOOK
⟶
Douyin Huoshan is another short-form video app which is owned by ByteDance, the creator of Douyin. The app was recently rebranded as Douyin Huoshan from just 'Huoshan' and now allows users to share content on both Douyin and Douyin Huoshan, as ByteDance looks to compete with the popularity of Kuaishou. 
Huoshan is China's 4th most used short-form video app following Douyin, Xigua, and Kuaishou. It has approximately 70 million daily active users who spend an average of 66 minutes per day on the platform.
Xigua Video was originally Toutiao video, another short-form video platform focused on video clips 2-5 minutes long. It was rebranded as Xigua (which means 'watermelon' in Chinese) and now incorporates longer video clips as well. It's another app which is owned by ByteDance.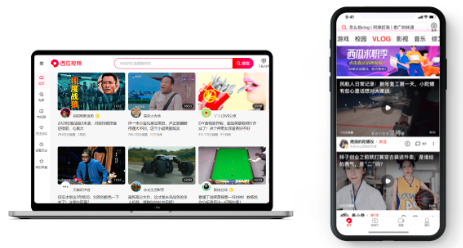 With 50 million daily active users, Xigua has a smaller audience than the other video apps. However, its users are very highly engaged, spending an average of 100 minutes each day on the platform. This gives it the highest daily usage time of any of the Chinese mobile video apps.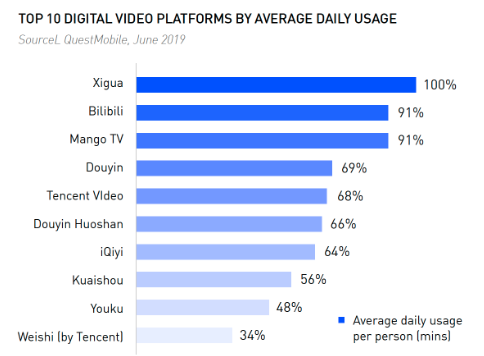 Pinduoduo is a relative newcomer to the Chinese market. This Tencent-backed e-commerce app allows users to participate in group buying deals. Pinduoduo offers an array of less-expensive goods, making it valuable to price-sensitive consumers. By 2017 it had gained more than 200 million users, and today boasts 135 million daily active users. An incredible 73% of its users are under 35 years old – making it one of the most important places for brands looking to target this key demographic.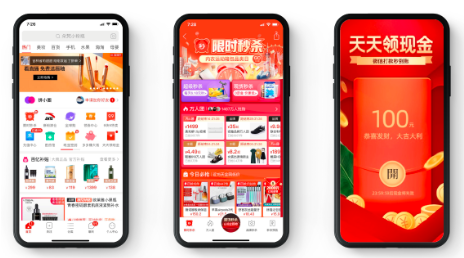 Pinduoduo has been built from the ground up to use social media as part of the shopping experience. Users of the app can buy products immediately at market price or can get a lower price by inviting friends and connecting with other users to form purchasing groups. It's a very similar model to US-based Groupon, but whereas Groupon struggled to reach a critical mass of users to overcome its massive marketing spend, Pinduoduo has been able to piggyback on the almost 1 billion users of WeChat, China's most ubiquitous messaging app which happens to be owned by Tencent – the creator of Pinduoduo.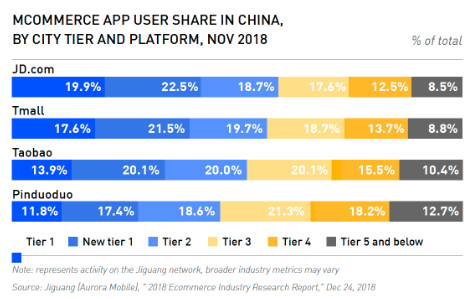 Compared to the other popular ecommerce platforms, Pinduoduo has the biggest percentage of its audience from cities outside of tier 1 and 2, with 52% of users based in tier 3, 4 and 5 Chinese cities.
Conclusion
These are the four key platforms advertisers need to know about; but in a market as diverse and as fast-moving as China, there are many other platforms and apps that are important as well. With these four we can see the growing importance of video and social media influencers on ecommerce, especially with millions of value-conscious consumers who simply don't earn enough to buy the high-end brands we like to think Chinese consumers all buy.
As with so many elements of the Chinese media landscape, each of these apps requires a deep understanding of the different audiences, and the best ways to engage them. Brands and advertisers looking to expand into China should always work with a local partner like Nativex that has the expertise and local partnerships to create the conditions for success. Click here to learn more about our XploreChina solution.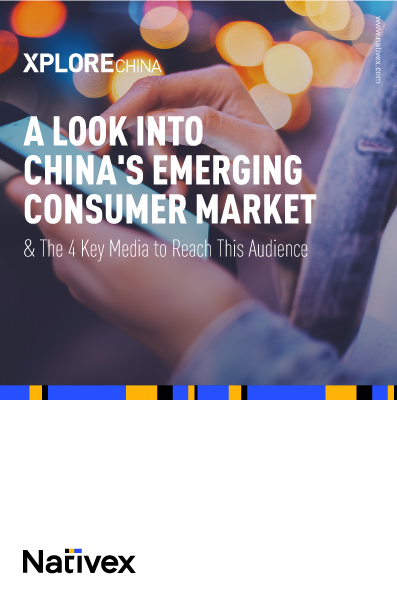 Find out how you can leverage 4 key media platforms to reach over 1 billion Chinese consumers.
1
DOWNLOAD EBOOK
⟶