Kabam is a Canadian game developer headquartered in Vancouver, with more than 340 million downloads across its titles so far according to Sensor Tower data. Kabam has 5 offices around the world and is a wholly-owned subsidiary of Netmarble Games.
Released in 2019, Shop Titans is a simulation RPG where players can build fantasy shops, equip epic gear on their heroes, and send them on quests for huge rewards. The game became one of Kabam's hit titles in major markets like China and the US, so the company wanted to achieve growth in another major market: Japan. Here's how we helped the Kabam team reach their goals.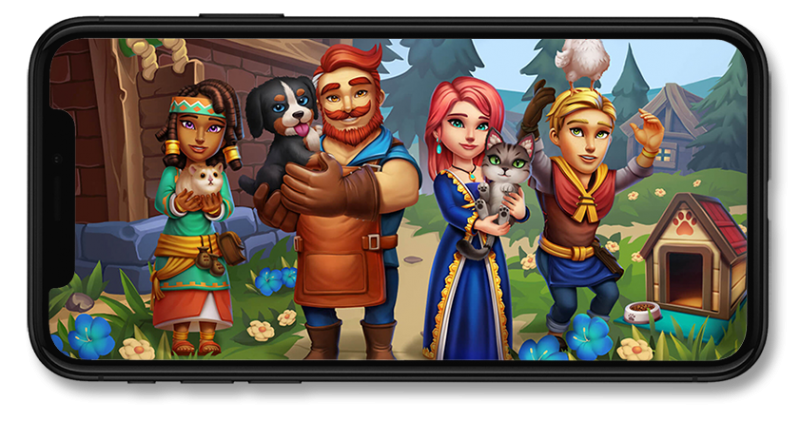 Shop Titans by Kabam
Kabam's 2 main goals to success in Japan
Finding success in Japan was not going to be easy, given how Shop Titans did not have a strong brand presence in the market. At the same time, the Kabam team wanted to find a cost-effective way to increase app downloads.
The Nativex team ran an in-depth analysis and looked at several factors including the Japanese simulation RPG market and Shop Titans' key competitors in the area. After aligning these factors with Kabam's goals, we came up with these two main objectives:
Build brand awareness in the Japanese market
Improve media buying efforts to generate lower CPI
In order to achieve these objectives, we used three strategies as follows.
Strategy 1: Combining TikTok hashtag challenges with Japan's Golden Week
In order to achieve these goals, we decided to use TikTok and one of its most powerful tools: the hashtag challenge. We had previously helped Dragon Storm Fantasy create a set of viral hashtag challenges and we wanted to leverage TikTok's Branded Hashtag Challenge solution to help Shop Titan achieve success in Japan.
We knew that timing was important, so we timed our efforts to coincide with Japan's Golden Week which contains a number of popular Japanese holidays. At the same time, Kabam ran in-app events that gave players opportunities to redeem coins and power up their heroes.
Strategy 2: Using custom stickers tailored to the Japanese audience
We knew that localization was going to be crucial to achieving our goals, so we created a series of custom AR stickers specifically designed for the Japanese audience. We combined popular Shop Titans characters with the famous Japanese figurine known as "Maneki-Neko". Users simply had to follow the prompts and use corresponding hand gestures to unlock Maneki-Neko special effects and in-game virtual coins.
Using hand gestures on TikTok to unlock in-game rewards
Strategy 3: Working with famous Japanese KOLs to boost exposure
We know just how powerful KOLs can be – we worked with popular KOL Li Jiaqi to help a Japanese brand find success in China, among others. In order to find similar success with Shop Titans, we decided to work with several popular Japanese KOLs.
After scouting for the best and most relevant KOLs to help us achieve our goals, we handpicked 6 popular KOLs from a range of areas including games and dancing. By working together with these KOLs and leveraging their enormous audiences, our hashtag challenge received significant exposure and engagement.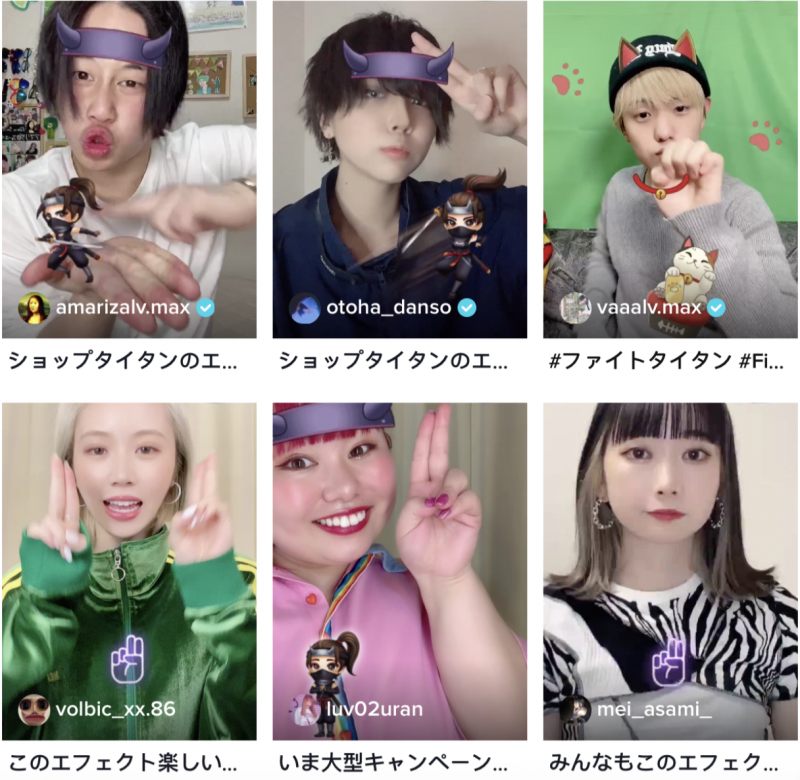 We worked with 6 popular Japanese KOLs to boost the hashtag challenge exposure
TikTok branded hashtag challenge overview
Our branded hashtag challenge ran for a total of 3 days and it was split as follows:
Day 1: Homepage takeover linking TikTok users to our Hashtag Challenge; once on our Hashtag Challenge homepage, users would then be able to create their own video, publish it, and become a part of the Hashtag Challenge.
Day 2: Brand premium video placed in the "For You" section on TikTok; from there, users would be able to reach our Hashtag Challenge homepage, pick a sticker from the custom ones we designed, then create their own videos to join the challenge.
Day 3: Top banners in the "Discover" section on TikTok, designed to generate additional traffic by helping users find the Shop Titans Hashtag Challenge; once they clicked on the banner, they would land on our Hashtag Challenge homepage, where they would be able to create their own videos and join the challenge.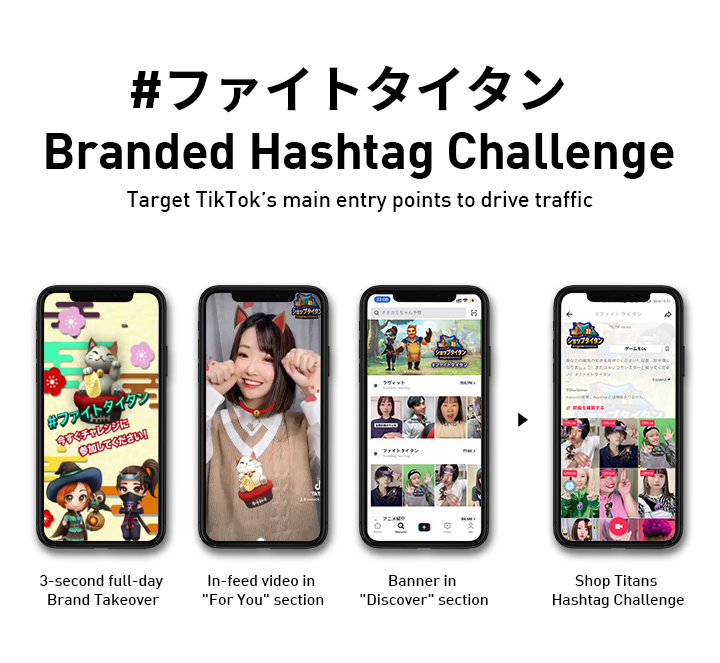 The solutions we used to help Shop Titans find success in Japan
Outstanding results, Shop Titans went #viral
The campaign was a huge success, generating a huge wave of organic downloads to boost Shop Titan's user base. By using the branded hashtag challenge with a mix of in-feed ads and brand takeovers, we were able to get more than 56 million video views as well as over 27,000 pieces of user-generated video content.

Launch your TikTok campaigns with Nativex
As a certified TikTok Marketing partner, we were extremely happy to see Shop Titans find success in the Japanese market. We've used our TikTok expertise to help many other clients including Amanotes, CookApps, and Goat Games, so if you'd like to boost your ROI on TikTok, get in touch with the Nativex team today!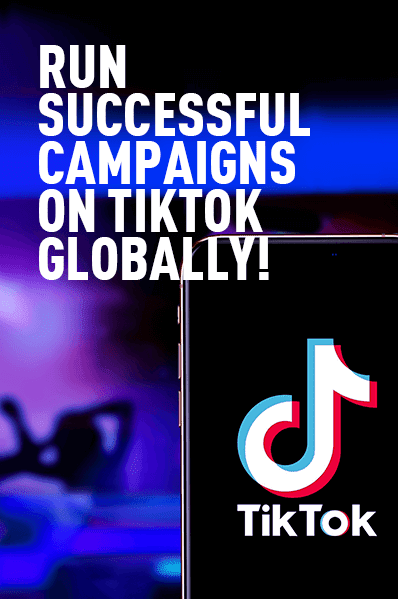 Check out our TikTok solutions here and get our exclusive TikTok guide. Get in touch with our team today to get creatives that click, and find the best strategies for your TikTok campaigns.
1
CONTACT US
⟶