In the dynamic realm of education, digital platforms play a pivotal role in connecting students with innovative learning resources. Duolingo, a transformative language education platform, has been at the forefront of this revolution, offering a diverse array of language courses to learners worldwide.
To expand its presence in the Chinese market and drive conversion for its online service, the Duolingo English Test, Duolingo has partnered with Nativex to optimize its Xiaohongshu influencer campaigns. Capitalizing on the unique attributes of Xiaohongshu, Nativex effectively enhances the brand exposure and awareness of the Duolingo English Test through strategic influencer engagement, targeted feed advertising, and optimized search ads. This concerted effort ultimately drives significant conversions, bolstering the platform's success in the Chinese market.
About Duolingo English Test
Leveraging the capabilities of AI and aligned with the Common European Framework of Reference for Languages (CEFR), the Duolingo English Test is a cost-effective and efficient English proficiency test that has garnered trust from renowned universities and a vast student community globally.
While the Duolingo app has gained significant recognition in the Chinese market, the online English test seems to be less familiar to Chinese students. In light of this, Duolingo has established several goals for its partnership with Nativex:
Goal
Build a brand presence and raise awareness of the Duolingo English Test on Xiaohongshu

Drive traffic to its official website to boost further registration conversion and free practice exam engagement
Leveraging KOC/KOLs to Discover Captivating Content
In order to enable Duolingo to effectively target different audience segments and enhance brand awareness, Nativex has carefully selected top-tier influencers, including key opinion leaders (KOLs) and key opinion consumers (KOCs), across various categories such as entertainment, education, and career mentorship. These influencers and content creators seamlessly incorporate the Duolingo English Test into popular Xiaohongshu topics such as studying abroad, education, and lifestyle, highlighting its value and encouraging users to explore the free practice exams offered on the official website.
Moreover, Nativex has expanded the reach of the content and increased conversions by leveraging paid promotion for influencer content. This strategic approach amplifies the visibility and impact of influencer collaborations, maximizing the effectiveness of the Duolingo English Test's promotional campaigns on Xiaohongshu.

Expanding Exposure with Feed Advertising
In order to maximize brand exposure, Nativex has implemented customized keyword strategies for in-feed advertising. Through precise targeting of the intended audience, the Nativex team has successfully identified and utilized a range of keywords, including competitor keywords, brand keywords, global school list keywords, and commonly used study abroad-related keywords, to drive traffic and encourage registrations via external links.
Nativex also conducted thorough research on English proficiency tests within Xiaohongshu's feed and identified some dark horse vocabularies that generate highly relevant traffic. Similar keywords exhibit a substantial natural search volume with relatively low competition, perfectly aligning with the target users of Duolingo's English proficiency tests. By increasing the proportion of these high-quality keywords, notable improvements in conversion rates have been observed.
Enhancing Conversion with Search Ads
Within the realm of paid search marketing, Nativex utilized auction ads and brand-sponsored displays to enhance the conversion rate of the Duolingo English Test on Xiaohongshu.
Regarding paid search advertising, Nativex set different goals based on the popularity of various keyword categories. These goals included achieving a competitive position or deepening the brand's impression. As a result, Nativex successfully improved the ranking of advertising posts for target keywords and enhanced the efficiency of external link registrations.
Within the brand page, Nativex assisted Duolingo in identifying precise keyword combinations. This enabled greater exposure when searching for related brand keywords, thereby elevating the brand's image and expanding its reach.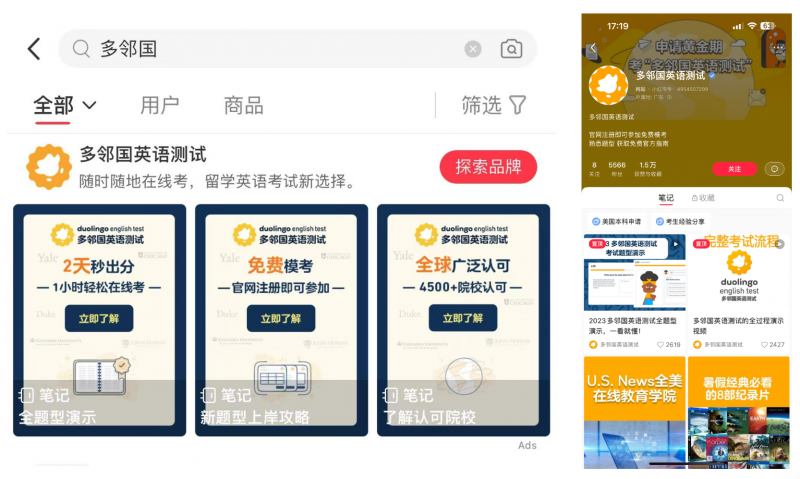 Source: Xiaohongshu
Result
Throughout the campaign, the collaborative posts of Duolingo English Test and Xiaohongshu achieved an impressive exposure of nearly tens of millions, accompanied by a remarkable increase in interactivity. Additionally, the significant growth in monthly searches led to noticeable improvements in registration conversion rates. These outcomes successfully accomplished our integrated branding and sales objectives.
"We are highly satisfied with the marketing achievements of Xiaohongshu through Nativex. They enabled us to effectively reach our target audience through influencer marketing and performance advertising, fostering a positive reputation for the Duolingo English Test among our audiences, resulting in rapid user growth." stated the Head of Marketing, DET China.
About Nativex
As Xiaohongshu's official cross-border marketing agency, Nativex enables brands and developers worldwide to achieve significant user growth on the platform.
Leveraging our extensive knowledge in media strategy planning, influencer marketing, creative production, ad campaign management, and social media operations optimization, Nativex empowers global brands and developers to make the most of the abundant opportunities offered by Xiaohongshu.
Contact the Nativex team today to start your journey to success!