China's cross-border e-commerce market has seen a tenfold increase and around 2 trillion RMB in revenue in five years. Although it has been growing rapidly over the past decade, there has been increasingly cut-throat competition, diminishing economic returns generated by traffic, and stricter platform rules. As a result, cross-border businesses are pressured to attain traffic from multiple platforms to keep costs low.
Nativex partnered with DHgate, a cross-border e-commerce giant in China, with a digital marketing solution that could succeed in managing and promoting DHgate on TikTok Shop in the UK, US, France, Italy, and Germany. Thanks to Nativex, DHgate has seen an increase in PV, customers, sales volume, and GMV (gross merchandise value). They have also been able to build a second growth engine separate from its official website.
How to Overcome a Plateau in the Traffic-to-revenues Rate? | Join TikTok Shop
Founded in 2004, DHgate offers online products and boasts average annual sales of over 37 million products per year. There are more than 46.6 million registered users on their platform from 223 different countries and regions worldwide. With over 100 logistics routes, more than 10 overseas warehouses, and a payment system supporting 71 currencies, DHgate has offices in North America, Latin America, and Europe to support their international business.
However, the growing cost of established advertising platforms brings about a daunting challenge: DHgate sought to expand its business by breaking through the sales bottleneck. As its long-term partner, Nativex proposed to win over more customers and boost GMV by selling on TikTok Shop.
TikTok has taken the world by storm and continues to expand its presence in other ways. Their new feature, TikTok Shop, is an e-commerce feature that allows merchants worldwide to drive traffic directly from their TikTok accounts to their TikTok Shop. This followers-to-customers solution attracts customers better and facilitates buying. In addition, merchants and influencers can build a scalable revenue stream by hosting their shoppable LIVE videos on TikTok Shop, linking their products in TikTok short videos, and uploading products to the e-shop showcase tab.
Powered by the massive traffic and diverse selling formats on TikTok Shop, Nativex has helped DHgate upgrade its business operation and equip it with multiple ad formats. On TikTok Shop, DHgate was able to find new customers who discover and buy products the "fun" way, which boosted DHgate's sales and ROI.
Short Videos + LIVEs + Influencers | Converting Desire to Sales
Based on research from TikTok's content and interactions, Nativex prioritized the promotion of DHgate's TikTok Shop in Europe and America (UK, US, France, Italy, and Germany). Nativex created LSAs (Live Shopping Ads), VSAs (Video Shopping Ads), and Spark Ads to target these regions. They also recruited influencers to add to the strategy. Products highlighted in DHgate's marketing campaign mainly featured footwear, clothes, and homeware.
LSA (Live Shopping Ads)
LSA is advertising on TikTok through in-feed videos and LIVEs. Its goal is to direct users to merchants' LIVE rooms and win over paying customers by generating traffic and boosting the popularity of LIVE sales.
Nativex planned a detailed schedule for DHgate's LIVE sales and made a step-by-step advertising plan. For instance, during the key parts of LIVE sales (e.g., introducing flagship products, offers, and flash sales), the schedule directly addresses the target customers in the first five to ten minutes to create a potential conversion.
Different ad formats were used to ensure a continuous and stable ad spend. Spark ads were also running to speak directly to the community interested in relevant content.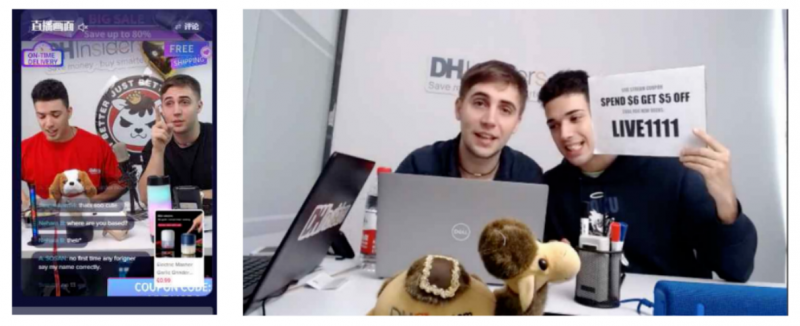 VSA (Video Shopping Ads)
VSA is an ad format where merchants place product info cards or shopping cart icons in their short videos.
This approach enables brands to bring potential customers to their shops' product pages and showcase and sell products directly on TikTok.
Nativex developed a cost-effective VSA strategy for DHgate by singling out hot-ticket products regionally. At the same time, Nativex tailored creatives to cater to the needs of different local markets. For instance, auto-tuned remix-themed content was used to target users in Thailand, and product recommendations and reviews were used to target users in Southeast Asia more generally.
This strategy proved effective, and Nativex quickly accumulated data to optimize the advertising model and drive up ROI.
In addition to LSA and VSA, DHgate achieved impressive marketing results by working with influencers in LIVE sales and short videos.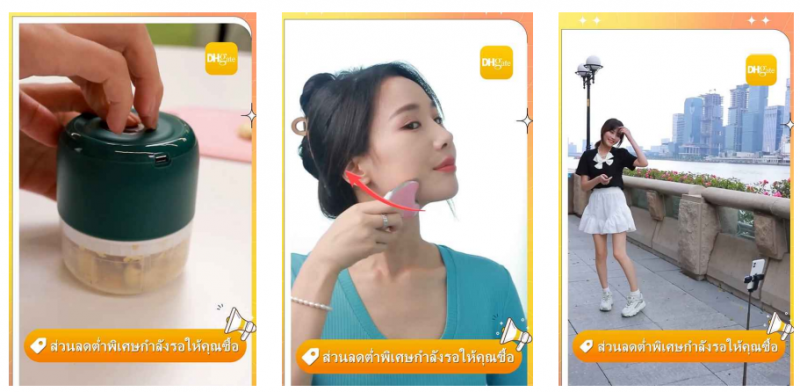 Screenshots of DHgate's advertising creatives. (Source: DHgate.com)
From a Small Step to a Giant Leap
Due to the vast array of advertising options, TikTok Shop can be a tremendous challenge for brands new to the platform. Quality creatives and efficient operational strategies are the keys to success.
With the help of Nativex, DHgate has blossomed from a merchant with zero presence on TikTok Shop into a critical player in TikTok's e-commerce ecosystem and has achieved considerable ROI growth.
"Nativex is always spot-on about cross-border e-commerce. Their understanding of traffic-driven business helps us improve ROI by combining different advertising options. Nativex has also made us stand out in optimizing our product selection with their thorough analysis of platform data, the trends of different local markets, and market predictions. And thanks to its effort, we've found more customers and leveled up our e-commerce strategy. We've been working with Nativex for four years. It has helped us monetize traffic from different platforms, and more importantly, it has opened the door to TikTok marketing for us. We've reached a wider and more diverse audience on TikTok, where we see surging sales and a greater presence in overseas markets like Europe, America, and beyond."

Monica Lee, Content Marketing Manager at DHgate
Start Your Journey on TikTok with Nativex
Looking for a professional TikTok expert to work with? Nativex is here to bridge the gap. We understand creativity and localization are key to success and to truly resonate with your target markets. Hence, we can help clients to deliver a more holistic approach across multiple ad solutions on TikTok and different types of content, creative, and influencer solutions!
Contact the Nativex team today to start your business on TikTok!