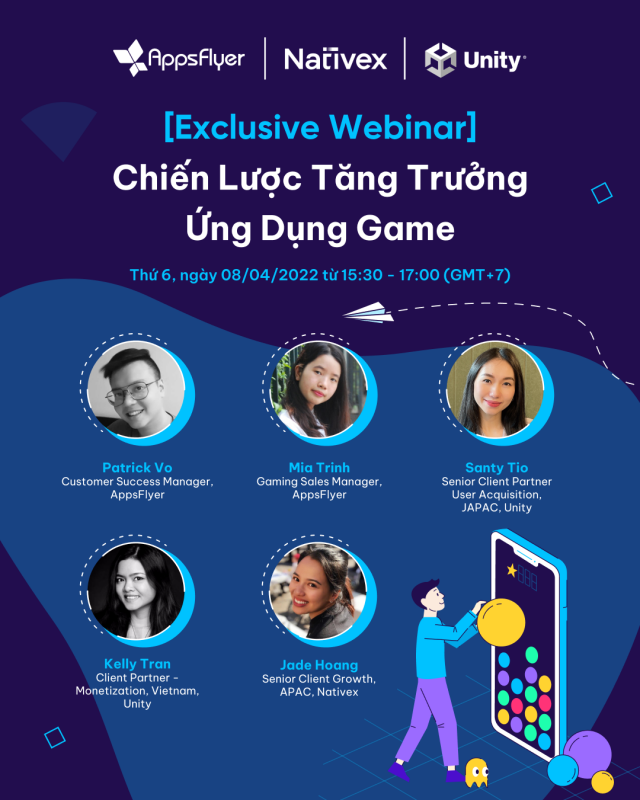 We recently joined AppsFlyer & Unity for an exclusive Southeast-Asian webinar to discuss hypercasual game growth strategies and how to succeed in the global market.
Speakers:
 Patrick Vo, Customer Success Manager, AppsFlyer
 Mia Trinh, Sales Manager, AppsFlyer
 Santy Tio, Senior Client Partner User Acquisition, JAPAC, Unity
 Kelly, Client Partner, Monetization, Vietnam, Unity
 Jade Hoang, Senior Client Growth, APAC, Nativex
In 2021, mobile game consumer spend reached $116 billion – $16 billion more than in 2020. The pandemic had an obvious role to play in this growth as social distancing forced people indoors and online. So much so that  82.98 billion mobile games were downloaded globally during the past year.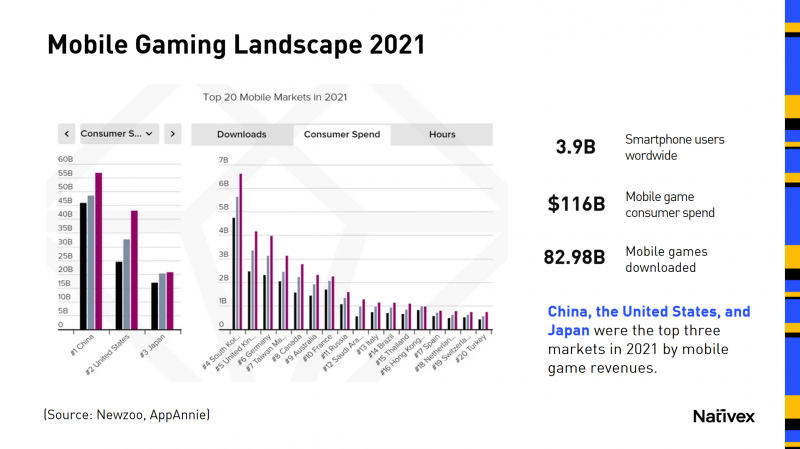 Unsurprisingly, casual games accounted for 80% of all downloads and 35% of in-app purchases last year, among which, hypercasual games alone are estimated to generate $3.4B in ad-monetization revenue.  
Challenges faced by hypercasual games
Hypercasual titles are typically characterized by lower retention rates due to the ease at which they are played and the short amount of time spent in-app. Unlike the majority of games, hypercasual games utilize a unique monetization model that is mostly monetized via in-app ads, including a mix of video, playable, banner, and interstitial ads. Here, developers leverage their extensive user base to generate revenue through in-app ads from third-party brands and apps. It is, however, important to ensure one doesn't over rely on the same set of in-app ads as this may lead to ad fatigue during the user journey.
Crafting a global marketing strategy
High-quality content and a strategy focused on increasing high-quality users continue to pay dividends. Developers and advertisers should consider the following:
Focus on mainstream platforms such as TikTok, Kwai, Facebook, etc. to gain quality traffic
Invest in your content marketing and innovate your ads such as live-action short-film and content that aligns with pop culture.
Pay equal attention to the actual conversion of your brand voice and customize your promotional strategy at each business stage.
How can advertisers tailor their creatives to better maximize engagement and conversion?
Developers keen to break into larger Asian markets should adopt creative strategies informed by the preferences of their desired target audience. At TopWorks, Nativex's creative studio, we create impactful campaigns by understanding the characteristics of local audiences, then work closely with partners on localization to build familiarity and emotional connection. TopWorks has helped brands and has a network of over 200 creative studios worldwide.
Different creative strategies for top media platforms and video platforms
Brief introduction: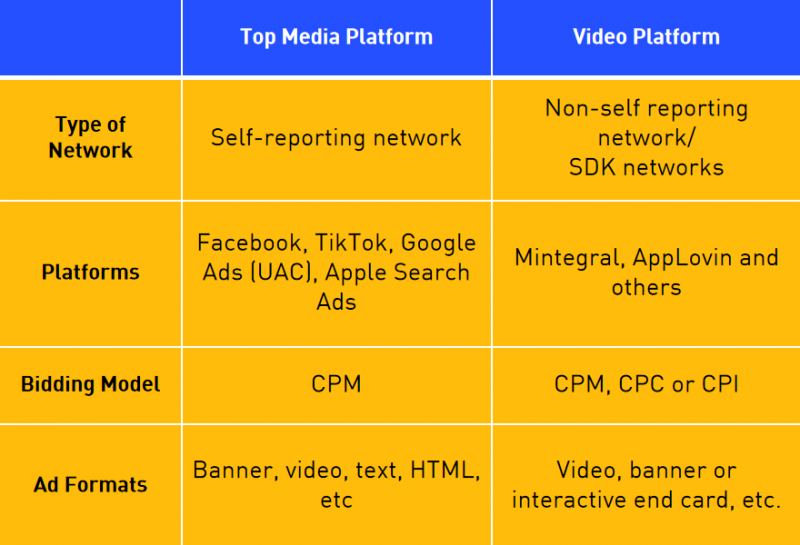 Trending and creativity 
Top media channels usually have huge networks, with a vast amount of users. Winning the impression of these users can be difficult, given the speed at which a user scrolls their feed. It is for this reason your creative needs to be both trendy and authentic. Eye-catching content is paramount and in the case of TikTok, ads need to look user-generated for maximum engagement. Interacting with ads will boost conversions so it's important to involve the user wherever possible such as commenting, hashtags, reviews and more.
Frequency
Ad fatigue can become a real problem on top media platforms and usually results in a high CPI/CPA or lower install volume. Whereas SDK networks typically update every two weeks, top media channels need a weekly renewal of creative assets to ensure your content remains fresh and engaging to the user.
Localization
Creative assets need to be localized for both style and language. Your success in such a hyper-competitive market often comes down to what stands out and how to make a splash. Social media and internet trends often find their way into a creative, and understanding the cultural nuance or context is extremely difficult. For example, Japanese users prefer live-action videos, so Nativex will usually apply more real-life materials when targeting this specific market. Additionally, it is important to have at least 3-4 creatives in the local language for A/B testing.
Format
The best-performing ad formats differ from channel to channel but messaging should remain consistent throughout. In order to optimize it is important to mix up your testing and review your competitor's strategy. As for SDK networks serving ads to in-app gamers, playable ads and interactive end cards perform extremely well.
Data
To optimize and analyze the overall performance of your creatives, key metrics such as impressions, CTR and CVR should all be taken into account, as well as your benchmarks based on the different platforms you advertise on.