AppsFlyer's 2019 Performance Index report makes for some interesting reading – mostly surrounding the stunning global growth of TikTok Ads.
The report highlights the performance of worldwide mobile media sources during the first half of 2019, with data collected from 23 billion installs and 45 billion app opens from more than 15,000 apps.
TikTok Ads is arguably the biggest winner from the report. It has moved up to 15th in the overall power rankings and up to 9th in the volume rankings globally. Most impressive is its growth; TikTok Ads is the fastest-growing service worldwide, making it a new powerhouse player in the global install market.

Credit: TikTok
It's also interesting to see the power and volume rankings in Greater China, too, according to the 2019 Performance Index. TikTok Ads is better known as Ocean Engine in China, and it leads the power and volume rankings for the 'Gaming – Casual/iOS' category.
In the same category for Japan and Korea, Google Ads and Facebook Ads make-up two of the top three positions in both power and volume rankings, showing how different mobile gaming markets can be across the APAC region for Western developers and publishers looking to enter the market.
The incredible power of the global Android market
While it doesn't look like TikTok Ads can be stopped any time soon, AppsFlyer has shown that, for the first time, ad placements on Google have driven more app downloads than ads on Facebook.
It's essential to understand the reasons why Google has taken charge and knocked Facebook from its perch. It's a pretty simple explanation; it all boils down to Google's domination of the Android market.
Over the last five years, Google has increased its share of the app installation market eightfold, with its biggest gains occurring in Latin America (18 per cent) and Southeast Asia (eight per cent) over the first six months of 2019.
It's pretty much par for the course at the moment that Google and Facebook will be jostling for the first position in the West. Dig a little deeper into the data, though, and there are some truly remarkable success stories to find in the Index.
Apple Search Ads, for instance, has seen some pretty stellar growth of 82 per cent in their share of global app installs. This has been attributed mainly to the launch of the service across 42 new territories during Q2 of 2019.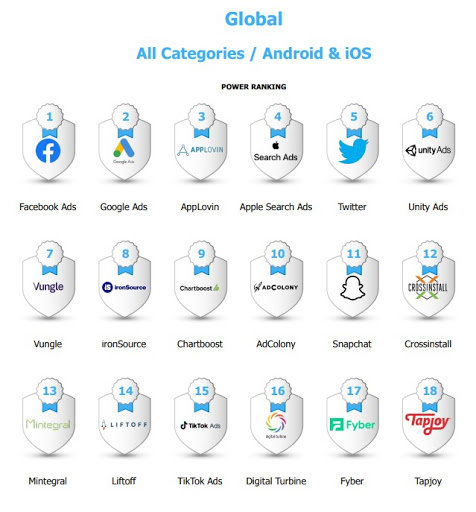 Credit: AppsFlyer
When it comes to global growth, Ocean Engine takes the top spot in Greater China; taking the third position in the Indian Subcontinent, Japan & Korea; is ninth in North America; and is first in Southeast Asia. This again highlights the opportunities TikTok Ads and Android markets have for global growth.
So what does this mean for advertisers, developers and publishers? More than anything, it means that more and more creative ad opportunities are opening up for them through programs like TikTok Ads on the Android market to not only reach out to new audiences and demographics in the West but to reach out to people on the platform in traditionally hard-to-reach areas.
Thanks to TikTok Ads' growth across the Indian Subcontinent, for instance, a Western advertiser could almost instantly reach out to mobile users there if they understand how to use the technology and have a strong idea of who they'd like to reach out to.
Mastering China's Android markets can be incredibly rewarding
Despite TikTok Ads' presence in its homeland though, Chinese mobile users can be harder to reach out to if you're a publisher, developer or advertiser in the West.
The 2019 Performance Index, for instance, shows the power of the Android market and the sheer strength of its advertising potential when it comes to app installations.
There is no Google Play in China, though. Instead, there are 400 different Android stores to navigate, which is representative of the country's fractured Android market as a whole. 
Though there is an App Store in China, Western advertisers, publishers and developers have to understand that there are restrictions on what can be displayed through it.

Credit: Tencent
There are other factors that western developers have to consider if they're looking to enter the Chinese mobile market. 
A lack of understanding of local and national cultural influences is a key part of why so many in the west fail to make it in China. Instead of using western characters and locations in a game, for instance, China's mobile gamers are likely to be more receptive to avatars and settings that are more familiar to them.
That approach comes under the umbrella of a China-first strategy, which also needs to consider other factors. There is no one common mobile user across APAC, for instance. China's mobile users have markedly different mobile gaming habits than other APAC regions. The more you understand this, the better your chances will be of successfully entering the Chinese market.
Ocean Engine, though, and other key programmatic platforms that have seen growth including Tencent Ads can be essential tools to mobile advertisers and have the potential to get your message in front of millions of mobile users in the world's largest market for mobile apps.
Ocean Engine alone could put advertisers in front of 320 million daily active users of Douyin (TikTok), while Tencent's Social Ads is able to provide creative opportunities such as news ads, QQ Music ads and placements on many of the other platforms that Tencent owns.
Mobvista Expands Media Buying Solution with TikTok Partnership
Mobvista recently announced that it has signed a deal with short-form mobile video platform TikTok. Thanks to this partnership, Mobvista's partners across the globe are able to use the platform to acquire TikTok native users at scale.
As one of the first agencies to work with TikTok, Mobvista has a deep understanding of the platform as well as the advertisers' campaign goals, making it the ideal UA campaign partner in the TikTok space. App publishers can leverage Mobvista's extensive experience with ad creatives to ensure their campaigns are optimized and reach the right target audience.
Conclusion
China's mobile advertising and the programmatic landscape are completely different from the techniques usually used in the west. 
Partnering with people who know how best to enter the market and navigate the obstacles you may face can be a significant addition to your growth strategy, and help you find the best ad platforms that bridge the advertising gap between east and west.
Success in the East also means finding the right partner who can help you navigate the Chinese regulatory and licensing ecosystem. If you're looking to launch your app in the Chinese market, we'd love to hear from you.