In our latest Nativex webinar, our very own Intan Agustina was joined by special guests to discuss all things Apple Search Ads and shared their insights on iOS FinTech and eCommerce landscape during Ramadan. Read below or the catch webinar replay as we discuss how to capitalize on growing iOS opportunities, high seasonality for user acquisition and how to boost customer retention.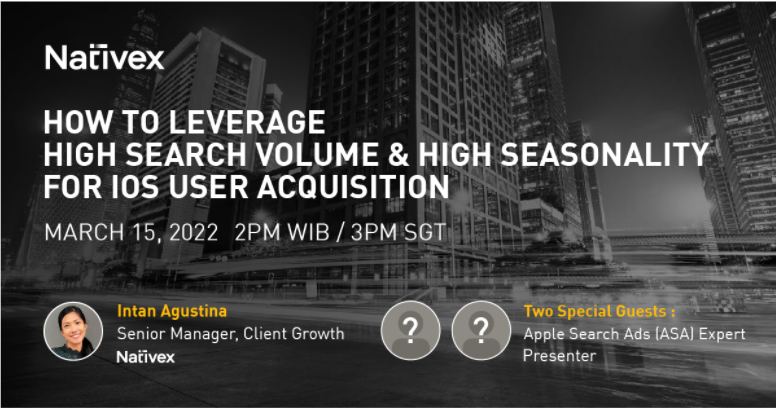 It is no secret the world is now truly mobile-first. In 2021 alone, there were a total of 230 billion new app downloads and around $300 billion spent on mobile ads. In addition, on average users spend around 1/3 of their waking hours per day on the mobile device. It's easy to see how influential apps are on people's lives and the opportunities available within the mobile landscape. 
Finance and shopping insights during Ramadan
FinTech and shopping are two growing verticals on iOS benefiting from Ramadan. Taking Indonesia for example, there were 75% more active app users during Ramadan 2021 compared to that of 2020. In 2021, iOS generated a 31% revenue share of the Indonesian market for finance apps with  a 65% YoY increase in finance app downloads. As for the shopping vertical, iOS generated 32% of all revenue with an 8% annual increase in app usage. In 2021 around 1/5th of all Southeast Asian app downloads occurred during the months of Ramadan and app usage increased.
Digital payment methods are most preferred when making Ramadan-related transactions
Ramadan has also proven to show growth in shopping purchases, credit loan, personal banking, and more. User demand and search traffic volumes grows throughout the month, with more than 60% of consumers using mobile devices for Ramadan shopping increasing during the first week and converting further into the month. Furthermore, shopping is one of the categories that have benefited from lockdowns and the travel restrictions due to the pandemic.. 
Why Apple Search Ads? 
High iOS penetration. According to Statista, Apple's iOS held around 23.4% of the global smartphone market share in Q4, 2021 with  the iOS penetration in key Muslim markets such as Indonesia up to 17%.
High conversion rates. According to an Apple report, 65% of downloads come directly from a search on the App Store, suggesting app store optimization (ASO) and app quality play a large role in a user's decision to download. 
How can you leverage all these insights, and see results for your app?
Ramadan presents an opportunity for app developers and advertisers to  optimize based on customer behavior due to the additional increases in search demand. Here are some tips for you to optimize your ASA campaigns: 
Customize your ad placement to meet your needs. If you are pursuing brand awareness and exposure, consider placing your ads where your target audiences search the most. It's strongly suggested to test different placement strategies in order to find the most suitable one. 

Vary your creatives, match your keywords to reach different audiences, and create a custom product pitch. 

Perfect your ad creatives by highlighting key themes. For example, feature targeted campaigns that utilize memorable content related to the region and promotion.
Tips for Ramadan: 
With higher mobile use, dedicate suitable resources to your user acquisition ASA strategy.. It's interesting to see that during Ramadan, 53% of respondents redownload apps they've used in the past months or year to meet their seasonal needs. For these users, it's important to reengage them appropriately in order to boost customer retention. 
Conclusion 
Finance and shopping needs of customers and users grows one to two months before the Ramadan starts. To seize the opportunities before and during Ramadan, developers and advertisers must adjust their campaigns effectively to meet the KPIs of new acquisitions and revenue. Below is a suggested campaign strategy timeline: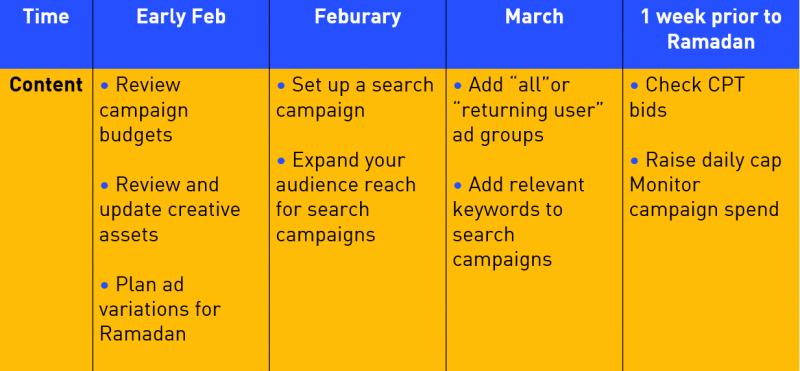 As a go-to-market agency specializing in Apple Search Ads, the role of Nativex is to help bridge the gap. Our performance marketing solutions include  creating ad groups, and keyword selection. As part of this, we provide professional analysis on keyword selection aligning with the needs of clients. In addition, we are able to draw upon countless use cases, and actionable insights in order to help you scale and grow sustainably.
Are you ready to increase your search performance? The Nativex team is here to support you throughout your Apple Search Ads journey.