Japan is one of the biggest and most lucrative mobile gaming markets in the world. Its advanced technology, combined with its high spending power and strong retention rates, makes this a crucial region for gaming brands and advertisers looking for tangible campaign results.
We've recently talked quite a bit about the Japanese mobile landscape and we also looked at the uniting characteristics of Japanese mobile shoppers. With commercial 5G already launched in Japan and gaining rapid adoption, it's safe to assume the market will become even more lucrative for those who can adapt to future trends.
Japanese mobile gaming market overview
Let's talk about gaming in Japan, a phenomenon so deeply embedded into its culture and economy. While famous for big studios like Capcom, Nintendo, or Konami, Japan's mobile gaming industry is massive and rapidly gaining ground. So far this year, Japan has seen over 1.8 billion app downloads and $9.2 billion in revenue from mobile gaming, making it the 3rd largest revenue generator in the world after the US and China. Let's put this into context: the country with the 10th highest number of downloads brings in the third-highest amount of revenue globally. Talk about lucrative markets!
According to the App Annie Gaming Spotlight 2020 Review, Japan's mobile gaming market has grown by over 50% during the COVID-19 lockdown, second only to Spain (65%). While the top markets like the US and China saw massive growth followed by a small decline towards the end of May, Japan kept going strong, showing continuous growth.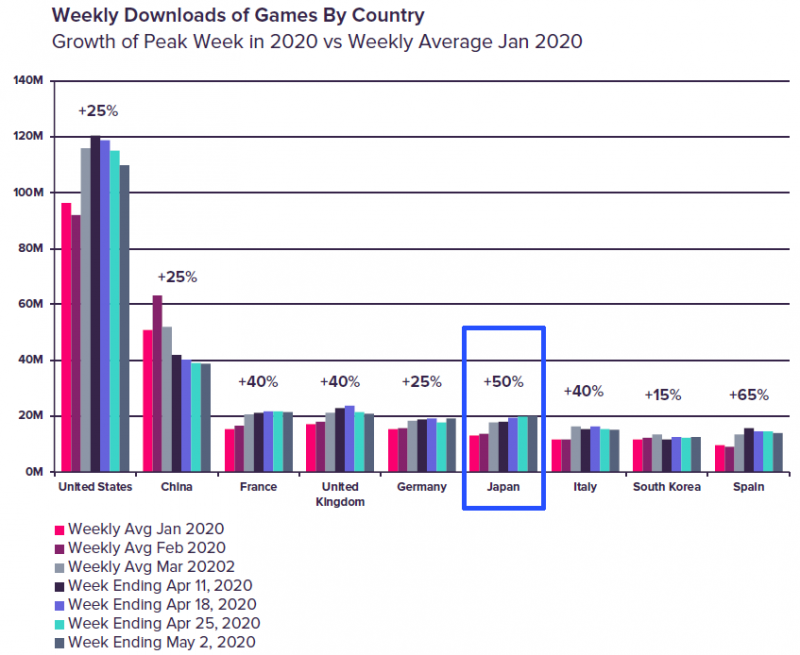 Source: App Annie Gaming Spotlight 2020 Review
Meet Japan's mobile gamers
Now let's take a look at Japan's mobile gaming audience. From a demographics point of view, Japan is quite a balanced market, with a male/female ratio of 53%/47%. Interestingly, though, 54% of female players tend to play 5 or more days per week – needless to say, Japan's female players play an extremely important role in this market.
Another thing to note is that Japanese mobile gamers have the longest average weekly time spent in games compared to the rest of Asia, at almost 6.7 hours. From an ARPU perspective, Japan is also a top contender – so far this year, the average revenue per mobile gaming user in Japan is $199.05. 
Japan has the highest percentage of paying users after 90 days and its Day 7 retention rates are better than the US, China, and South Korea. This puts Japan in an enviable position where it can provide both high-quality users with strong spending habits and increased stickiness. In other words, mobile gaming brands who acquire Japanese users tend to generate more profit, for longer periods of time.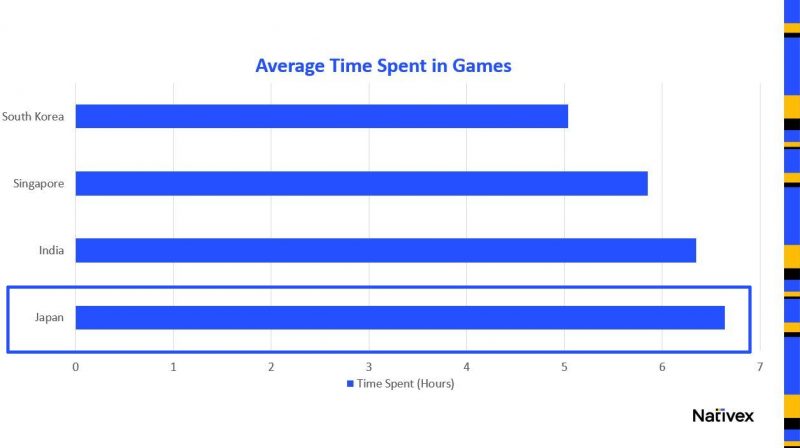 Source: eMarketer 2020, 42matters.com
The Japanese gaming landscape
We mentioned that Japan is a hub for games of all shapes and sizes, from hardcore PC gamers, to console, to mobile games. Looking at the mobile gaming market, in particular, Japan has a big appetite for all major genres, from hyper-casual titles like Aquapark to hardcore games like PUBG Mobile.
One thing to note is that approximately 15% of Japan's top mobile gaming titles are based on popular IP like LINE: Disney Tsum Tsum, Dragon Ball Z Dokkan Battle, and Love Live! School Idol Festival.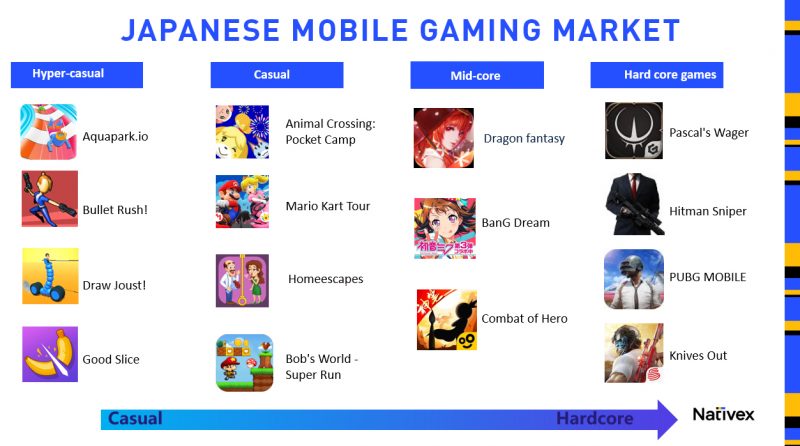 Some of the most successful advertisers in the Japanese market
How Nativex can help you reach Japan's mobile gamers
Achieving success in Japan's mobile market might sound difficult for global gaming brands trying to make their debut there. However, with the right partner, you can reach an audience that has strong retention and high ARPU, making Japan a market full of strong opportunities. So how can we help you make this happen?
1. Localized creative strategies. Localization is crucial when trying to enter a market like Japan, so the focus needs to be on getting the right ad creatives tailored to the Japanese audience. Our end-to-end creative solutions powered by the TopWorks Creative Studio enable us to generate high-quality ad creatives built by local design teams that are culturally-relevant and results-driven. From brainstorming to photo/video shooting, campaign analysis, and optimization, we make sure your creatives will perform at maximum efficiency.
Here's an example. We took the original version:
And we localized the content so it's tailored to the Japanese market:
2. Tiered media approach to meet your CPI & ROI needs. With a multi-layered media strategy, we use the right mix of media platforms to fit your campaign goals and your budget. Not only that, but we'll constantly optimize your campaign needs at every step of the lifecycle to ensure we use the right channels to reach the right audience every step of the way.
3. Pre-registration campaigns. This is a campaign type that's unique to Japan, where hardcore mobile gamers are always looking for the next new release. We can help you set up pre-registration campaigns to get a good sample size of users straight away and get a good understanding of the market's appetite for your game, helping you make any necessary adjustments ahead of the actual release. These campaigns include a wide range of dedicated channels including gaming media, 3rd party websites, and more.
If you're looking to launch your mobile campaign in Japan, the Nativex team is here to help. Our team of experts can provide you with end-to-end mobile marketing solutions that drive tangible results and strong ROI. Contact the Nativex team today.