Welcome back to the 8th installment of XploreAPAC Pulse, your trusted source for staying up-to-date with the ever-evolving APAC region! As always, we remain committed to delivering the latest insights on mobile technology, digital marketing, and advertising in APAC, ensuring you stay ahead of the curve.
Join us once again for this recurring series and dive into the freshest perspectives on all things mobile, digital marketing, and advertising in the dynamic APAC landscape. Our flash news updates will keep your finger on the pulse of this vibrant region, providing you with invaluable knowledge to fuel your success in APAC. Let's explore together!
Duolingo's "Streak" feature has played a pivotal role in achieving a record-breaking 17 million daily active users (DAUs), as reported by the language learning platform. The "Streak" encourages consistent engagement by rewarding users for consecutive learning days, thereby contributing to the platform's remarkable user engagement. This accomplishment underscores Duolingo's innovative approach in fostering consistent language learning habits among a large and dedicated user base.
TikTok's initiative "Build on TikTok" aims to stimulate TikTok Shop, yet it encounters a complex logistical puzzle surrounding the management of orders, payments, and deliveries, posing substantial e-commerce hurdles. Successfully untangling these intricacies holds the key to unlocking the program's full potential in harnessing TikTok's platform for online shopping. Effectively addressing these operational challenges could pave the way for a seamless integration of e-commerce into the TikTok experience.
Mixi, a popular social networking service in Japan, has introduced a $50 million fund aimed at supporting entertainment startups in India, highlighting the growing interest in the Indian market. This fund reflects Mixi's commitment to fostering innovation in the Indian entertainment industry, potentially fueling the growth of new and creative ventures. With this initiative, Mixi seeks to tap into India's burgeoning startup ecosystem and contribute to the development of the country's entertainment sector.
GoPay's launch of a standalone app in Indonesia, separate from GoTo's superapp approach, underscores the company's strategic intent to consolidate its presence in the Indonesian digital payments market. The dedicated app aims to optimize user experience and extend GoPay's influence within Indonesia's competitive digital payment landscape. This decision highlights the nuanced strategy within the GoTo ecosystem, emphasizing GoPay's dedicated pursuit of a robust mobile payment foothold in Indonesia.
Looking to launch your campaigns in the APAC region?
APAC's enormous mobile market presents incredible opportunities for advertisers globally. With the right partner, these opportunities can be harnessed to their fullest potential, and we are confident that we can be that partner for you. At Nativex, our cross-cultural experts have an unmatched understanding of the APAC mobile market, launching our latest XploreAPAC initiative.
As an authorized ad service provider, we have established partnerships with prominent media outlets such as TikTok, Meta, Snapchat, Twitter, Line, WeTV, KakaoTalk, and more. If you aim to expand your advertising campaigns in the world's largest mobile markets, contact the Nativex team today. We are dedicated to elevating your marketing ROI to new heights.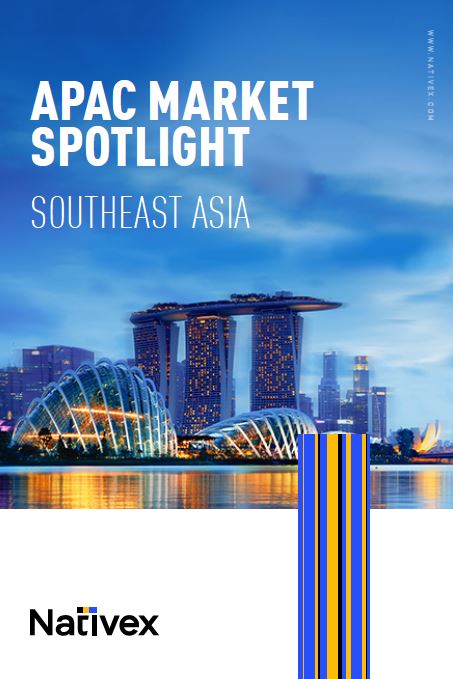 Southeast Asia is experiencing rapid growth, boasting a sizable user base, increased purchasing power, and enhanced internet infrastructure. As a result, this region has emerged as one of the most dynamic and promising areas globally. For brands and advertisers looking to capitalize on this potential, it is essential to grasp the unique factors that contribute to Southeast Asia's allure.
DOWNLOAD HERE
⟶