Welcome to the latest edition of China Tech Express! Today we're going to take a look at Huawei's AppGallery very successful year. We'll also talk about Baidu's secondary listing on the Hong Kong Exchange, as well as Douyin's strong e-commerce stats in 2021 and Xiaomi's new Clubhouse-like app. Lots of stuff to cover so let's get going!
1. Huawei's AppGallery nearly doubles app distributions in one year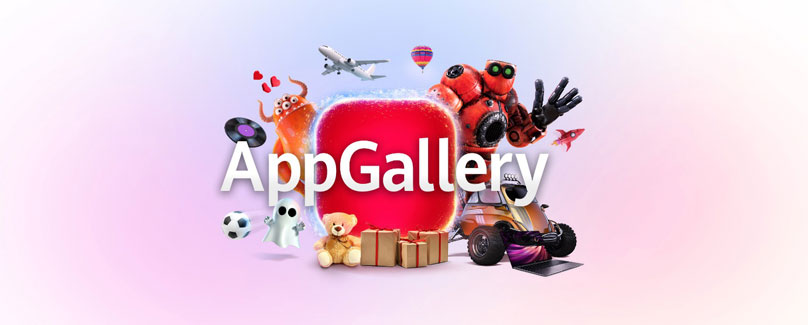 Huawei's own app store, AppGallery, saw a massive increase in its app distributions in 2020 to 384.4 billion, up 83% year-on-year. AppGallery, which is the third-biggest app store in the world, also saw 77% more developers registered to its platform, bringing the total number to 2.3 million. Oh and let's not forget: the number of monthly active users also grew, up 33% year-on-year to over 530 million.
We know that mobile gaming has shown incredible growth in 2020 and this sector has been particularly beneficial for Huawei's AppGallery in 2020 – in fact, the app store has seen over 500% more games being available on its platform compared to last year.
With such explosive growth in 2020, the future is looking bright for AppGallery, making it one of the prime destinations for global developers looking to enter China's fragmented but lucrative Android ecosystem. Read more about AppGallery's incredible growth in 2020 in Huawei's recent press release.
2. Baidu planning to raise $3.6 billion in HKEX listing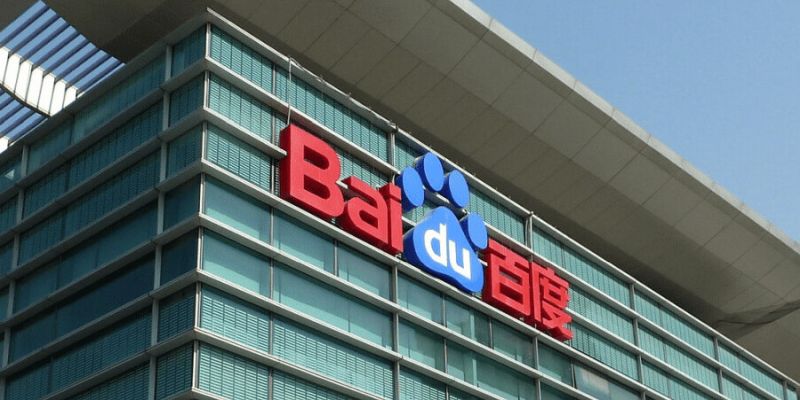 Baidu, aka China's Google, is the latest tech giant to look into a secondary listing on the Hong Kong Stock Exchange. This comes after our previous reports around Bilibili's $2 billion HKEX listing and Kuaishou raising $5.4 billion in its IPO.
The popular search engine is looking to raise at least $3.6 billion by selling 95 million shares in this secondary listing, with the price per share set at $38.05. According to Baidu, the company wants to use these funds to diversify its business by investing in other areas of technology, particularly around AI innovation, cloud computing, and smart transportation.
Baidu remains an online search and advertising titan, but it remains to be seen if the company will be as successful in the other areas it's looking at, especially since there's stiff competition from the likes of ByteDance, Tencent, or Alibaba. Read more about Baidu's secondary listing plans on PanDaily.
3. Douyin e-commerce stores growing strong, over 2,600 with RMB 1 million in revenue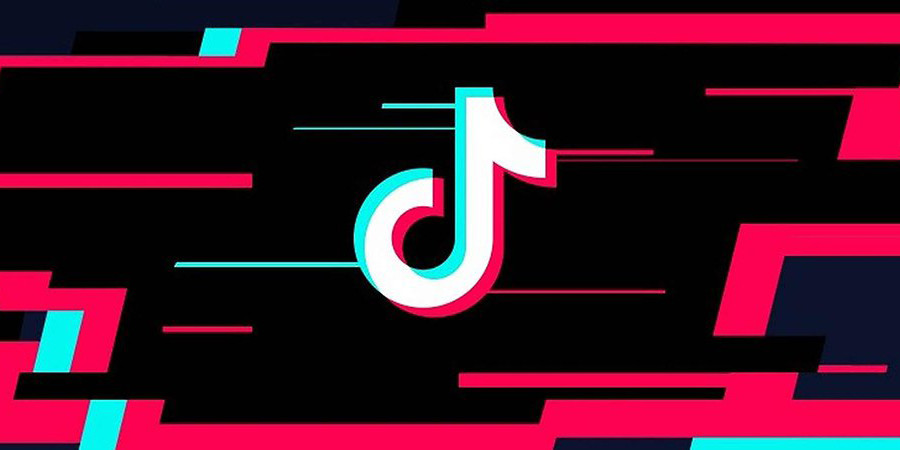 Douyin has been making significant progress in the e-commerce space and the latest figures from CAASDATA show that in January this year, 2,648 of the online stores on this platform have managed to hit over RMB 1 million ($150,000) in sales revenue. Put together, these e-commerce stores generated over RMB 11 billion in gross merchandise volume (GMV) – to put this into context,  these stores essentially generated a third of the total GMV on Douyin. This impressive growth shows that Douyin's recent shopping campaigns and e-commerce features are paying off, not to mention that they now have their own payment method, Douyin Pay.
Let's take a closer look at some of this data. First of all, 7.67% of these 2,648 stores had over RMB 10 million ($1.5 million) in revenue (see below).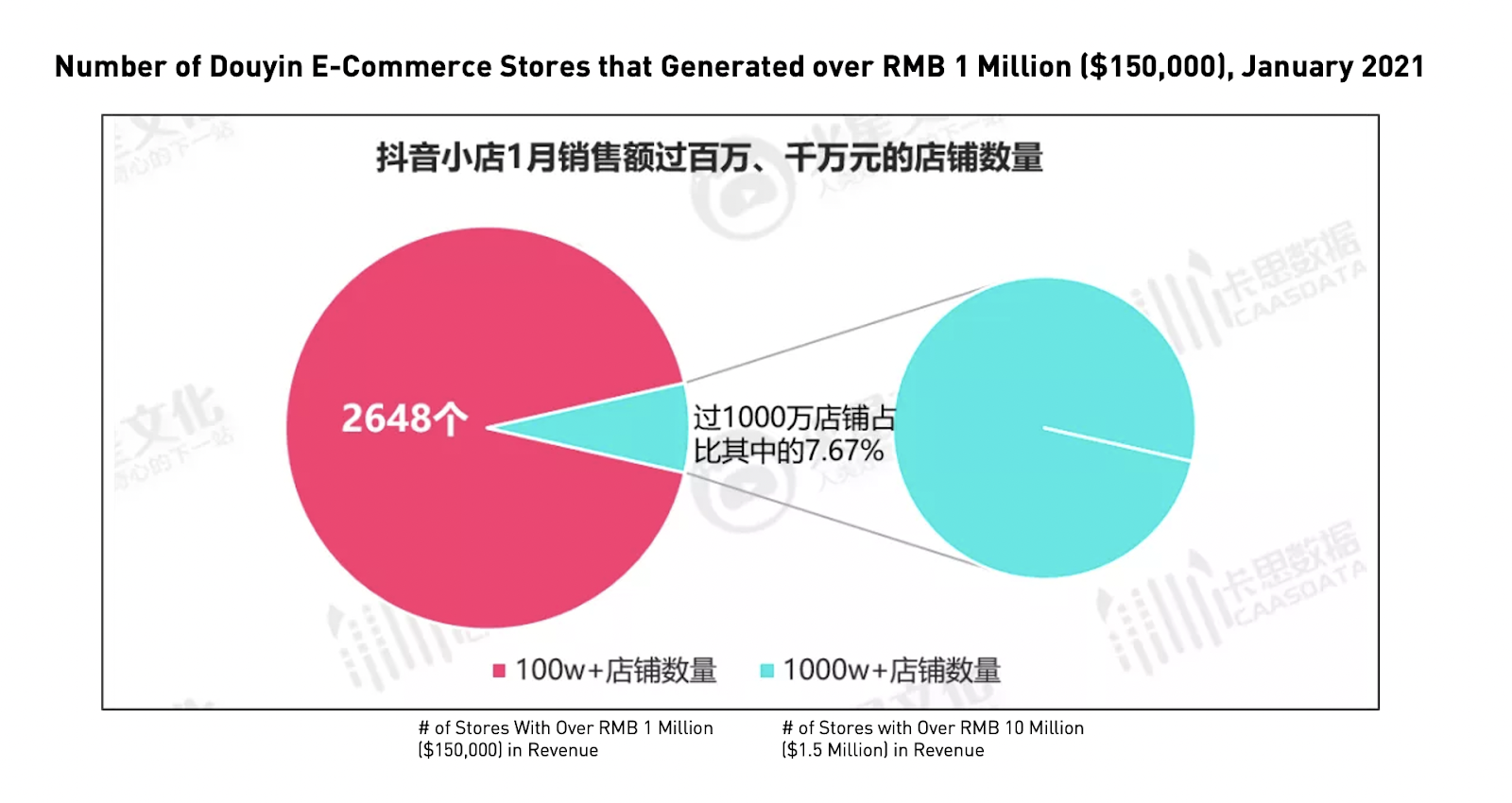 In terms of which types of stores generated the most revenue, female clothing stores represented almost half of the revenue generated by the 2,648 top-performing stores (47.93% of total GMV).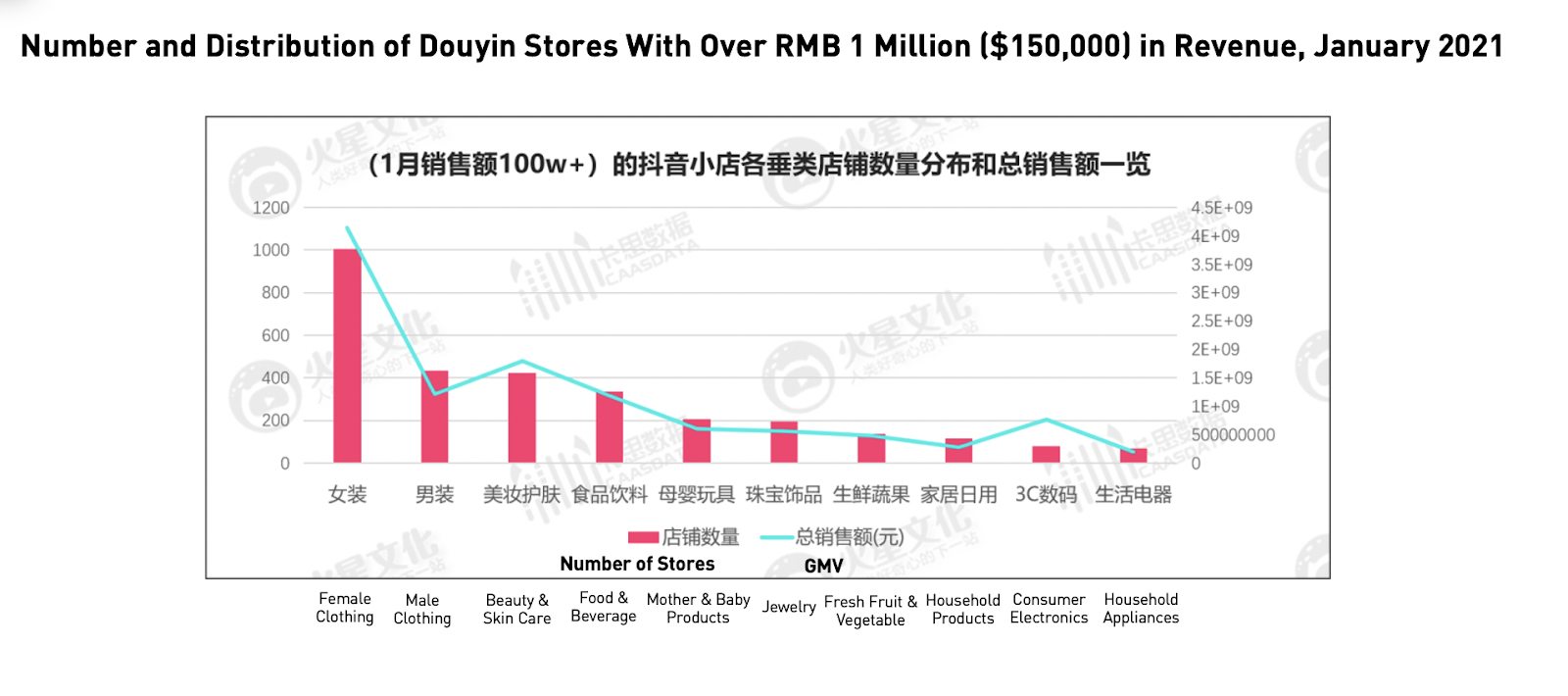 E-commerce live streams have become an incredibly profitable revenue stream, and now we have some more data to back this up. Looking at e-commerce live streams on Douyin, KOLs have proven why they are crucial to mobile marketing success in China, with KOL-based live streams being particularly good at running streams that generated over RMB 1 million ($150,000) in revenue.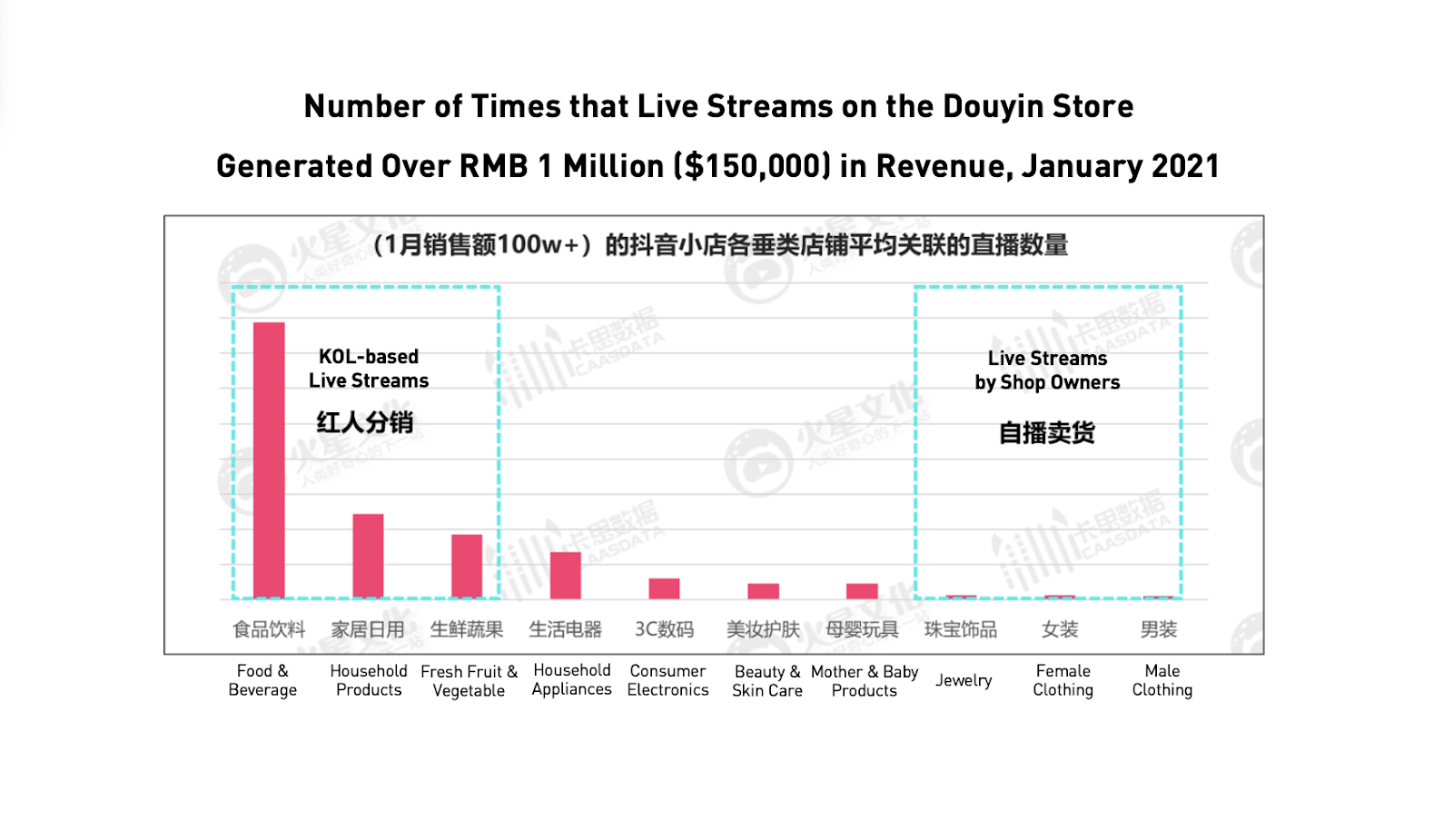 What's also interesting is that smaller shop owners have started running their own streams (perhaps due to smaller marketing budgets) or started using local talent, and have gained a lot of popularity among regular users due to their relatability.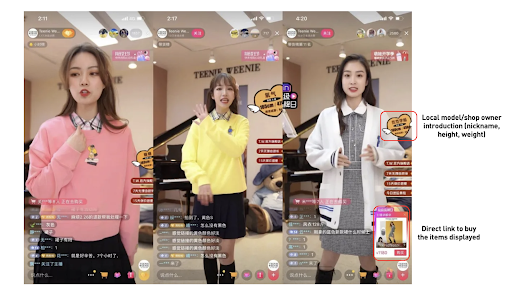 An example of Douyin e-commerce live streams run by shop owners
There's a lot more interesting data about Douyin's e-commerce stores and their recent performance, you can check it all on WeChat (Chinese).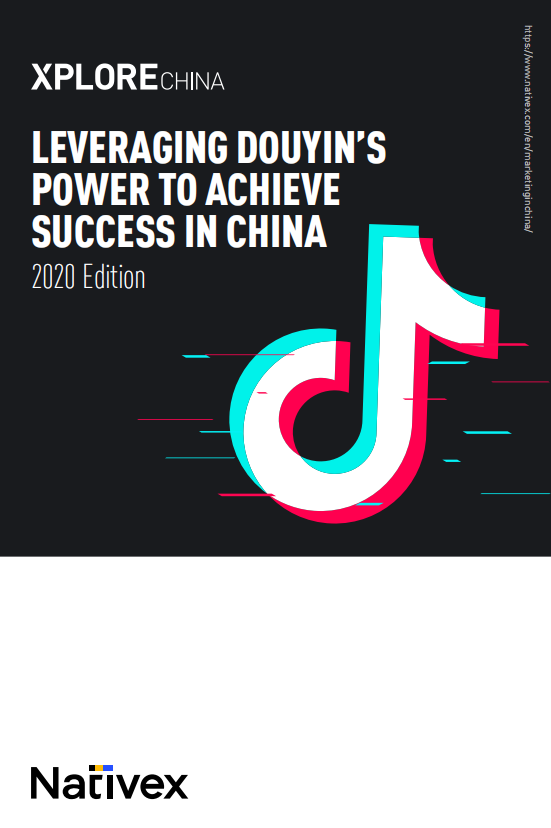 Douyin is China's largest short-form video platform. Find out how you can leverage its massive reach and powerful features to run successful mobile marketing campaigns in China.
1
DOWNLOAD EBOOK
⟶
4. Xiaomi is relaunching MiTalk as a Clubhouse clone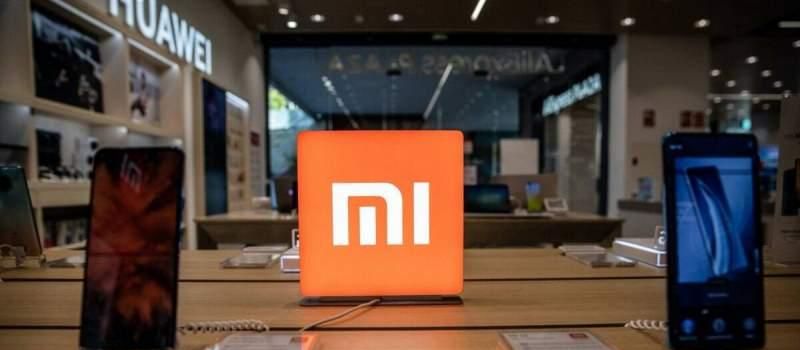 Unless you've been living under a rock over the past few months, you've probably heard about Clubhouse's explosive success with a relatively different approach to networking: audio-only. It seems that Xiaomi saw potential in this space, so they launched (better said, relaunched) their own app, MiTalk.
We said 'relaunched' because MiTalk used to be a Xiaomi messaging app that was launched back in 2010 but it never really took off. Xiaomi relaunched the app which is now, according to their website, "a voice chat app for professionals".
The app is currently invite-only phase and it's available only to Xiaomi employees, with plans to launch on China's app stores pretty soon. MiTalk isn't the only app in China using the Clubhouse approach (Clubhouse is banned in China). In fact, there are other similar apps already available there, including Dizhua, Tiya, and Yalla, so MiTalk won't exactly be the first to market. 
There's clearly an appetite from advertisers, who started using Clubhouse for their webinars and other similar events. Plus, companies like Amazon and Spotify have started investing in the audio ads sector, so it will be interesting to see if apps like Clubhouse in the West or MiTalk in China will continue this trend. Read more about Xiaomi's Clubhouse clone on GizmoChina.
Looking to launch your campaigns in China?
China's massive mobile market provides some incredible opportunities for advertisers around the world. All you need is the right partner – and we believe we can be that partner. At Nativex, our cross-cultural team has an unparalleled understanding of the Chinese mobile market – we are the team behind the XploreChina solution.
We are an authorized ad service provider for major media outlets including Bytedance (Douyin, Toutiao), Baidu, Tencent (WeChat), Bilibili, Zhihu, and more. If you're looking to get your advertising campaigns into the world's largest mobile market, get in touch with the Nativex team today and we'll take your marketing ROI to the next level.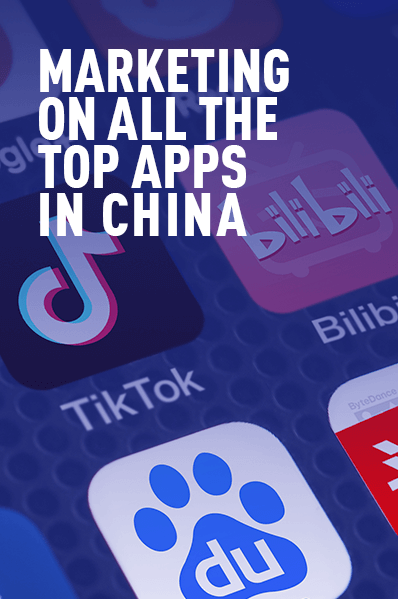 Looking to reach the largest mobile audience in the world? We'll help your campaigns get in front of hundreds of millions of users!
1
CONTACT US
⟶