With the COVID-19 restrictions slowly decreasing, countries around the world are starting to get back to a "pre-pandemic normal". China has been making this transition gradually since the start of 2021, so what does that mean for the country's mobile ecosystem?
In our latest ebook called "China Mobile Games Report H1 2021" we take a look at the biggest mobile market in the world and how usage trends looked like in the first half of 2021. This ebook was possible thanks to contributions from our friends at Mintegral and Reyun – you can download it for free below:
Free ebook: China Mobile Games Report H1 2021
What does China's mobile internet user base look like so far in 2021?
The country's mobile internet population has surpassed the 1-billion mark, reaching 1.03 billion users at the end of Q1 2021, up 0.78% from the same period in 2020. One interesting fact to note is that lower-tier cities have shown strong growth potential, as tier-1 and tier-2 cities saw some small decrease in usage.
With tier-3 to 5 cities making up 48% of China's population, it's safe to say that the marketing potential in these areas is far from saturated, giving global brands and advertisers strong growth opportunities there. You can read more about China's lower-tier cities and their potential in our ebook called "A Look into China's Emerging Consumer Market".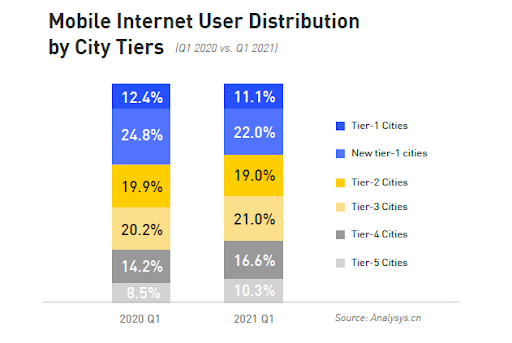 A look at China's mobile gaming market
A maturing market usually means an increase in regulatory measures and China is no exception. While the country's mobile gaming population showed steady growth since last year, March 2021 saw its first recent (but minor) decrease of 0.16% to 666.5 million users.
Competition between game developers is getting fiercer and regulations are tightening, but interestingly enough, the so-called "stay-at-home economy" is here to stay. The mobile gaming market's actual sales revenues have continued to grow, despite these challenges.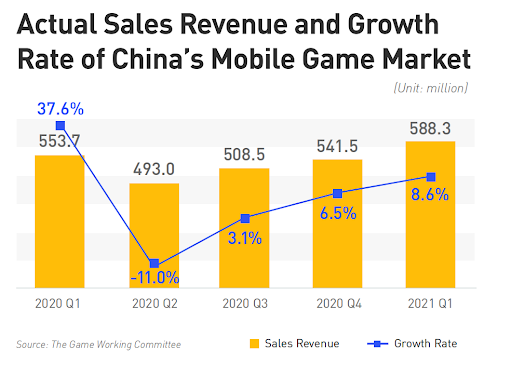 User acquisition trends in China's gaming market
The number of games running UA campaigns saw steady increases in H1 2021 compared to the previous year. With over 6,700 new products on the UA market in the first half of 2021, we saw some significant growth compared to the previous half-year but a 13% decrease compared to H1 2020. China's mobile gaming giants like Tencent or Netease tend to release new games around the beginning of the year, which explains the increase versus H2 2020.
Another interesting thing to note is the impact of iOS 14.5. According to Reyun data, 30.3% of iOS devices now run iOS 14.5, 32.1% of which limited IDFA tracking. Keep in mind that Android is the dominating force in China with about 80% market share, so Android remains crucial to mobile marketing success in China.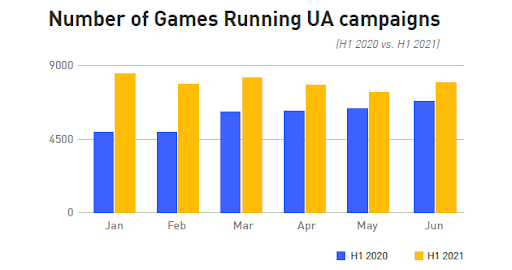 What else is in this ebook?
This ebook is packed with the latest facts and stats around China's mobile gaming market. On top of the insights mentioned above, here's what else you can expect to find in our ebook:
App usage trends across China's mobile user base

Chinese gaming user base growth rates versus sales revenue

Ad spending trends and distribution across main gaming genres

Ad creative trends for new and existing games across media types
If this sounds interesting, then make sure you get your free copy below:
Free ebook: China Mobile Games Report H1 2021
XploreChina: Your gateway into the largest mobile market on the planet
As the only China-based agency equipped to offer acquisition, monetization, and creative services at scale and across multiple verticals, we believe that our revamped XploreChina initiative will help you thanks to our wide range of customized solutions. If you're looking to make your way into China's massive mobile market, get in touch with the Nativex team today.