Summoners War is a mobile RPG created by Korean developer Com2uS that quickly became their success story after gaining immense popularity around the world, including the U.S. and European markets. We worked together with Com2uS by creating a Snapchat marketing campaign for Summoners War in the U.S., France, and Germany. While Snapchat is popular in the U.S. and European markets, this platform is still relatively new to Korean users. So how did we help Summoners War find success in these major Western markets? 
Summoners War: An RPG masterpiece that fascinated over 100 million summoners globally
Com2uS, one of the leading mobile game developers in Korea, managed to solidify its position in the global market thanks to big releases like Ace Fishing, Golf Star, Tiny Farm, and of course, Summoners War, which has become a global hit since its release in April 2014. The game received a universal nod of approval, becoming the #1 mobile RPG in almost 100 countries around the world. The game's popularity has also helped revitalize the esports industry.
According to the August report published by Com2uS, 81.5% of its revenue came from overseas purchases, with growth rates of 87% and 69% in the U.S. and European markets, respectively. Since its release, the game has hit a total of more than 116 million downloads globally and $2 billion in sales as of September 2020.
Key objectives for Summoners War
The goal for Com2uS was to aggressively enter the European and U.S. markets and acquire global users for Summoners War. Following the success of a marketing campaign in China the company worked on with Nativex, the company decided to explore new markets. This time around, the Com2uS wanted to acquire users on platforms other than Facebook and Google Universal App Campaigns (UAC). As a result, we chose Snapchat as the target platform and worked on creating the following strategy.
Identifying user characteristics and finding custom channels
The first thing we did was to determine the key user characteristics that would enable us to to reach our campaign's main goal: acquire high-quality global users at scale for Summoners War. Data suggests that hardcore MMORPGs (massively multiplayer online role-playing games) like Summoners War tend to acquire relatively older users. This made Snapchat the ideal choice to cover the target audience for Summoners War since it is already a classic social media platform for users of all ages in the U.S. and Europe.
Since its launch in 2011, Snapchat, a photo/video sharing and social networking service, has gained popularity for one key feature that allows users to create temporary posts that disappear after a certain period of time. Even though it's not very famous in Korea, the platform is extremely popular across many major markets in the West, with over 70% of U.S. users aged 13 to 34 using Snapchat regularly.
At least 50% of Snapchat users buy products from the app at least once per month, making it an extremely effective channel for global brands and advertisers to reach their audience. Also, at least 40% of those users download 1 to 5 apps every week.
Step-by-step approach to ensure large-scale success
Nativex and Com2uS first ran tests in France and Germany for two months, September and October 2019. This trial run was important, given that Com2uS was not very familiar with Snapchat and its capabilities and they wanted to get a better understanding prior to running a large-scale campaign on this platform.
After starting a trial run with a small budget, the results looked promising and Com2uS agreed to increase the budget and targets incrementally. Once the test proved to be a success, we rolled out the full campaigns across the U.S. and Europe markets.
However, some campaigns didn't go smoothly from the start, as there were some challenges around targeting the right audiences in the German market, as the intense competition in that region meant that it was difficult to get optimal user volumes. Also, since there was insufficient IDFA (Apple Identifier for Advertisers) and AAID (Android Advertising ID) data, it took longer to get accurate audience targeting in place. Thanks to continuous optimization efforts, however, these campaigns started gaining momentum and after some dramatic growth levels, resulting in a 200% ROI increase. Campaigns in the French and German markets continued until July 2020, with efficiency levels remaining at optimal levels throughout their duration.
Appealing to target audience using unique creatives
High-quality ad creatives based on diverse concepts can increase conversion rates and improve user retention. In creating new types of creatives optimized for Snapchat, we took into account a wide range of factors including ad creative types, graphics, and background music.
To maximize results, we decided to create custom creatives based on the target country, creating different versions for regions like the U.S., France, or Germany. In France, for example, a single creative managed to get 8.3 million impressions and 900 downloads in one month. Let's take a look at some of the ad creatives we used.
Playable ad creatives
Playable ads are designed for interaction, allowing users get a taste of the game before installing it. This helps them get a better understanding of the game's core mechanics and gameplay without needing to download it. With Summoners War, users were able to choose a character and start playing straight from the ad creative, leading to an increased number of downloads.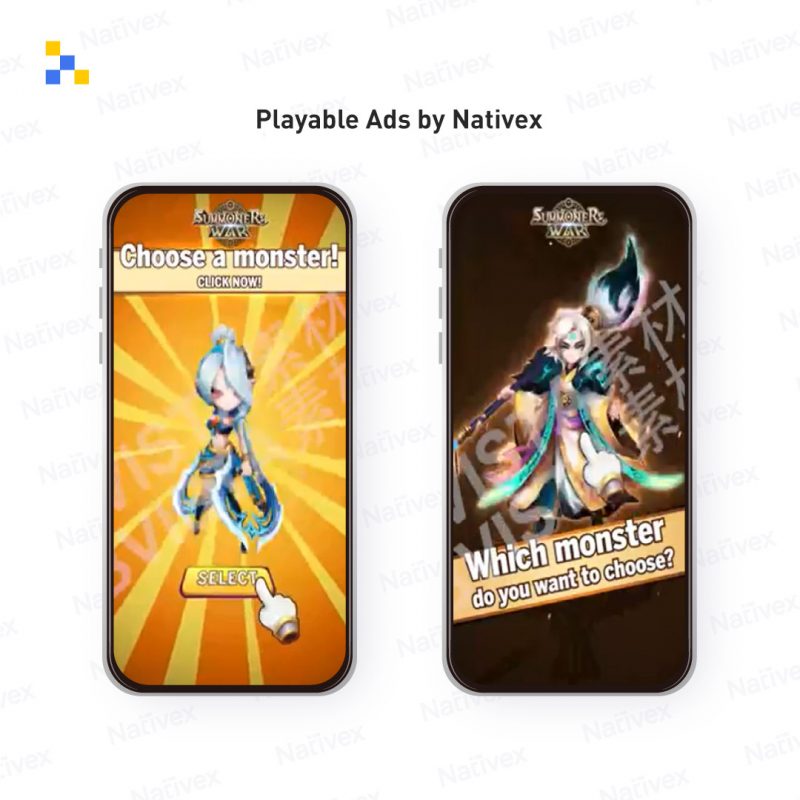 Full-screen ad creatives
While sticking to the Snapchat ad format where all ads are displayed full-screen, we wanted to set our campaign apart so we decided to invest in high-quality graphics. Running for 10 to 15 seconds, which is just the right amount of time, the ad got users interested in the game thanks to a good mix of beautiful scenes and gameplay, all done without compromising user experience.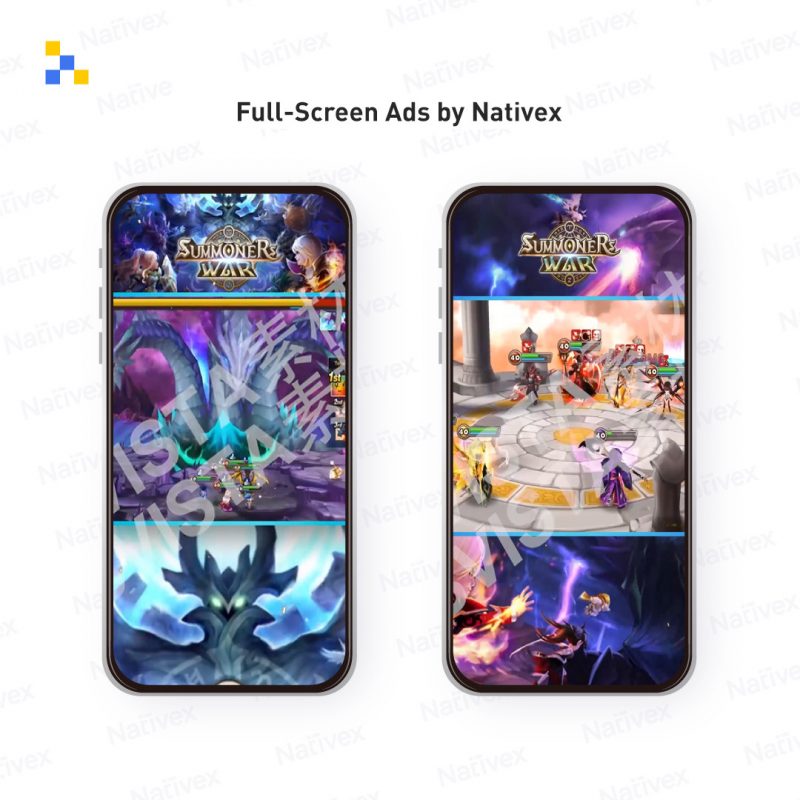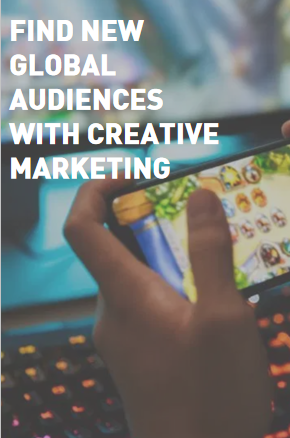 Nativex helps game developers and publishers find new global audiences with data-focused creative marketing techniques and tools. Contact us to find out how we can help accelerate your growth in new international mobile markets. 
Acquiring users at scale in the U.S.
A Snapchat campaign's overall success actually depends on how well it does in the U.S., which has the largest Snapchat user base in the world. Even if the campaign succeeds in other markets, it cannot be considered successful without getting strong results in Snapchat's home market.
It's also worth noting that the U.S. mobile gaming market has more than 150 million active users, so it was another reason why it was definitely worth targeting this market. In fact, the campaign we ran managed to surpass its KPI target by 50% in just the first three weeks since starting the U.S. campaign 
Video creatives featuring influencers
Our successful launch in the U.S. market paved the way for more possibilities. The Nativex creative production team generated a video creative with real people, which was something we did specifically for the U.S. audience. This video creative combined influencers with the game's own graphics, which users found to be both interesting and lively.
Opening new doors to success
Our solid partnership with Com2uS resulted in a successful campaign that started in Asia and then reached Europe and North America. How did we tackle this multi-layer challenge on a platform that was relatively new to our client?
Nativex Korea's Customer Success Manager Annie Namkoong shared her thoughts: "Summoners War was released a long time ago, so it still has a strong and loyal user base. Com2uS, the game's developer, is based on South Korea, which allowed us to communicate with them directly, stay in constant contact, and be receptive and responsive to feedback throughout the campaign." She added, "Snapchat was also new to us, not just to our client. Through this campaign, we improved our expertise in running UA campaigns as well as our understanding of the European and North American gaming markets. We were also glad to expand our knowledge about their ad formats and self-serve functionality. This experience allowed us to share our knowledge about the Snapchat platform with Nativex's overseas teams. Thanks to these positive results, we now feel more confident suggesting Snapchat campaigns to other clients and we are looking to try other genres besides RPGs for our future campaigns." 
Looking to run successful campaigns on Snapchat?
Our successful campaign for Summoners War started with small steps and constant optimization. If you've tried other top media platforms and aren't happy with the results, or if you're simply looking to enter new markets and use a new channel, contact the Nativex team today! Our expertise, combined with our cutting-edge technology, high-quality creatives, and strong customer service will ensure your marketing campaigns generate tangible ROI and sustainable growth in markets around the world.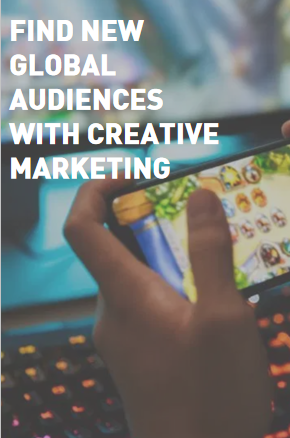 Nativex helps game developers and publishers find new global audiences with data-focused creative marketing techniques and tools. Contact us to find out how we can help accelerate your growth in new international mobile markets.