The Middle East is a promising market, drawing global attention following the 2022 World Cup in Qatar. With its high GDP, young population, and economic drive, the region has become a focal point for expansion.
In this article, we will explore different types of apps in the Middle East, analyzing hot market segments and growth tips for companies seeking to tap into this flourishing region.
Gaming Apps Dominate the Market with Players of All Kinds
According to the
Global Games Market Report
released by Newzoo, gaming market revenue in the Middle East experienced a remarkable 10.8% YoY growth in 2022. Some countries are projected to achieve a compound annual growth rate (CAGR) of 14.2%. In contrast, the popular North American gaming market only saw a 0.5% growth rate during the same period.
The Middle East gaming market stands out for its rapid expansion and unprecedented momentum. A prime example is Saudi Arabia, where mobile gamers exhibit significant spending capacity, outpacing affluent Western European gamers by a substantial margin. As the Middle East continues to establish itself as a gaming powerhouse, global developers are increasingly eager to capitalize on the immense opportunities this thriving market offers.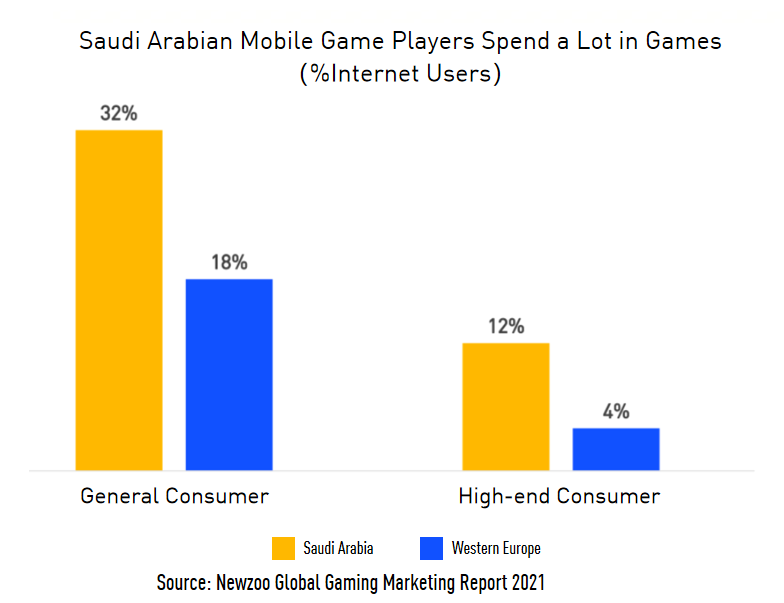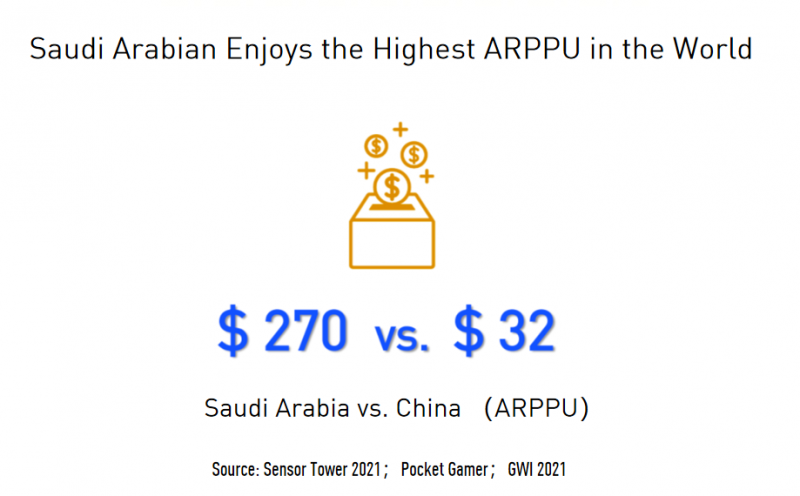 When it comes to the popularity of gaming genres, let's look at Saudi Arabia's favorite types of games. In this market, there is a noticeable trend towards diversification, with shooting and puzzle games gaining popularity alongside the well-established SLG (Strategy) and RPG (Role-Playing Game) genres.
Saudi players show a strong preference for games that offer "player autonomy," granting them control over their in-game experiences. A prime example is PUBG Mobile, which seamlessly integrates open-world exploration, shooting, battle royale, and strategy elements. It's worth highlighting that while the global gaming time spent on shooting games decreased by 20% in 2022, the Saudi Arabian market experienced an impressive growth of 45% in this category. This inclination towards diverse gameplay experiences has made the Saudi gaming market a compelling space for developers seeking opportunities and success.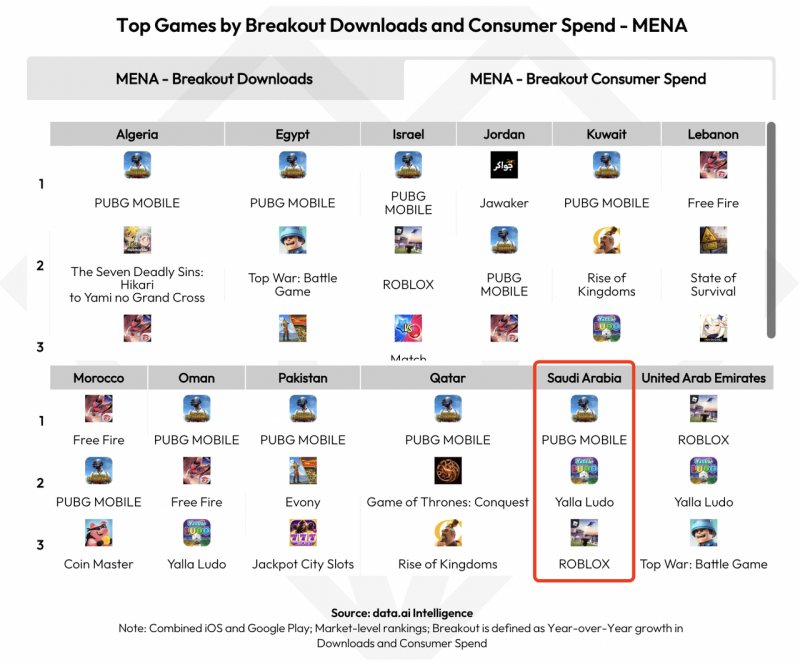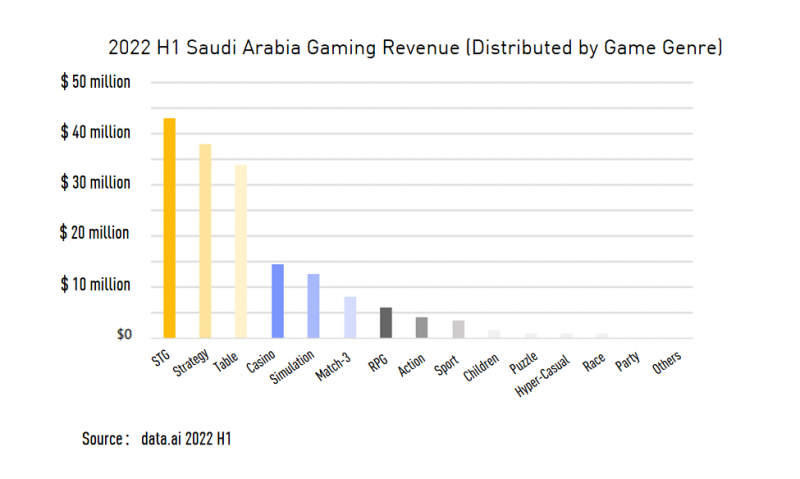 E-commerce App Popularity is Surging
The realm of E-commerce Apps in the Middle East has experienced robust growth, with sales skyrocketing by 80% since 2018, and a promising annual growth rate of 4% expected to continue. Leading the charge in this market are Saudi Arabia and the United Arab Emirates (UAE).
Notably, Middle East consumers display a strong preference for online shopping, particularly for fashion and electronic products, and the demand for toys, personal care items, and furniture and appliances is also on the rise. However, the relatively late development of e-commerce in the region has led to a "demand-supply imbalance," indicating substantial growth potential in the Middle East market.
Apart from traditional e-commerce platforms, social commerce, the fusion of social media and e-commerce, is witnessing a thriving momentum in the Middle East. Projected to reach $9638.6 million by 2023, the social commerce market is embraced by 44% of consumers who actively use social media for shopping.
The New Wave of Middle Eastern Influencers
Capitalizing on this rise of social commerce, advertisers are increasingly tapping into influencer marketing on social media platforms. Notably, TikTok beauty bloggers attract a vast user base through their diverse and captivating content, amplified by the involvement of experienced makeup artists that add professionalism and value.
For cross-border brands, leveraging the identity and voice of these professional influencers becomes an effective strategy to enhance brand influence and likability within their target market. As the Middle East continues to embrace the convergence of technology and commerce, the potential for businesses to thrive and innovate in this dynamic landscape remains high.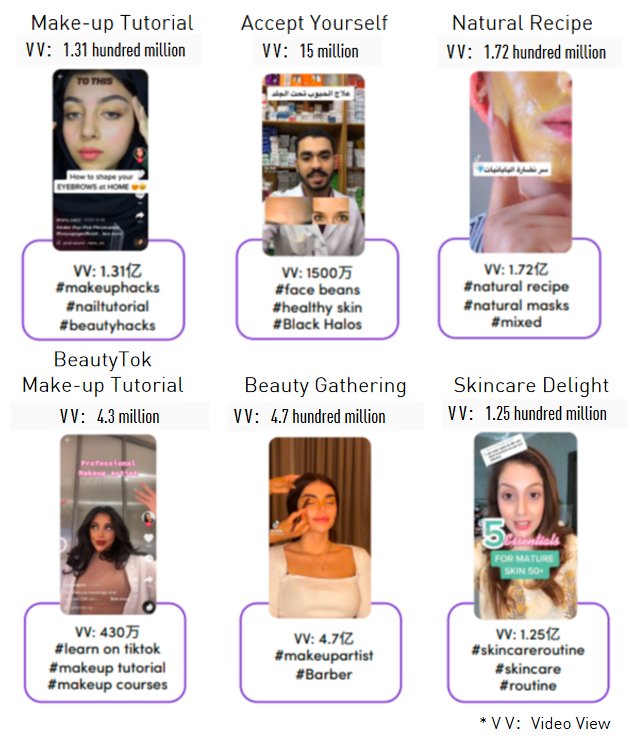 Social Media Apps
Social media platforms like Facebook, Instagram, Snapchat, and WhatsApp hold a dominant position in the market. Notably, TikTok has experienced astonishing growth and rapidly integrated into the lives of Middle Eastern users.
In addition to the well-established players, Kwai has emerged as an influential player in the Middle East region. During Ramadan in 2022, Kwai launched several themed activities targeting markets like Saudi Arabia. These initiatives included the #RamadanRecipes challenge, collaborating with renowned chef Hisham Baeshen, and the #KwaiRamadanSeries drama event, promoting localized content. The platform also invited top Egyptian singer Ayten Amer and other influential figures to join, further solidifying its presence and impact in the region. As social media continues to evolve in the Middle East, businesses and influencers are exploring new opportunities to engage with their audiences and foster meaningful connections.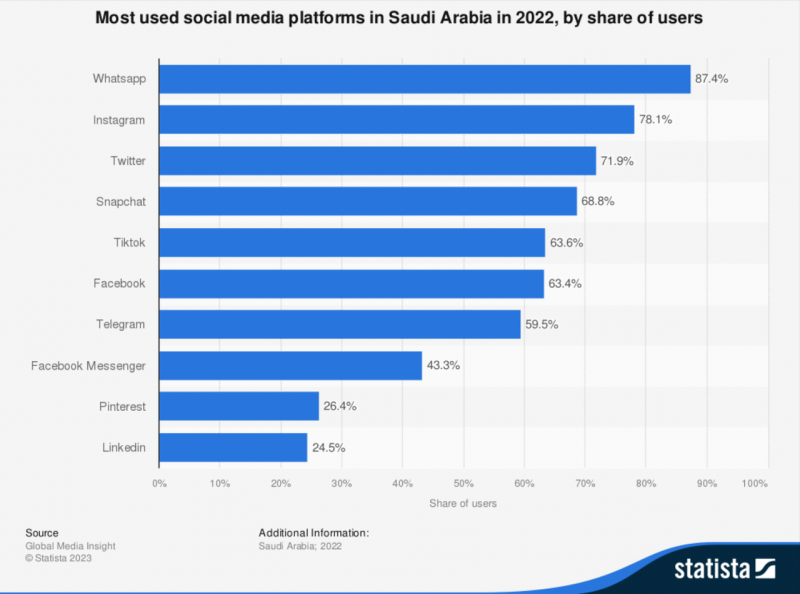 Growth Tips:
Embrace the "Social Media+" promotion model, leveraging the growing richness of social media platforms and heightened user engagement. This integrated approach combines advertising, content marketing, and social media management to achieve optimal results.

Create advertising content with a keen understanding of the local audience's perspective and seamlessly integrate the local culture. Crafting highly relatable advertisements will captivate the audience's interest and drive effective engagement.
Expert Tip

Ramadan is one of the customs in Islam, and the specific dates vary each year. During this time, all Muslims are prohibited from eating, drinking, smoking, and other activities from dawn to sunset. People use this period for spiritual reflection, prayer, acts of kindness, and spending time with family and friends.
During Ramadan, social and entertainment activities in the Middle East are restricted, and Muslim users have heightened demand for high-quality online content. For example, on Snapchat, the time spent by users watching Ramadan-related content increases by 33%, and there is a significant increase in content creation.
Additionally, Ramadan spurs a major shopping season in the Islamic calendar. People tend to prepare in advance and increase their shopping frequency and quantity. After capturing the users' content needs, how can you present content and ads that are more Ramadan-themed to attract clicks and improve conversions? We recommended putting more effort into timely creatives, such as:
Incorporate the theme of Ramadan and express feelings of happiness and hope.

Include elements related to Ramadan, such as lanterns and crescents, in the visuals.

Design background music that matches the Ramadan style.
Scaling Apps in the Middle East with Nativex
The Middle East stands as a promising market. It has immense growth opportunities for businesses seeking international expansion. Its young population, high internet penetration, and evolving consumer preferences create a fertile ground for various app genres to flourish.
As a
marketing agency
with deep expertise in the region, Nativex understands the cultural intricacies and preferences of Middle Eastern consumers, enabling us to craft highly relatable and impactful campaigns.
Leveraging our
past experiences
and
influencer marketing expertise
, Nativex can help businesses effectively navigate the Middle East landscape and scale their apps to reach and engage with the vibrant audience in this dynamic region. With a thoughtful approach that integrates local culture and customs, businesses can forge lasting connections and make a significant impact in the Middle East market.