"APAC Market Spotlight" is a series of Nativex articles that provide in-depth analysis of the mobile ecosystem, user behavior, and popular mobile apps in Southeast Asia, South Korea, and Japan. The series will focus on these three major territories in the Asia-Pacific region and examine new trends that will hit the APAC mobile market in the future.
In Asian countries where the entire nation is connected by mobile, what kind of mobile apps come to mind when you think of Korea? For Korean users, they will instantly think of 'Kakao' and 'Naver', for example. Recently, due to Covid-19, Korean native OTT services such as 'Watcha' and 'Wavve' are also booming beyond 'Netflix', a global service that allows users to enjoy video content from the comfort of their home. In this article we'll take a look at the latest popular Korean apps.
'KakaoTalk' for messages, "Coupang' for shopping, and 'Samsung Pay' for payments
According to the 'Top Korean Mobile Apps of 2019' study by IGAWorks, a mobile big data analysis company, apps providing messenger, social media, search portals, e-commerce, finance, video, and map services were among the top 10 most used apps. Excluding YouTube, Instagram, and Facebook, which are popular all over the world, it is interesting that everything else is all local services in Korea. This is essentially the result of Korea's incredible tech capabilities.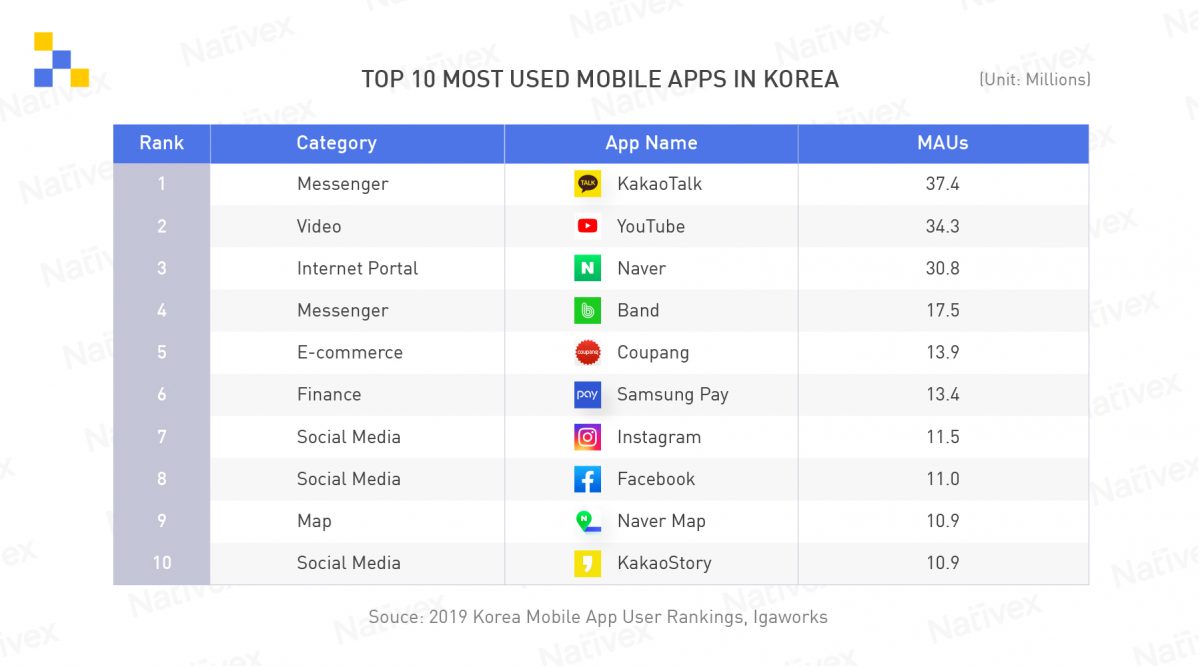 App Category #1, Messenger: KakaoTalk, the most used app by Koreans
'KakaoTalk' is the first app to be used by a large number of people in South Korea. According to its business activity report released in February 2020, KakaoTalk monthly active users (MAU) was 44.86 million people as of the final quarter of 2019. This shows that the app is used nationally while maintaining a 96% messenger market share based on usage time. 
Messenger apps took up two of the top 10 spots and the number 1 most used app by Koreans is 'KakaoTalk.' Launched in 2010, KakaoTalk got attention through its free messaging service using Wi-Fi or 3G network, instead of paid messages. Since then, it has updated its group chat, open chat, and its PC version, making it possible for family, friends, colleagues, and team members to communicate through KakaoTalk in various ways.  In the early days of smartphones in Korea, this app was the no. 1 contributor to smartphone penetration, as many users bought a smartphone just to use KakaoTalk.
The company was also focused on developing characters that could be used as messenger emoticons. With cute characters such as Apeach and Ryan, they created "Kakao Friends". It may have started as a small emoticon, but now this friendly mascot is a service ambassador, selling various goods, operating online and offline shops, and collaborating with various companies as an independent corporation. The company is expanding this approach by using the Kakao Friends across its other businesses to boost their revenue.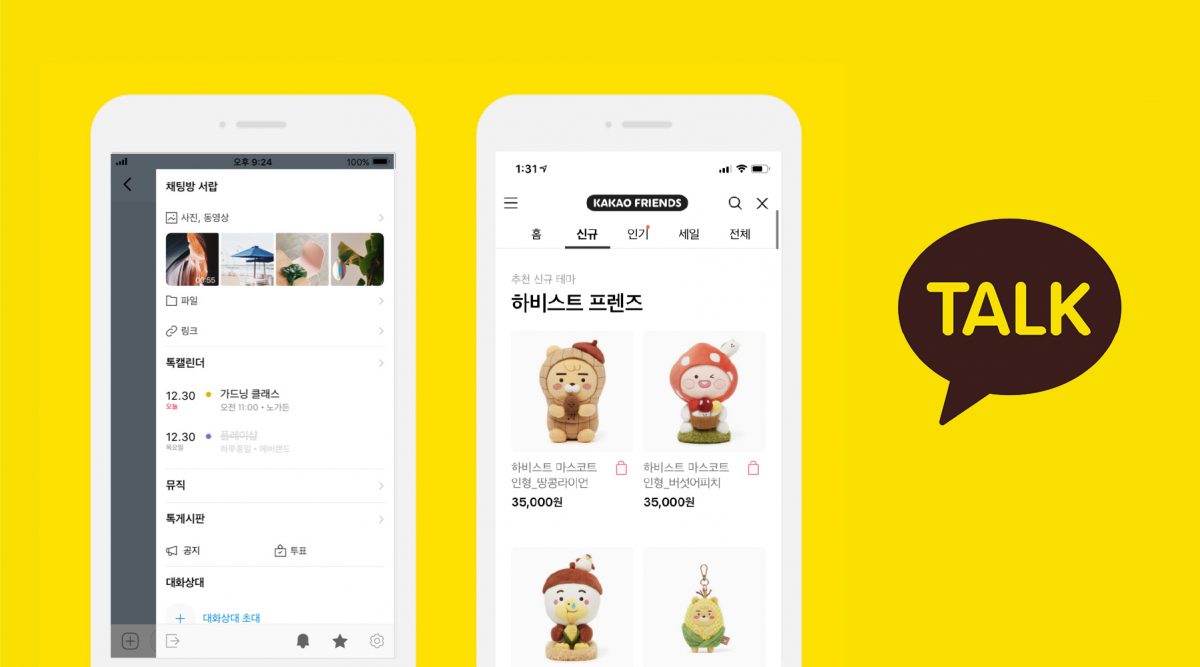 (Image source: KakaoTalk)
KakaoTalk started as a messenger app but evolved into areas like finance and shopping, becoming deeply embedded in Korean users' lives. 'Easy payment' features in the app allows KakaoTalk members to send money conveniently, and order or send gifts through 'KakaoTalk Shopping.' Also, the app has organically integrated its platform with music streaming service 'Melon', webtoon and web fiction platform service 'Page', and its game platform, 'Let's play' into KakaoTalk, thus creating a large online ecosystem.
'Band' ranked in the top 4, is a group social network service app created by Korea's largest portal site Naver. As of December 2019, its MAU is 19.47 million people, and the main users are in their 50-60s. It became popular through its 'Alumni Search' feature allowing people to reconnect with their old classmates, but now has become an active site that provides club meeting services for the culture/hobbies of middle-aged users.
The app operates through alumni meetings, mountain meetings, and hobby groups, among others. Band is growing rapidly in the US market, and now due to the spread of Covid-19, the number of new users has increased, especially for groups that require private and restricted communication among members such as schools and religious group meetings.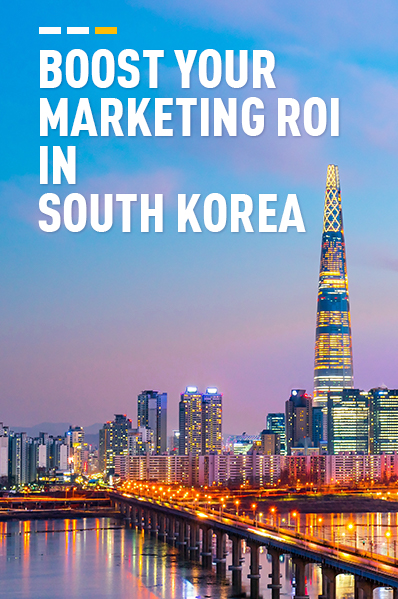 Are you looking to launch your mobile marketing campaigns in South Korea? Get in touch with the Nativex team today and we'll show you how to achieve success in this highly lucrative market.
1
CONTACT US
⟶
App Category #2, E-commerce: The domination of 'Coupang', the logistics revolution, and the rapid growth of 'Market Kurly'
'Coupang' is known as the Amazon of Korea, and is the number 1 app in the shopping category. The company has since expanded to cover not just daily necessity products, but also electronics, fresh food, and more. Coupang MAU was 13.97 million as of December 2019, which was twice the amount compared to 11STREET (6.75million) in second place, establishing itself as a dominating shopping app.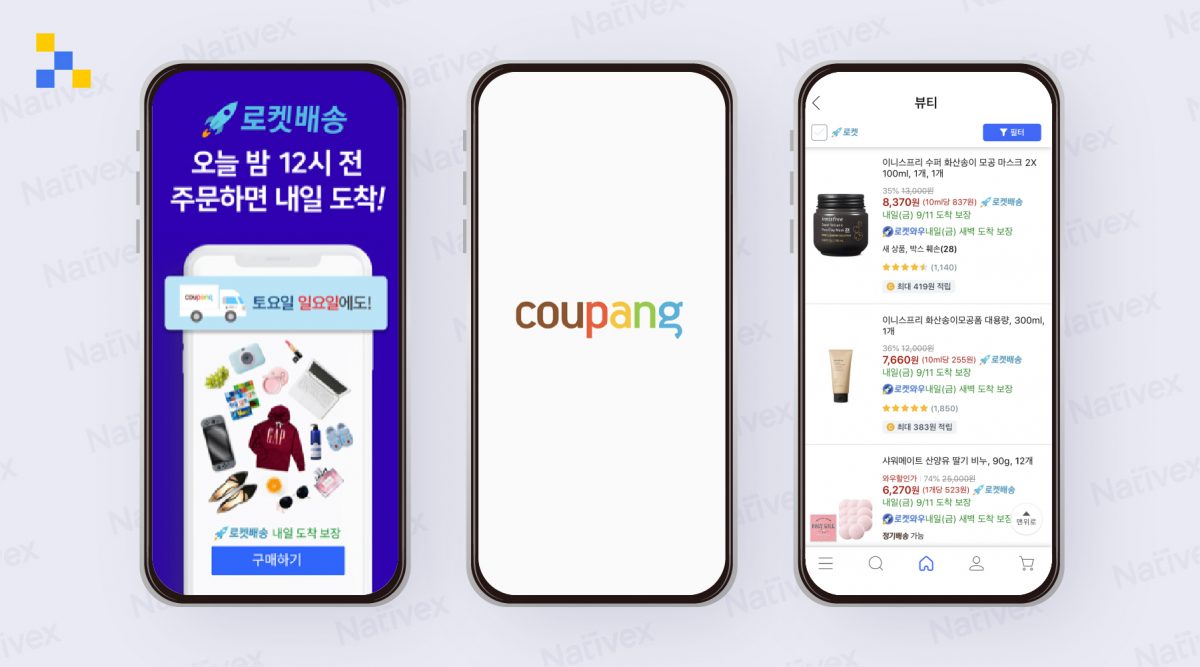 (Image source: Coupang)
The growth engine of 'Coupang' is its logistics, especially its 'Rocket delivery' where products ordered before midnight are delivered by 7am the following morning; this was considered so revolutionary that even Amazon could not achieve it. Coupang's Rocket Delivery centers numbered 168 as of 2019, more than six times what they had in 2014, when Rocket Delivery began.
According to Coupang, the number of consumers living within 10 minutes from a Rocket Delivery center increased from 2.59 million in 2014 to 34 million last year (for context, South Korea's population is 51.78 million). Other companies have been copying the 'overnight delivery' service from Coupang, and now this type of early morning delivery and next day delivery service has become common in Korea. Due to this, Coupang has been selected as the second 'most innovative company in 2020' by the US economic media 'Fast Company.'
While Coupang has conquered Korea's e-commerce industry through its large-scale logistics, Market Kurly has also shown a sharp growth curve. Market Kurly is the top app in the fresh food category. It started as a premium strategy startup that prioritized healthy, quality food along with trendy food ingredients, and recently, companies with large distribution networks such as Coupang, Shinsegae, and Lotte. Market Kurly achieved annual sales of 400 billion KRW ($340 million).
According to the 2020 Online Food Purchase Trend Report released by Open Survey, Market Kurly was the most recognized shopping mall by consumers in the food sector, where consumers chose quality and freshness as reasons for using Market Kurly over other markets.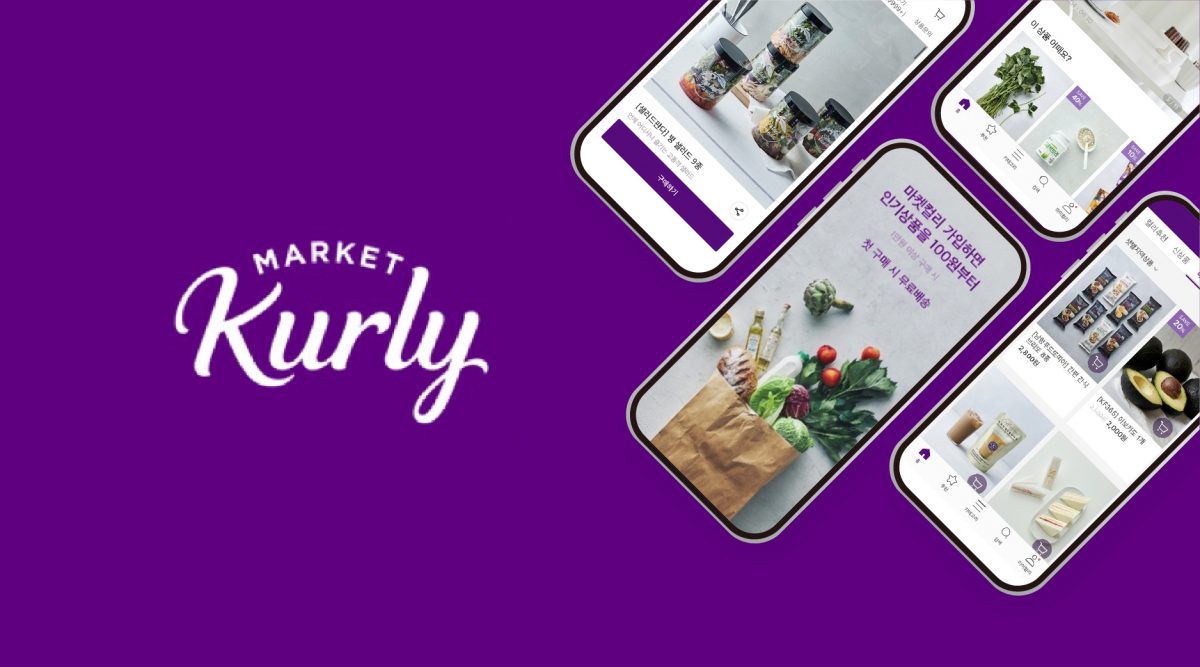 (Image source: Market Kurly)
App Category #3, Finance: 'Samsung Pay' takes the place of credit cards, 'Toss' goes from convenient transfers to stocks
In the finance app sector, 'Samsung Pay', launched in March 2015, has recorded 13 million MAUs, ranking 6th among all apps and 1st in the finance sector on Android. This is a very high rank considering that only smartphone users of the Samsung Galaxy line can use the 'Samsung Pay' app instead of cash or card to make payments by simply touching the terminal.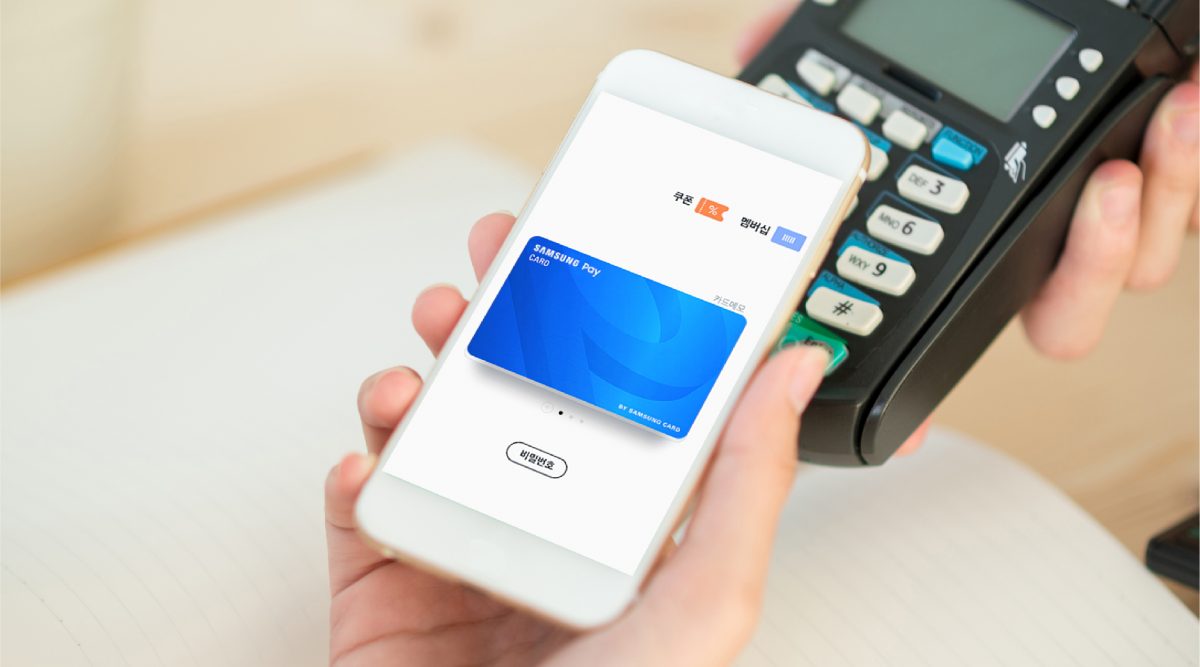 (Image source: Samsung Electronics Blog)
Though the FinTech service app 'Toss' was not included in the top 10, with 10 million MAUs it ranked number 2 in the finance sector. 'Toss' has started with its convenient payment service, and is a rapidly growing FinTech service with its current internet banking and securities company being pre-approved.
Meanwhile, Kakao Bank, which started financial services in 2017 as an online bank, is also popular with many Koreans. When the service was first launched, there were even server connection issues due to too many users wanting to open accounts at the same time and receive their debit card featuring Kakao Friends characters. It consistently provides interest rate benefits and unique services, and is now close to the average level of local banks.
According to the Bank of Korea, 6 out of 10 Korean adults use mobile banking apps, which essentially means that the use of financial apps has become universal. However, with the digital divide being most prominent in the finance sector, there are concerns about the growing generation gap. There was a stark difference in use by generation; while 87.2% of people in their 30s used mobile banking, this was only 18.7% of those in their 60s and 6.3% for over 70s; this clearly shows that there is an issue that needs to be dealt with. 
Other Popular Categories: gaming, video, webtoon, dating
In addition to the top 10 app categories, Korean users are active in various other fields. One main area is games. Korea is a gaming powerhouse, with many global popular publishers. According to App Annie, the four Korean game companies Netmarble, NC Soft, Gameville, and Kakao, have ranked in the top 52 worldwide mobile app publisher revenue in 2019. 
In the video sector, YouTube holds a strong lead. 9 out of 10 online video viewers in Korea use YouTube, and recently YouTube has secured the second largest number of users after Naver in the search platform market, increasing its role as a search engine. 
Webtoons are growing around main portals such as Naver and Kakao. The most popular platform which is 'Naver Webtoon' has reached 4.8 million MAUs as of March 2020. This is number 1 among the overall domestic entertainment apps, not counting only the webtoon category but also including broadcasting, music, and more.
Finally, the field of dating has been in the spotlight recently. According to the '2020 Mobile Status Report' by App Annie, interestingly, dating apps account for 3 out of 10 top Korean apps based on consumer spending. 'Azar' in particular has recorded 400 billion downloads globally, becoming a worldwide success. Location information can be used to meet in a short distance, and bad members can be filtered out using blockchain technology. Another part of the change is the emergence of new forms of meetups thanks to the development of mobile technology.
(Image source: Azar)
What is the future of the Korean mobile market?
Heading into the post-corona era, it is natural for users to enjoy the concept of "untact" in their daily lives with comprehensive apps such as Kakao and Naver. In addition, so-called K-content, such as Korean dramas, movies, and mukbangs (eating shows), are famous around the world through YouTube or Netflix, further accelerating the mobile subscription economy. 
If you're looking to achieve success in Korea's mobile market, then make sure you contact the Nativex team today. With a wide range of mobile marketing solutions available, our team can help global brands and advertisers reach their audiences in Korea and other key markets around the world.