Japanese people enjoy spending time on their smartphones, especially when traveling or during their down time in general. In particular, more and more people are now using smartphones while watching TV or using their PCs. One study by AppApe in 2019 showed that Japanese people download an average of 99 apps on their smartphones and use an average of about 37.5 apps.
According to App Annie, a mobile app analytics platform, these were the top 3 non-gaming apps with the highest spending in Japan last year: LINE Manga, LINE, and LINE Music. 
2019 Top 10 Non-Gaming Apps by Consumer Spend
The top 3 apps were all provided by LINE, Japan's largest messenger app. With over 84 million MAUs (as of April 2020), this means that 67% of Japan's population uses LINE. This app was launched in 2012 and got a stable user base early on, accelerating its use growth thanks to two main features: free calls via WiFi and Stamps (similar to emojis). 
With its large number of users, LINE managed to establish a strong presence in the Japanese market. At the same time, LINE diversified their business by branching into other verticals like music, comics, payments, gaming, and live streaming. Comics, instant messaging, and music were particularly successful, taking the 1-3 spots in terms of consumer spending in 2019.
Let's take a look at the most popular app genres in the Japanese market and see which apps Japanese users spend most of their money on.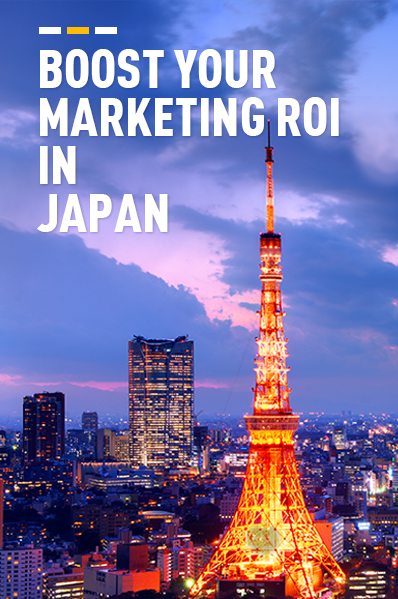 Are you looking to launch your mobile marketing campaigns in Japan? Get in touch with the Nativex team today and we'll show you how to achieve success in this highly lucrative market.
1
CONTACT US
⟶
1. Comic-based apps
These apps, thanks to their multiple types of new content constantly available, are enjoyed by many Japanese users. As popular mangas published via smartphone apps are made into TV shows or animation, the interest for these types of apps is massive and it keeps growing.
The comics market size in 2019 increased by $570 million (60.2 billion yen) compared to previous year to a total of $2.84 billion (298.9 billion yen), with comics now representing 86.1% of the digital books market. Among these, apps rich with original content that also allow users to enjoy mangas by various publishers are the most popular. Scroll-down type mangas, popular in Korea and China, are also favored in Japan.
'LINE Manga' allows users to access mangas by simply using their LINE account. The app launched in 2013 and has been downloaded more than 27 million times as of April 2020, becoming the most downloaded manga app in Japan. LINE Manga also has the highest number of weekly active users (WAU), with most of them being in their 10s & 20s, and the ones aged 15-20 represent 62% of the entire user base.
Among the comics available on 'LINE Manga', 'Fake Affair' by Higashimura Akiko became a hot topic as it was made into a prime-time TV drama in 2019.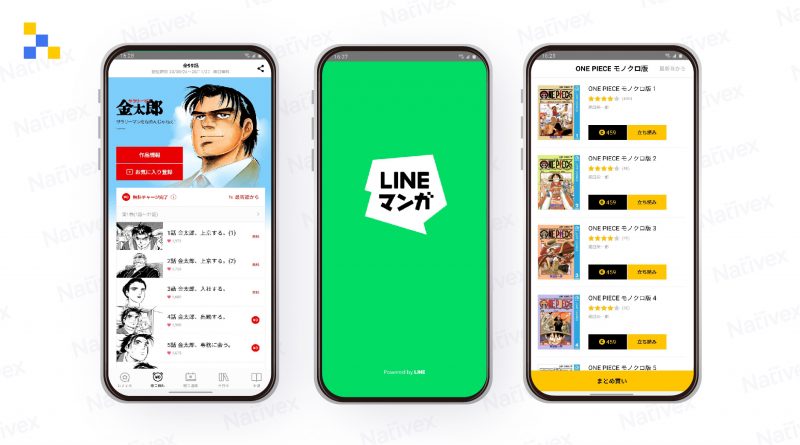 Source: LINE Manga
Another manga app, 'Piccoma', provided by the Korean company Kakao, has created a '0 Yen if you wait' campaign, allowing users to access the content for free if they wait 23 hours; this initiative proved to be extremely popular with young users. At the same time, users who cannot wait until the following day are happy to pay to access the content straight away.
"Picoma" showed remarkable growth in July, topping sales in the Japanese app market non-game segment for the first time since its launch in 2016. Although it is a webtoon app, it also has a wide range of novels available. Novels, mostly romance and fantasy novels, are a type of content rapidly gaining popularity in Japan, thanks to their bite-sized content designed for mobile devices.
With popular comics by the 'Shonen Jump' magazine such as 'One Piece,' 'Hunter X Hunter,' 'Blade of Demon Destruction' being published on the 'Shonen Jump Plus' app by Japan's largest publisher Shueisha, the number of fans has grown significantly and continues to increase. As of August 2020, the number of 'Shonen Jump Plus' app downloads has exceeded 15 million, and with new original series on the app, like "SPY×FAMILY" and "Jigokuraku",  the number of active users is expected to increase by 200,000-300,000 users. 
As a result of the Covid-19 lockdown, Japan has released free comics on apps, which have gained a lot of interest from the population. Another thing to note is that because of Covid-19, since March 2020, all public elementary, middle, and high schools have shut down. For children who cannot join club activities or play with friends, large publishing companies have released digital comics and magazines for free. Popular comic magazines like 'Shonen Jump Weekly' and 'Shonen Weekly Sunday' have now been released as free apps, and these efforts will help increase the popularity of comic-based apps.
2. Dating apps
With the age of first marriage increasing, matching apps are also gaining popularity. 'Pairs,' which is the largest Japanese matching app, has 10 million registered members and is popular because it is easy to join and use. This is a well-established matching app launched by a Japanese startup and is the first company to monitor texts and images uploaded non-stop for 24 hours, offering its users a high degree of security from any unwanted types of messages.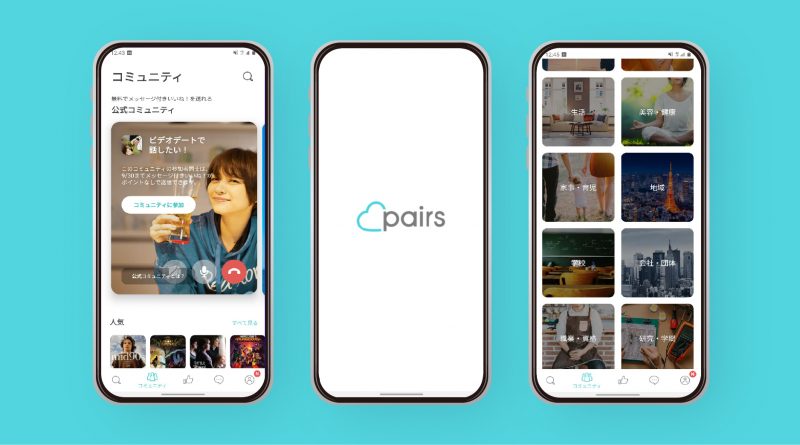 Source: Pairs
'Tapple', operated by CyberAgent, is a dating app that uses common interests such as food, movies, or sports to match its users. The app exceeded 5 million users, with 20 to 24-year-olds accounting for half the user base. As of October 2019, app users have matched over 200 million times.
'Zexy Matchmaking' developed by a large wedding magazine, has been significant user growth because of its security and reputation that come with being a large company. The app has rich data on Japanese couples accumulated over a long period of time, thanks to its main business as a wedding magazine, which it uses to optimize its dating algorithm. 20 to 30-year-olds account for half of its user base, with its main feature being that a professional concierge will organize dates for its users; it now has more than 1.1 million members with a total of 3.2 million matches so far.
3. Music, Video Streaming Apps
With WiFi available everywhere on the streets and 5G launched since March 2020, video or music streaming app users are rapidly growing in popularity.
In Japan, Amazon Prime Video, Amazon's video streaming platform, and 'TVer,' which provides free TV online, are two of the most important apps in this category. 'Amazon Prime' has over 70,000 shows, and 'TVer' has over 300 shows and more than 100 million views, with a total of 25 million downloads and 10 million MAUs as of March 2020. Netflix, which regularly provides original content, has 4.2 million Japanese users as of the first half of 2020, and Japanese-made content is gaining popularity. In line with this, video apps such as GyaO and Abema TV, provided by Japanese companies, are also becoming more and more popular.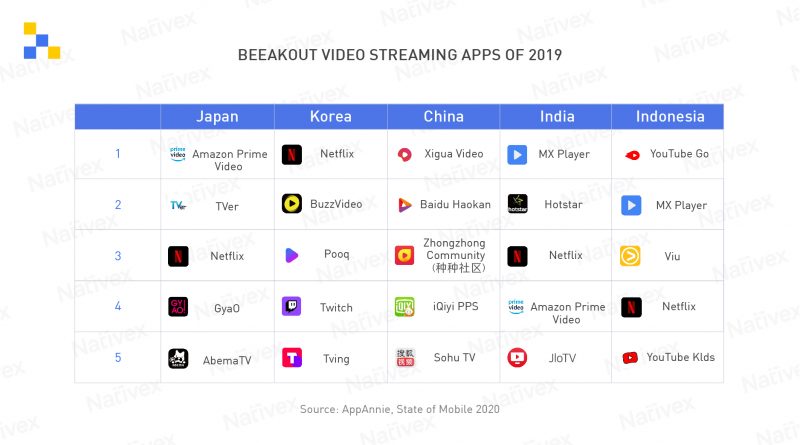 It is also worth noting the substantial rise of independent video streaming apps by major TV stations such as 'NHK Plus' by NHK, Paravi by TBS, FOD by Fuji TV, and Hulu by JapanTV. This trend is unique to Japan, where people can access broadcast TV for free.
Conclusion
Japanese users tend to spend the most money on apps developed by large Japanese companies or popular (recognized in Japan) global companies. For many Japanese users, the app developer reputation is extremely important, particularly in terms of user privacy and data security.
For FinTech apps that have become a global hot topic since the end of 2019, Japanese apps are the most popular. While various apps launched in the market initially, apps by large companies in Japan such as Paypay and d Payment were the ones to find the most success and increased their user bases.
Although new types of apps are being developed and launched in the market, the most successful apps tend to be the ones developed by large companies, mainly due to the fact that trust and reputation are extremely important deciding factors for Japanese users.
If you're looking to achieve success in Japan's advanced mobile market, then make sure you contact the Nativex team today. With a wide range of mobile marketing solutions available, our team can help global brands and advertisers reach their audiences in Japan and other key markets worldwide.