We are back with our next APAC Market Spotlight article and we will continue to focus on mobile trends in the Asia Pacific region and today we'll be looking at the Korean market. As the non-face-to-face services emerged as the result of the COVID-19 pandemic, the mobile e-commerce market in Korea entered a new phase. Physical areas like supermarkets, restaurants, and high-street shopping in general are now growing their online, and particularly mobile, presence. What does this new post-COVID era look like and how does it impact Korean mobile shoppers? Let's find out.
The amount of shopping done by the 'Thumb Tribe' increases every year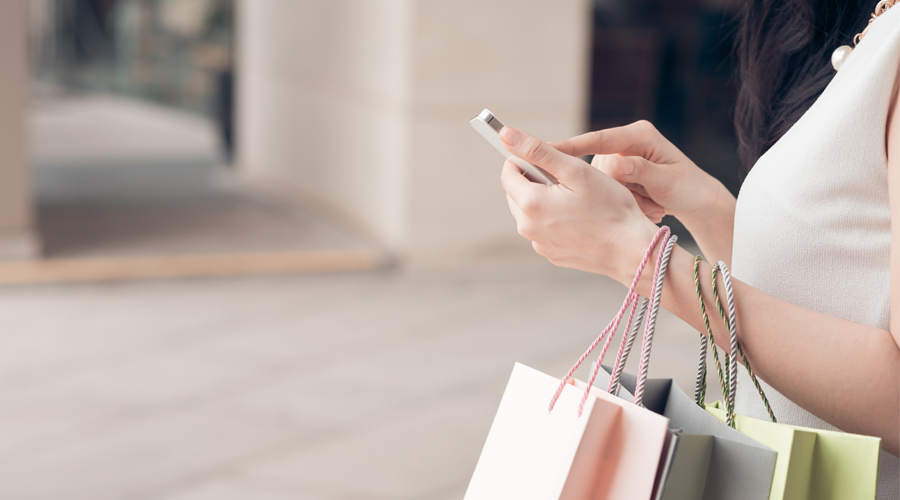 In the past decade, the Korean online shopping ecosystem has grown rapidly. Online shopping has essentially replaced in-store shopping and became a megatrend. It is common to see people order directly from overseas shops through the likes of Amazon and AliExpress, or make late night orders to have them delivered early morning the next day through Coupang. Nowadays, online thrift store apps like Danggeun Market are gaining popularity by connecting neighbors and helping them trade second-hand items. 
Smartphone-led online shopping in particular has seen tremendous growth. Statistics show that in 2019, mobile shopping spending accounted for 64.4% of the total online shopping transactions, hitting an all-time peak. What about the number of mobile shoppers? According to IGAWorks, a mobile app market research company, the number of Korean mobile shopping app users has exceeded 22.49 million users as of August 2019. This means that nearly one out of two Koreans belong to the 'Thumb Tribe' who do their shopping from their phones.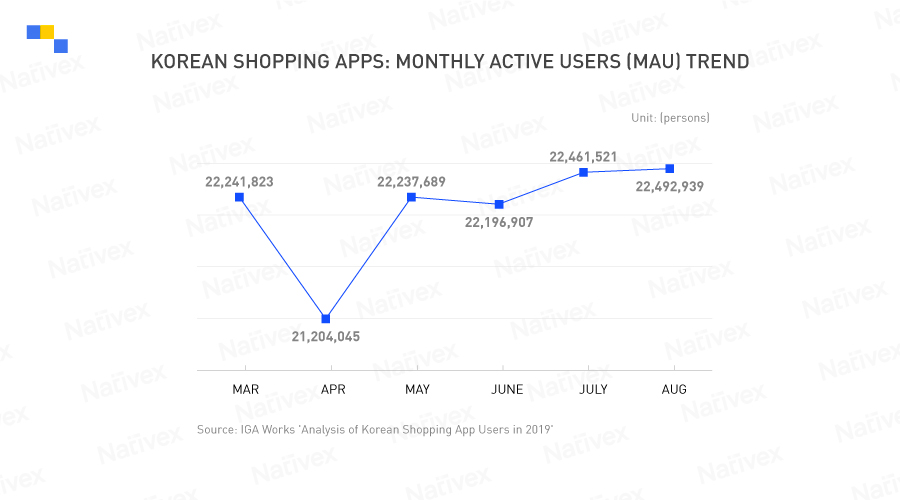 2019 Mobile Shopping Transactions in Korea. Source: Yunhap News
With the number of online shoppers (mobile shoppers, in particular) increasing, large Korean companies have begun banking on e-commerce. For example, Shinsegae Group invested 1 trillion KRW (about $850 million) into its e-commerce division SSG.com, while Lotte Shopping and Lotte Group invested 3 trillion KRW ($2.5 billion) into Latte ON, which is a combination of six shopping malls belonging to Lotte Group and its affiliates. Both of these titans are now jumping into the fiercely competitive e-commerce arena, fighting for precious market share.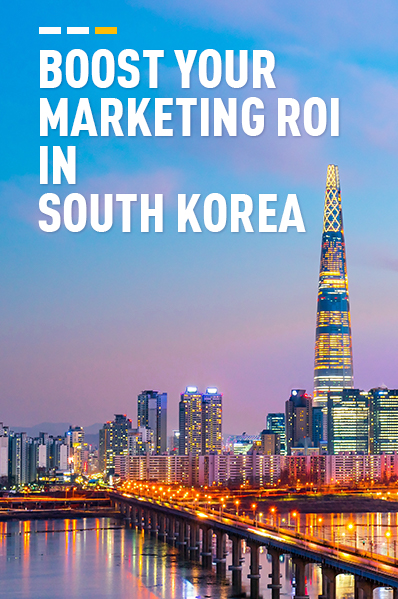 Are you looking to launch your mobile marketing campaigns in South Korea? Get in touch with the Nativex team today and we'll show you how to achieve success in this highly lucrative market.
1
CONTACT US
⟶
One out of three mobile shoppers is a female in their 30s or 40s. What about Gen Z?
Now let's look at the gender and age group distribution of the 22.5 million mobile shoppers in Korea. According to IGAWorks, the male/female ratio of mobile shopping users is 40/60, with female users in their 30s/40s account for the highest segment at 36% of the entire user base.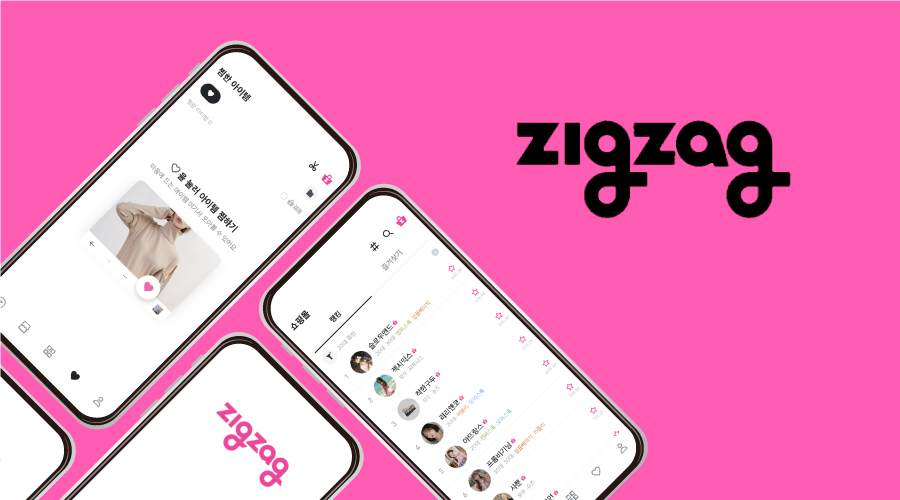 Women's Fashion Shopping App ZigZag. Image: Zigzag
But there is a wind of change in Korea's mobile shopping ecosystem. An increasingly higher number of shopping malls are now targeting Gen Z, which consist of digital natives in their teens and 20s. Popular shopping malls like 66 Girls, or FromBeginning, all target people in this age segment. According to the 2019 Status of Shopping App Users report released by app analytics service WiseApp, women's fashion shopping app Zigzag was the top app used by teens, while Musinsa, an online fashion store which has become the 10th unicorn company in Korea, had 70% of its total members in their teens and 20s.
Korean mobile market is led by its 'love for deliveries'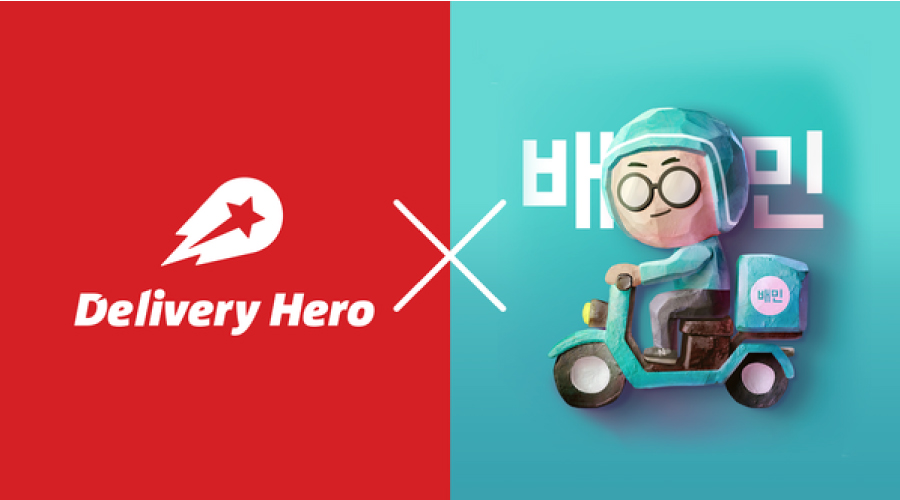 Image: Delivery Hero & Baedal Minjok
While fashion is a big part of the mobile shopping market, analysis shows that the rapid growth of mobile transactions have been driven by the food delivery sector. Data shows that mobile food delivery transactions in 2019 have seen a 93.1% year-on-year increase. Some of the reasons behind their popularity are the expansion of delivery apps such as Baedal Minjeok, Yogiyo, Baedal Tong, and early morning food delivery service by companies like Coupang, Market Kurly, and eMart. Recently one of the main delivery service companies and a unicorn company, Baedal Minjok, was  purchased by Delivery Hero, a German company for 5 trillion KRW ($4.2 billion), which is probably because of Korea's extraordinary love for deliveries. 
Particularly after the coronavirus pandemic, as outdoor activities and eating out were restricted, the delivery service sector showed tremendous growth as it allowed Korean users the ability to enjoy their meals safely inside their own houses. According to the app/retail analysis company WiseApp/Wise Retail, the amount of payments for delivery apps between January and July this year increased 74% compared to the same period last year. Convenience stores, which operate 24 hours a day, have also entered the war for delivery, and have started a delivery order service that can be used even during late night hours. For example, between July 24th and August 24th, GS25's delivery service sales increased by 128.6% compared to the previous month.
The company that has attracted the most attention recently is Coupang, also known as Korea's Amazon. According to a recent IGA Works survey, Coupang achieved its largest growth yet in 2019, capturing an overwhelming share of the market. In particular, the number of unique monthly users, which shows the number of actual, genuine users, increased by 30% from January 2019 (10.69 million) to December 2019 (13,97 million). Coupang has doubled its distance from second place app 11STREET, solidifying its position at the top.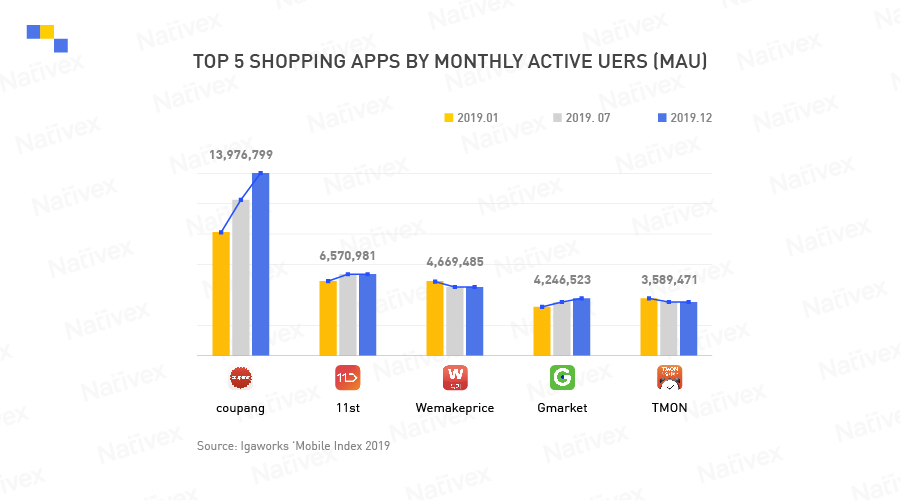 The reason Coupang is chosen by most Korean consumers is because of Rocket Delivery, a next-day delivery service. First introduced in Korea in 2014, Rocket Delivery is an innovative delivery service where orders placed before midnight are delivered early next morning. Also, orders placed by 11pm are even delivered by 6am the following morning. With this competitive edge in the delivery sector firmly in place, Coupang used its strength to launch additional delivery services to further gain market share and position itself as the dominant player in the market. Some of Coupang's most popular delivery services include Rocket Fresh, which delivers fresh food such as fruits and vegetables, Coupang Eats, which delivers meals like Baedal Minjok, and Rocket Direct Purchase, which is used for overseas products.
'Social" attracting Gen Z Consumption
The mobile shopping market is constantly evolving as it transforms its users' shopping patterns. As much as its scale and reach have changed, its content has changed as well. Brands hoping to target Korean consumers through marketing campaigns must consider the 'social connection' component. Many mobile shopping apps have included features that allow communication with other users within their apps, as well as the ability to advertise their purchases on social media to influence other Korean consumers to do the same.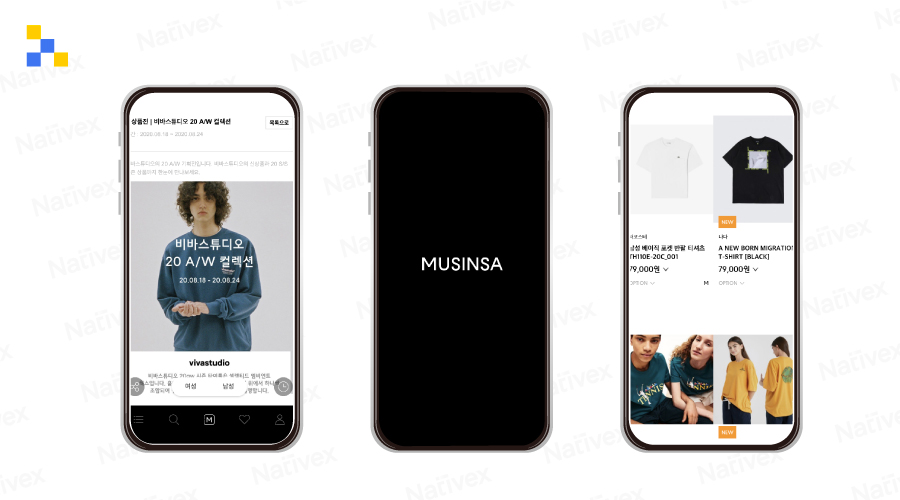 The Musinsa app, a popular online fashion store. Image: Musinsa
The younger the age group, the more people tend to prefer 'social based' platform type apps. Style Share is a social media-based shopping app, where users can share fashion and beauty information and immediately purchase through each other's feeds. Musinsa shares street fashion and styling methods, and brand stories to attract purchases organically. These shopping malls share products that have good stories or strong messages behind them and allow users to communicate with each other to stimulate purchases.
Reviews on social channels also have a significant influence on shopping behavior. According to a social commerce report, 34% of the people who watched branded video content have actually bought the products advertised there. Another survey showed that 63% of the respondents said that social network reviews increased the product's credibility. These types of reviews have become a highly effective promotional method that led to purchases by followers and non-followers alike. As social media advertising effectiveness on channels like Facebook, Google, and Instagram is improving, various types of mobile advertising products are being developed at the same time.
Your strategy for the Korean market
The Korean mobile shopping market is growing each year at an incredible rate, driven by the new young users, the expansion of the delivery market, but also by the  impact of COVID-19. Having a sophisticated understanding of the shopping pattern of target users is essential in order to expand your brand in the Korean market, where mobile is creating a new shopping paradigm. One thing to consider is that millennials and Gen Z are digitally-savvy and prefer 'social' based platform style apps. However, for older age groups, people seek apps with convenient purchase methods such as quick delivery and easy payment methods. 
If you're looking to achieve success in Korea's mobile market, then make sure you contact the Nativex team today. With a wide range of mobile marketing solutions available, our team can help global brands and advertisers reach their audiences in Korea and other key markets around the world.