Japan started offering commercial 5G services this year in March and made plans to actively expand 5G stations to about 210,000 by 2023. With this rapid change in the mobile ecosystem, smartphone-led online shopping is expected to become more active.
What are some key aspects of Japanese users' mobile shopping habits? Our article will explore Japanese mobile shopping trends, as well as the future of mobile e-commerce in Japan.
More Japanese users are moving to mobile shopping
According to the 'The State of Mobile 2020' released by App Annie, time spent on shopping apps in Japan increased by nearly 50% compared to 2019. When shopping online, more people are using their smartphones for the end-to-end process, from collecting and reviewing information about a product or service, to making the actual purchase. Also, in 2019, according to Nielsen Digital, the percentage of people who used smartphones as an online purchase method rose to 47%, while PC-based online shopping dropped to 42%. Looking at data from the last 2 years, the ratio of people using smartphones to make purchases has increased, overtaking PCs.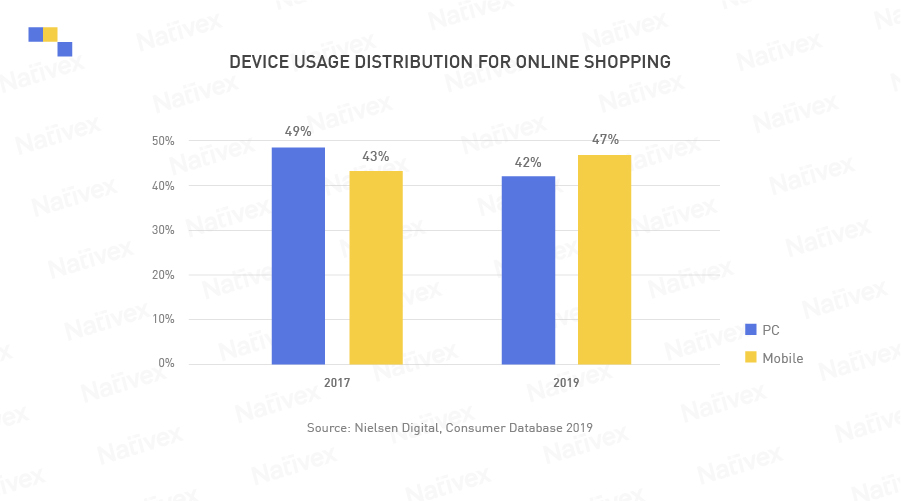 In October this year, when Japan's largest messenger app LINE and the internet portal site Yahoo! are to be integrated, the gap between mobile and PC usage is expected to widen even further. In particular, the merger of these two companies, which have been fiercely competing using payment service apps LINE Pay and PayPay, will allow more than 100 million users to access most of Japan's mobile payment systems. A new era is coming soon.
Gen Z enjoys social commerce
What is the mobile commerce usage rate in the Japanese mobile market? According to a data study conducted by global payment service PayPal in 2019, 73% of all users prefer using mobile shopping apps, spending an average of 8,384 Yen ($79.14) per month. Brands and advertisers also need to pay attention to Japanese users who prefer buying overseas products. 20% of all users in Japan purchase electronic products and fashion goods through overseas online stores. This is good news given that approximately half of Japan's online consumers, 53%, do not prefer to make overseas purchases. As with any market, it is very difficult to get everyone to actively embrace change.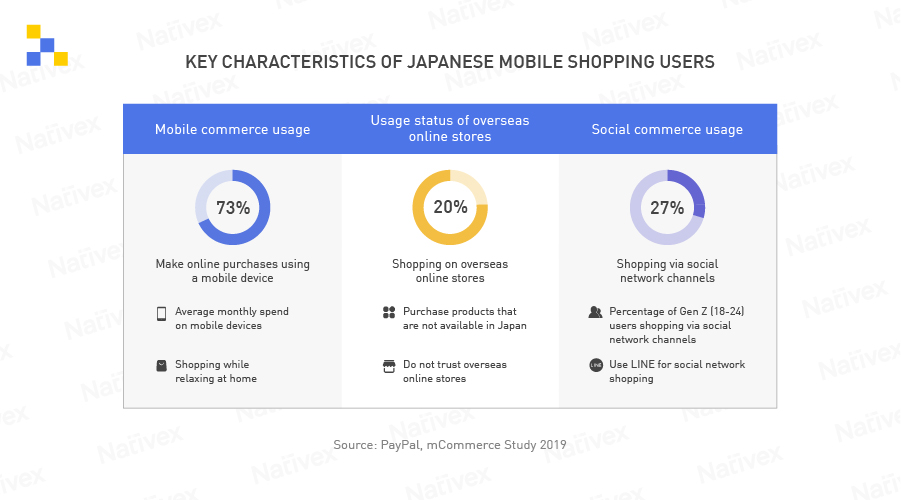 Many Japanese brands use social media to communicate with influencers and regular users, mainly by using a variety of videos to promote their products. In fact, 34% of Japan's Gen Z are already shopping through Instagram, YouTube, and Twitter. In particular, brands such as Honeys and LIZ LISA are popular among Japanese teenage girls, and they actively use Instagram's shopping functionality to sell their products.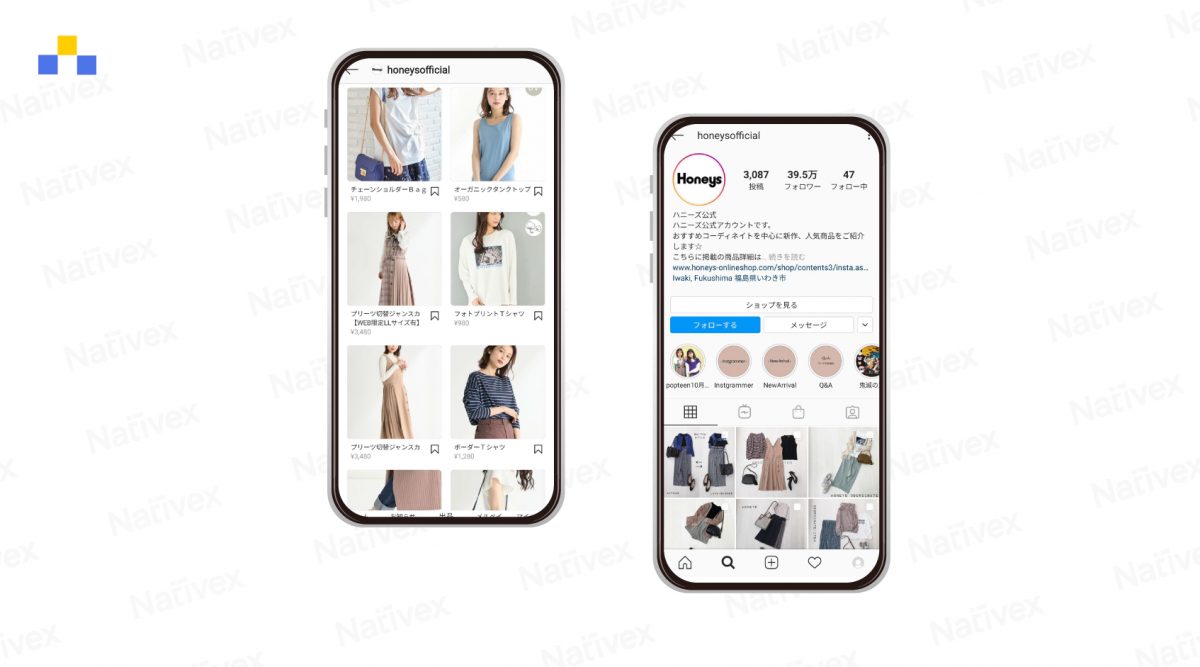 Source: Honeys
The number of Japanese users using messenger apps for shopping has increased as well. LINE Shopping, an e-commerce app provided by popular messenger app LINE has exceeded 35 million members as of February 2020 and is favored by users who purchase cosmetics, daily items, and fashion items through LINE. For example, the grocery market COOPDELI operated by the Japanese Consumer Cooperative Union (coop), created an official LINE ID to communicate directly with LINE users. Similar to KakaoTalk's Plus Friend in Korea, this method allows LINE users to get fresh groceries conveniently delivered straight to their homes with a single tap from the messenger app itself.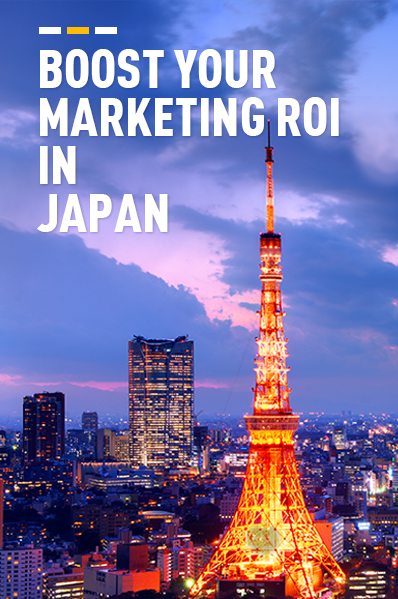 Are you looking to launch your mobile marketing campaigns in Japan? Get in touch with the Nativex team today and we'll show you how to achieve success in this highly lucrative market.
1
CONTACT US
⟶
The global distribution titan Amazon captivated Japan
In Southeast Asia and Korea, local shopping apps like Shoppi and Coupang are extremely popular. However, in Japan, the global ecommerce giant Amazon reigns supreme and is the most used shopping app in the market.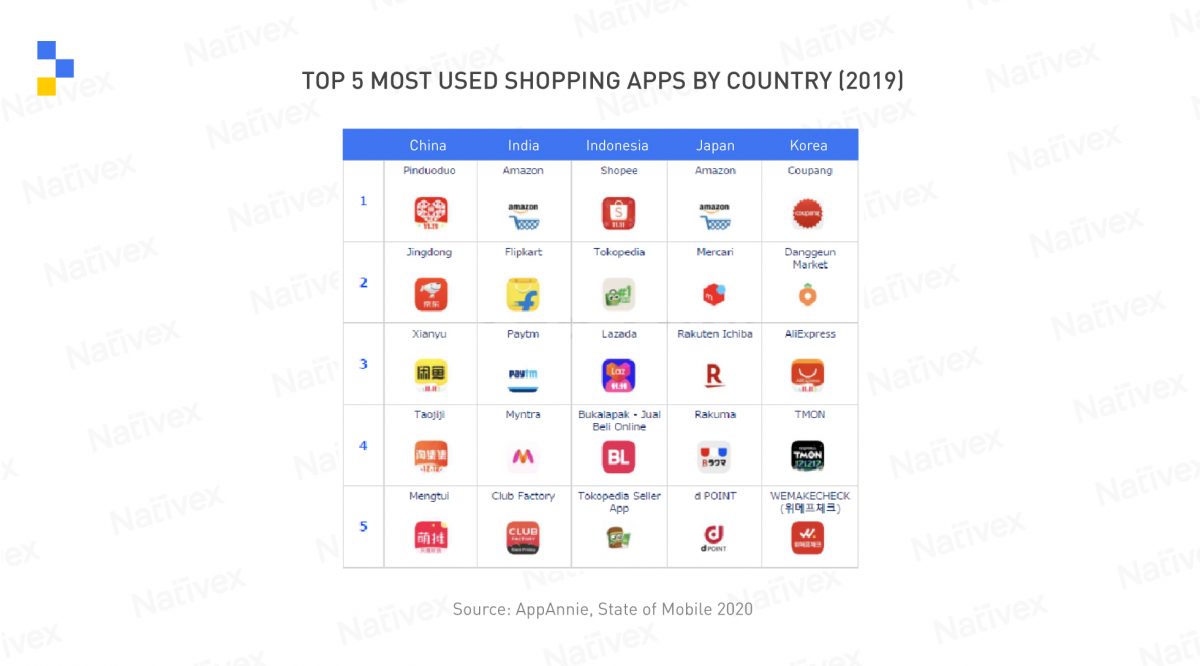 In terms of why Japanese mobile users prefer using Amazon, they cited three main reasons: Amazon's huge range of products, convenient orders through its one-click payment system, and services that can be exchanged or refunded for any reason. Other popular retail apps in the Japanese market in 2019 were Mercari, Rakuten Market, and Rakuma.
Excluding the second-hand transaction service app Mercari, Amazon and Rakuten are the two major players in the constantly expanding Japanese e-commerce market. Looking at the changes in their user trends, we can see some large scale changes, with each of these two companies gaining about 5 million more users a year.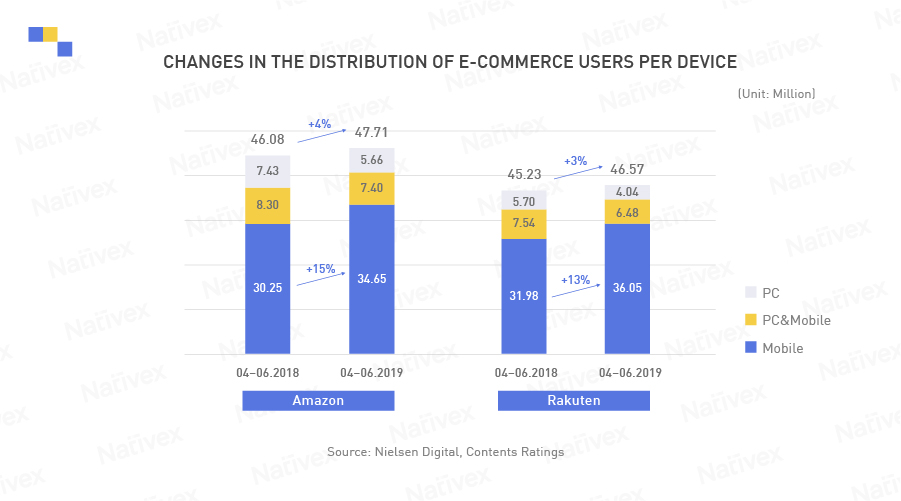 C2C shopping becoming increasingly dynamic
In the midst of this, the C2C market is drawing more attention in Japan, as the consumption trend continues despite an economic recession led by the COVID-19 pandemic. The range of items traded through the used items market is seeing significant changes beyond clothes, books, and toys, as it now includes motorcycles, games, computers, and mobile phones. Yano Research Institute estimates that the C2C market in Japan in 2019 was about 1.18 trillion Yen. (approximately $11 billion). Recycling Communications, a media specialized in the Japanese used items market, predicts that the size of this market will reach about 3 trillion yen in 2022. (about $28 billion).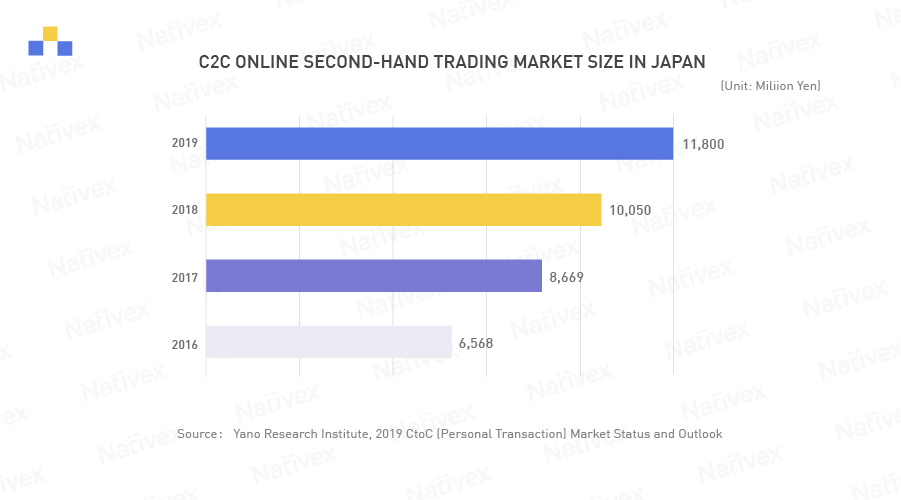 The reason why the scale of online C2C could increase was the power of various used trading app services such as Mercari and Rakuma. Like Danggeun Market and Second Hand Country in Korea, these apps have the ability to easily show used goods and safely verify the identity of the trader. Mercari is Japan's only unicorn company (startup with a corporate value of over $1 billion) and Japan's largest used item trading platform with an average of 12.99 million monthly active users. Mercari announced at a conference in 2019 that it plans to enter the Korean market by 2020, but it remains to be seen if it can compete with the Danggeun Market, which is currently the leader in the used item trading apps in Korea.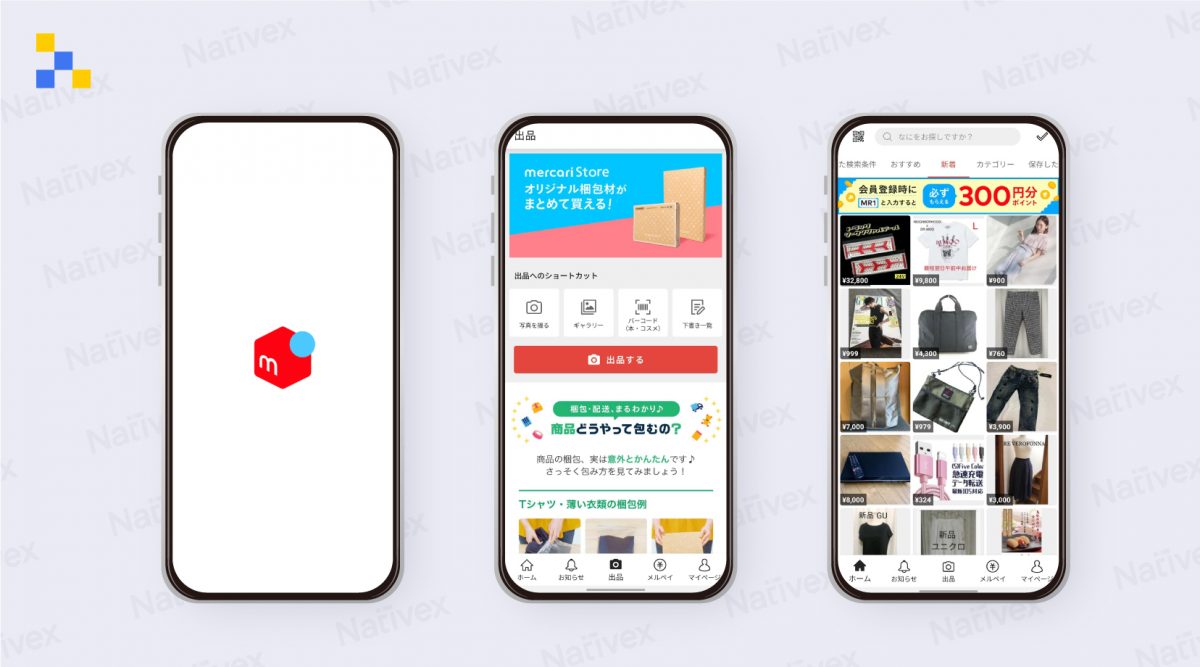 Source: Mercari
Will the wave of live stream commerce succeed in Japan?
In China, influencers started the live stream commerce trend, which revolves around selling products live on video platforms such as Bilibili, Weibo, and WeChat – this has had a huge impact on Chinese mobile users. In Korea, from large department stores (Shinsegae, Hyundai, Lotte) to home shopping and mobile commerce, they are expanding their presence in the live commerce space. As a result, competition for live stream commerce is becoming fierce in Japan, especially in the fashion industry.
SHOWROOM, which provides video streaming channels for influencers or celebrities, has created a new platform called SHOPROOM dedicated to live stream commerce back in 2016. There, celebrities like movie stars or models promoted the clothes they wore on TV for viewers to buy. A live broadcasting app called 17 live (Ichinana Live) also launched a live stream commerce feature and is constantly running live commerce with the help of influencers. 
Also, a popular select shop called BEAMS has launched its first live stream commerce on a dedicated page of its official site in March 2020. This was highly effective in that it targeted the 9pm primetime slot where most customers were home relaxing and attracted over 6,000 viewers per hour. 24 products, including men's suits, shirts, and neckties, all of which are comparatively high in price were sold, so this first attempt at live stream commerce was considered a success.
Conclusion
The number of mobile shopping users in Japan is expected to further increase in the future. Global ecommerce titan Amazon is showing an overwhelmingly high adoption rate, but considering the increasingly diverse and complex Japanese mobile shopping market, it is safe to say that more changes in this ecosystem are coming. This is why brands and advertisers need to keep an eye on this market and be prepared to adapt if they want to capture a high share of this extremely lucrative market. 
If you're looking to achieve success in Japan's advanced mobile market, then make sure you contact the Nativex team today. With a wide range of mobile marketing solutions available, our team can help global brands and advertisers reach their audiences in Japan and other key markets around the world.