"Mobile App Marketing Asia" is a series of Nativex articles that provide in-depth analysis of the mobile ecosystem, user behavior, and popular mobile apps in Southeast Asia, South Korea, and Japan. The series will focus on these three major countries in the Asia-Pacific region and examine new trends that will hit the APAC mobile market in the future.
Southeast Asia is no doubt the region to watch when it comes to the growth of mobile-fuelled commerce. In this latest series, we will be sharing the latest must-knows about consumers and trends in the region that will help you make informed decisions for your advertising campaigns.
For those seeking to reach out and connect with new audiences in the region, this series will provide essential information that will enable you to have a good grasp of each locale. From insights about specific demographics and consumer behavior, to updates on the latest fads, you will be armed with the knowledge needed to better engage individual consumers in the region. 
Southeast Asia – the region of hypergrowth 
All forecasts are pointing to the same thing – Southeast Asia will be the fastest growing region in the world. The region, which consists of eleven countries (Myanmar, Thailand, Laos, Cambodia, Vietnam, Malaysia, Singapore, Indonesia the Philippines, Brunei and East Timor), is poised to achieve an internet economy value that is estimated to exceed US$102 billion by 2025. This is facilitated by an increasing accessibility of smartphones and mobile internet consumption. Consequentially, this has resulted in a mobile advertising boom, presenting a hotbed of opportunity for retailers both home-grown and international.
While advertisers are aware of the untapped opportunity that the region presents, marketing to SEA consumers presents itself as a unique challenge to mobile advertisers. The region is home to a diverse and highly nuanced range of cultures that span many different countries, making it crucial for advertisers to have a good grasp of each locale to truly engage individual consumers. 
To start off, we want to provide an overview of the mobile landscape in Southeast Asia. While the region is home to a multitude of behaviours, given the development catch-up the region as a whole is experiencing, there are overarching behaviours that can be observed from consumers with regards to mobile. These can be useful in helping to create a basic understanding to help guide an initial analysis of the next wave of consumers. 
Are you looking to launch your mobile marketing campaigns in Southeast Asia? Get in touch with the Nativex team today and we'll show you how to achieve success in this highly lucrative market.
1
CONTACT US
⟶
Southeast Asian consumers are heavily reliant on mobile 
A number of factors have contributed to Southeast Asian consumers' heavy reliance on mobile. Affordable smartphones, increased networks speeds, and a decrease in mobile data costs amid an emerging middle class have no doubt largely influenced this phenomenon. This has led to a situation where mobile is the internet – with 90% of consumers in the region using smartphones to access the internet, and clocking more than four hours per day spent on apps. This is an hour longer than any other region in the world.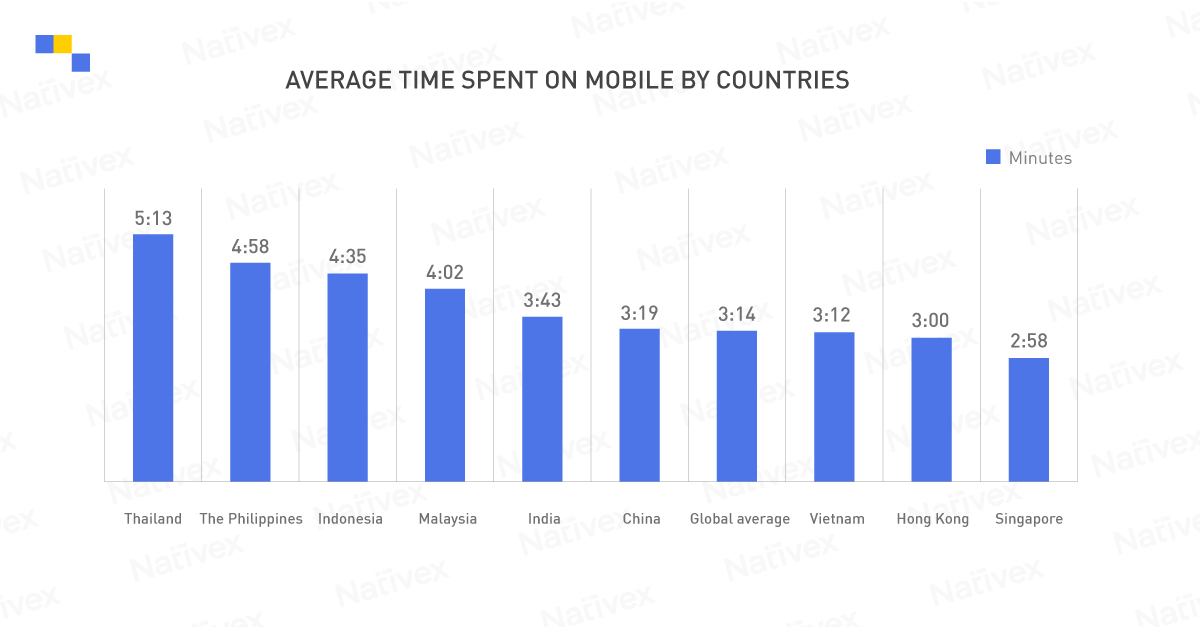 Fig 1: Average time spent on mobile, broken down by countries
What are Southeast Asian consumers doing on mobile?
When we look at the types of apps consumers in the region spend most of their time on, it seems that the 'online community' takes precedence. Social media apps such as Facebook, Instagram, and YouTube are hot favourites for consumers in the region, with users spending on average relatively longer times on these apps. According to reports from Apptopia, the app that users are spending the most time on are WhatsApp (451 minutes on average) and Facebook (401 minutes on average). In comparison, the top e-commerce app that users are spending most time on is Shopee, which clocked an average staying time of 66 minutes. 
Additionally, mobile users here are also into gaming – with Mobile Legends: Bang Bang taking the lead (379 minutes on average). The one thing they have in common: they are platforms that thrive based on the number of users using the platform. 
Fig 2: Average time spent on various mobile apps
Beyond spending time on social media, mobile users in the region are also increasingly relying on mobile to fulfil their lifestyle needs, specifically in the areas of commerce, food, travel, and transportation.  Apps such as Lazada, Foodpanda, and Traveloka have observed tremendous growth rates in terms of app downloads – hardly a surprise, given the uptick in demand for apps that offer convenience and accessibility. 
In fact, Southeast Asia is fast becoming the new land of e-commerce opportunities – with the region reporting tremendous growth in the recent November 2019 Singles' Day sale. Alibaba received over 3 million orders within the first hour of the event, while Singaporean e-commerce platforms Shopee said its orders tripled in volume compared to 2018.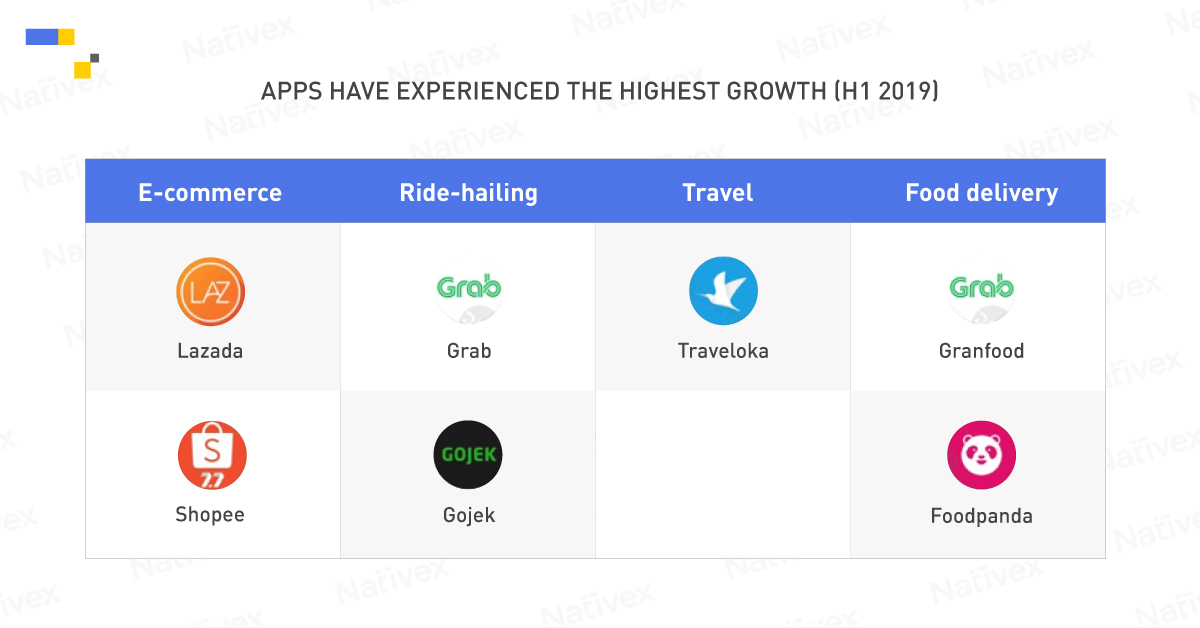 Of notable mention is the rise of homegrown apps, specifically the ride-hailing apps. According to an ABI research, out of the 16 billion ride-hailing trips completed in 2017, over 70% were done in Asia. Out of these, 35 million users hail from Southeast Asia, reporting a cumulative 8 million trips booked a day. The market is currently dominated by ride-hailing juggernauts Grab and Gojek, whose success has been dependent on their abilities to make travelling simple by cutting out lengthy negotiating sessions with cab drivers, and by offering cashless transactions. 
Leveraging on its massive database, Grab has also expanded its offerings to include food delivery and mobile payments. This has placed them in the best position to be the region's super-app – or an app that allows consumers to enjoy multiple services within one app. As such, for consumers in the region, it's not uncommon to visit Grab multiple times in a day to fulfil various needs, either to arrange for transportation, order food, or send payments to merchants wirelessly. Due to the COVID-19 pandemic, the food delivery sector has shown substantial growth, so Grab's food delivery service and offerings are expected to grow as well.
Brands should not underestimate the power of community 
The amount of time that consumers are spending on social media signals to brands that they will most probably need to have social media presence in order to reach their target audience. In addition to being a conduit for brand-related content, social media also provides consumers access to brands, and this also becomes a way for brands to personalise their interactions with consumers – by providing them with solutions to specific problems, or recommending them relevant products via the 'Chat' functions, for example. 
More interestingly, the heavy usage of social media has resulted in trends that are quite specific to the region, one of them being the rise of social commerce. While e-commerce marketplaces are popular, the reliance on social media channels has made it a natural progression for sellers, and even brands, to sell through social networks like Facebook and Instagram. This has subsequently resulted in the social media channels themselves experimenting with features that enable channels to function like a shopping mall. 
With multitudes of potential customers congregating on social media platforms, brands now have the option to leverage these channels as alternative sales channels. In making the shopping journey more seamless, brands have also started to enable purchases to be conducted straight from their social media pages – as seen on the Instagram pages of a few big brands, including fashion platform ZALORA (see images below). By enabling customers to shop directly via the "Shop" feature on their Facebook and Instagram pages, brands can essentially remove another layer between them and consumers.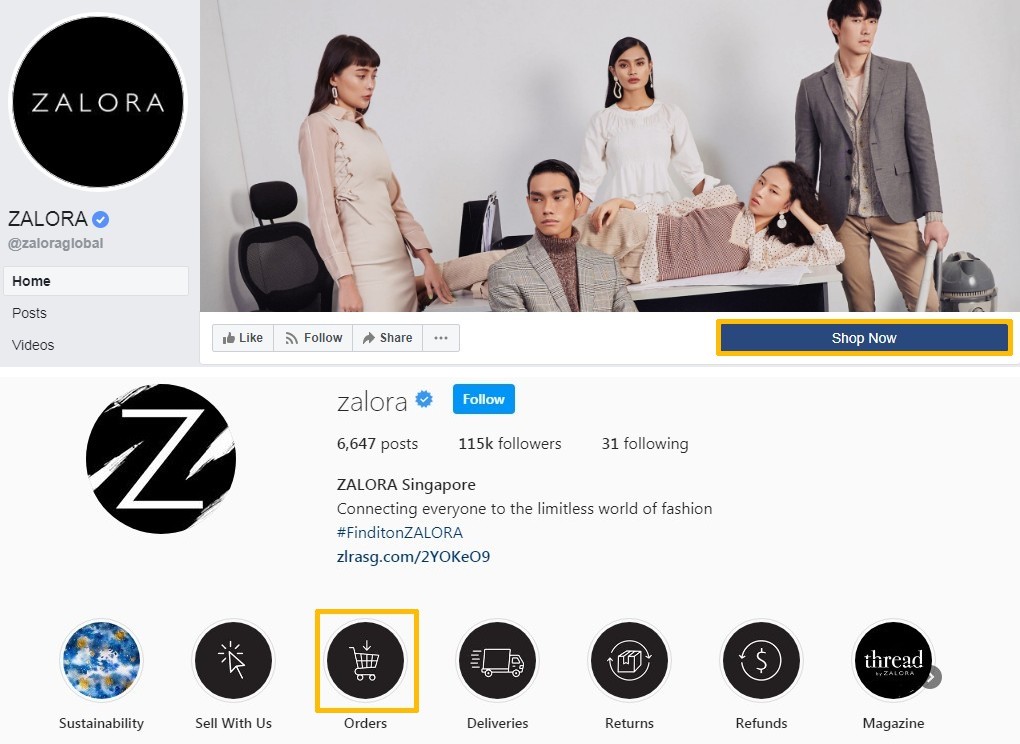 Fig 4: ZALORA enables consumers to purchase through its "Shop" features on Facebook and Instagram
Mobile App Marketing Asia: Expand with Nativex

As mobile use habits continue to form and evolve, brands will need to understand the drivers behind these changes in order to tap on emerging opportunities. Look out for our next article in the series, as we continue to deep dive into behaviours of consumers in the region and provide you with a look into upcoming trends that will be making waves in Southeast Asia. If you're looking to expand your marketing efforts in this market, don't hesitate to contact the Nativex team today.