Interested in acquiring users on Douyin, Kuaishou & more? Leave us a message.
YouTube and Twitch does not exist in China and yet the Chinese online video market has more users than the population of the United States and Japan combined.
The number of online video subscriptions on China's platforms are going to surpass 300 million in 2019, according to Entgroup. One in every five persons has installed short-video apps on his or her device.
Their report – called Observations on the 2018 China Paid Video Market – showed that subscriptions have grown at a rate of 119% over the last three years. That is a whole lot faster than the growth of Chinese internet users which only grew 6.28%.
But which apps are taking over the Chinese mobile video market? And how do they differ from the Western video market? Let's dive into the top apps on the market.
iQiyi
iQiyi is a video streaming app. Saying it's the Netflix of China wouldn't be quite right as the platform combines both ad revenue and paid subscription models. It is more of a Netflix meets YouTube combo.
Before short video apps became a hit, iQiyi was China's largest video streaming site, having gathered 645 million hours of viewership time in January of this year alone. By 2020 iQiyi hopes to add short video functionality to its repertoire to take on its rivals.
The platform's main driver is its extensive array of films, TV series and reality shows which cannot be found anywhere else. iQiyi spent $3.13 billion on content in 2018, which is almost as much as the content spend of China's top six broadcaster groups combined. They hold exclusive rights to some of China's favourite shows and have produced around 250 original titles.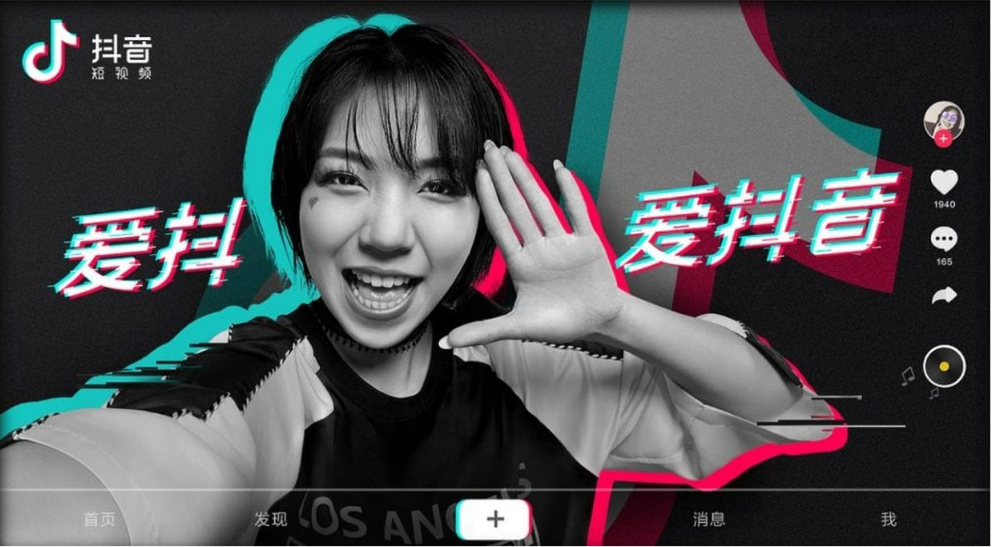 Douyin
Also known as Tik Tok outside of China, Douyin's rise to popularity has been extraordinary. It was released in September 2016 and within a year they already had over 100 million users.
The app is perhaps best described as the new and improved Vine. Users can create videos to music and share them among their followers. Videos often include lip syncing, dancing, or humour and can be liked, followed, commented on, and shared.
Currently Douyin has 500 million monthly active users worldwide across 150 countries and regions. Around one in every ten Chinese person accesses Douyin every day. It has surpassed Facebook, YouTube and Instagram to become the world's most downloaded iOS app in the first half of 2018. In China, Douyin targets users in Tier 1 & Tier 2 cities born after 1995.
Within the Bytedance video product mix, there are two other short video apps targeting different age groups with different content strategies.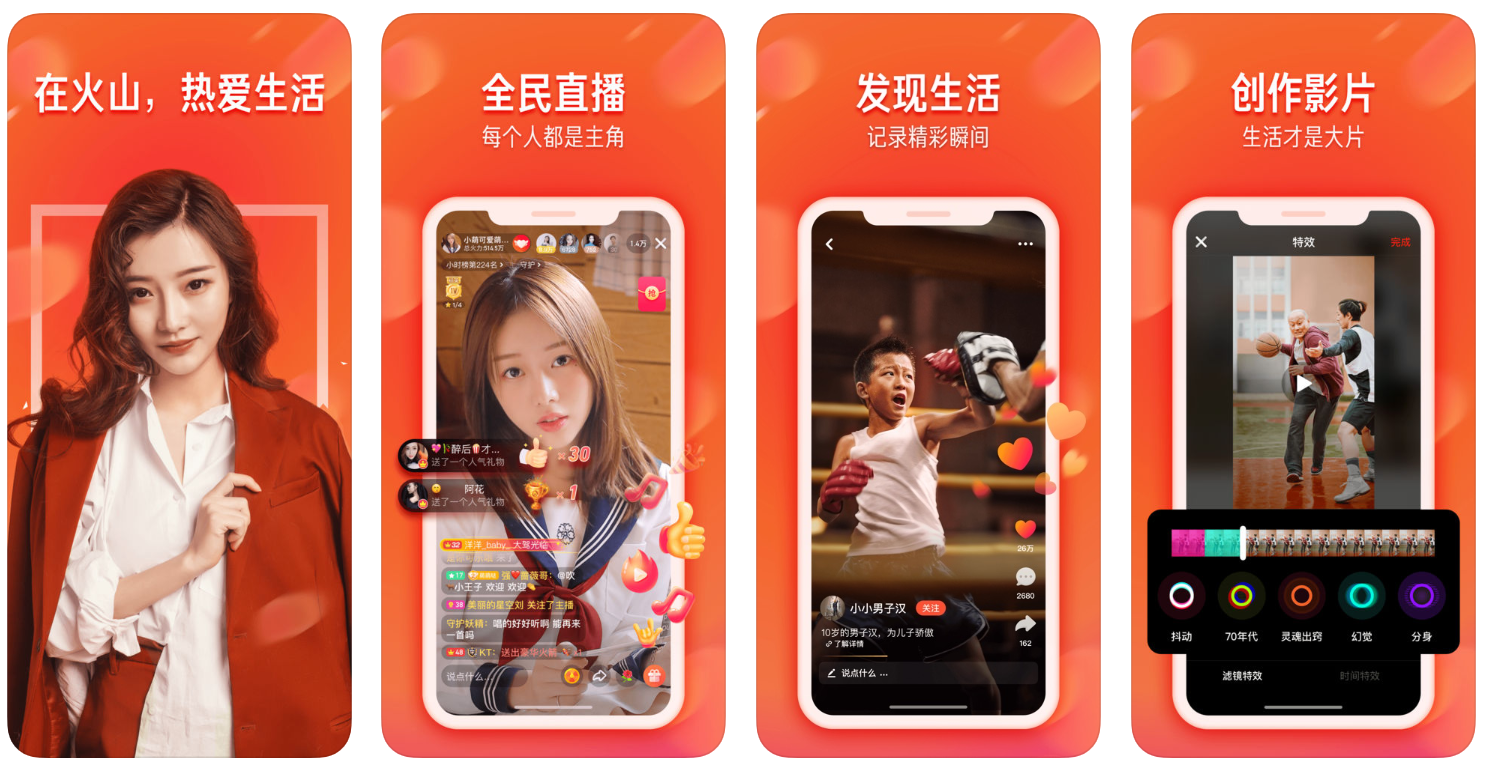 Interested in acquiring users on Douyin, Kuaishou & more? Leave us a message.
Huoshan
The size of China's mobile market isn't disputed. With nearly a billion consumers in a single territory, it's clearly the largest domestic market in the world.
However, it's size does mean there is something interesting at play in China that isn't as obvious elsewhere: apps that appeal to specific regions or cities.
In much the same way that certain games and apps appeal to different markets in Europe, there are video platforms in China that target specific regional demographics and still succeed.
Step forward Huoshan. Also known as Vigo, the video app targets users aged between 24-49 in what are called tier 3, 4, 5 cities.
Rather than hitting the whole market, Huoshan has carved out a niche by finding a specific category of adult consumers present within part of China.
This may dampen its overall appeal across the country. But by picking its target carefully, Huoshan shows the importance of not treating the Chinese app market as a single homogenous unit.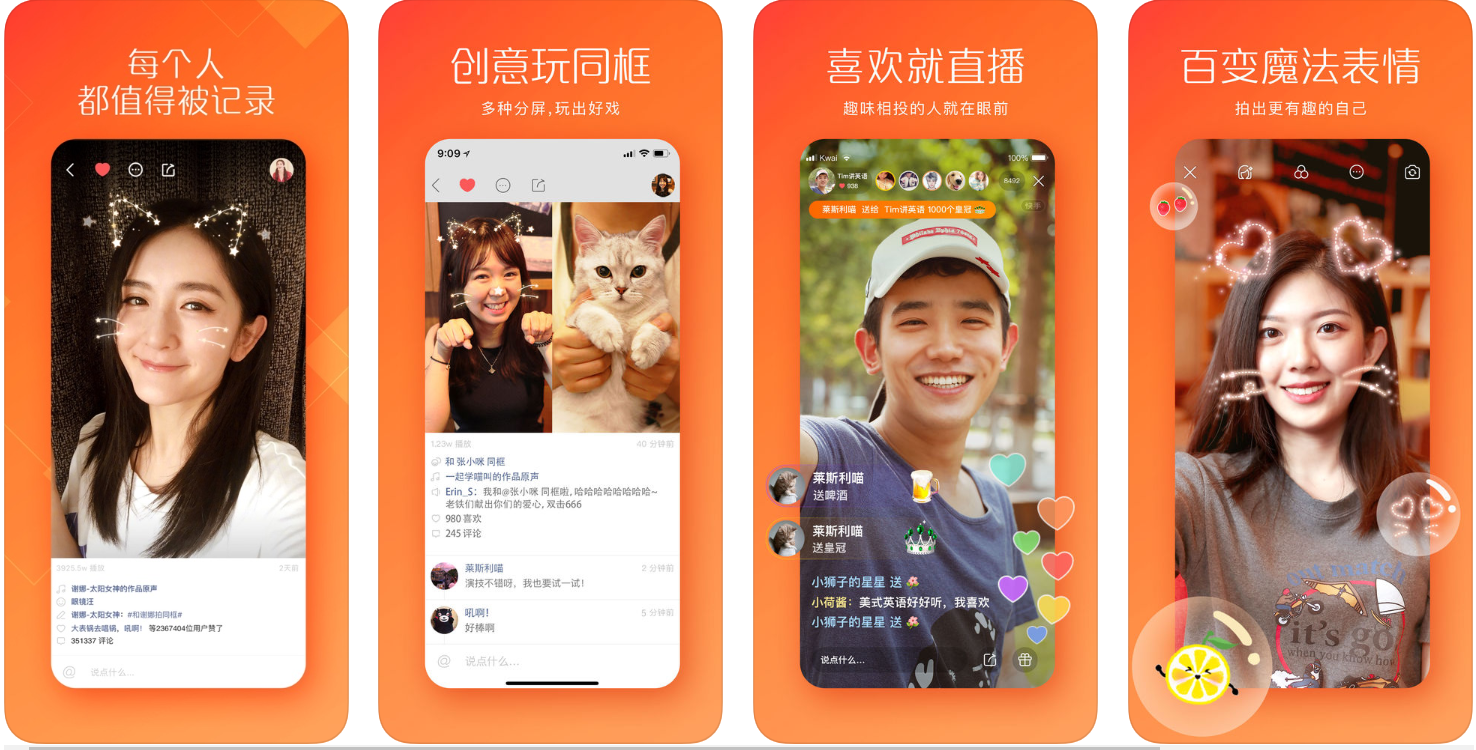 Kuaishou
Huoshan isn't the only video app that has taken a regional route to success though. It's arguable that Huoshan is actually smaller than it's rival Kuaishou, which is considered the closest rival to Douyin.
The platform originally launched in 2011 as a GIF maker. However it grew well beyond its initial plans. Users can use Kuaishou to not just upload short videos but also live stream, add filters and sing karaoke.
It is the preferred short video app of users living outside of big cities in China, though the app has also seen popularity in Russia, Turkey, South Korea, Taiwan and Indonesia.
A whole 130 million users use Kuaishou every day, making it the second most popular video app in the Chinese Apple Store.
And with that popularity has come attention from China's social media giants. The app has seen investments last year from Chinese giants like Tencent, Alibaba and Baidu – suggesting it will continue to challenge Douyin in the coming years.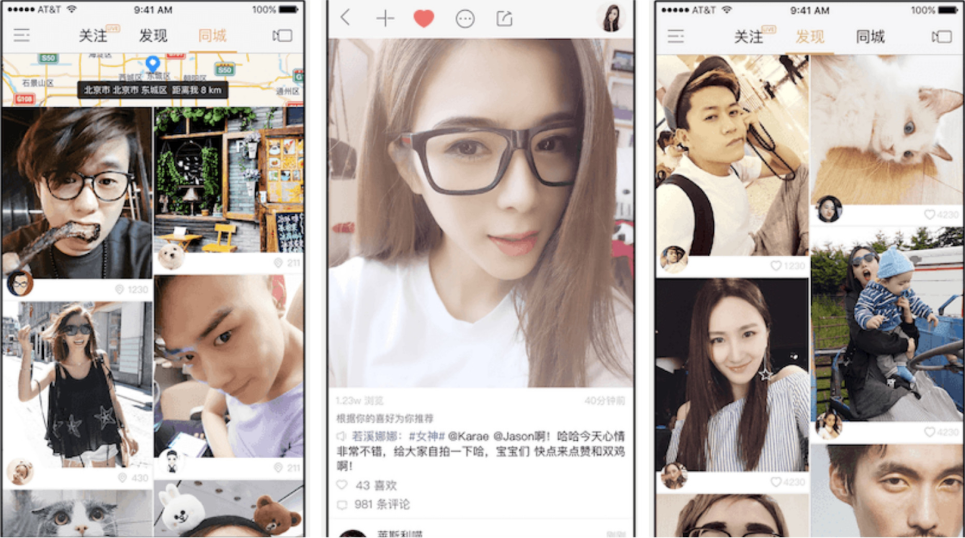 Xigua (https://www.ixigua.com/)
In the age of the influencer, the line between professionally prepared content and content made on the fly is getting thinner.
Influencers on sites like Youtube, Instagram and Twitch keep raising the standard of their content higher and higher. But with consumers increasingly interacting with professional content funded often by brands and advertisers, the line between – say – what is or isn't advertising is thin.
China's Xigua deals with that problem directly. In contrast to the likes of Douyin, Houshan and Kuaishou, Xigua prioritise content that is deemed as professionally generated content.
While its rivals focus on short video format, Xigua videos typically run in excess of a couple of minutes. This means that the quality of this content tends to be higher, lending itself to a more premium feel than the likes of Douyin.
This should come as little surprise when you consider Xigua's owner is ByteDance, the maker of Douyin.
By investing in Xigua's professional content platform, it has positioned itself in the same space as platforms such as iQiyi. And with ByteDance investing in creating professional long form content for Xigua, it could prove to be part of a formidable partnership with Douyin in the long term.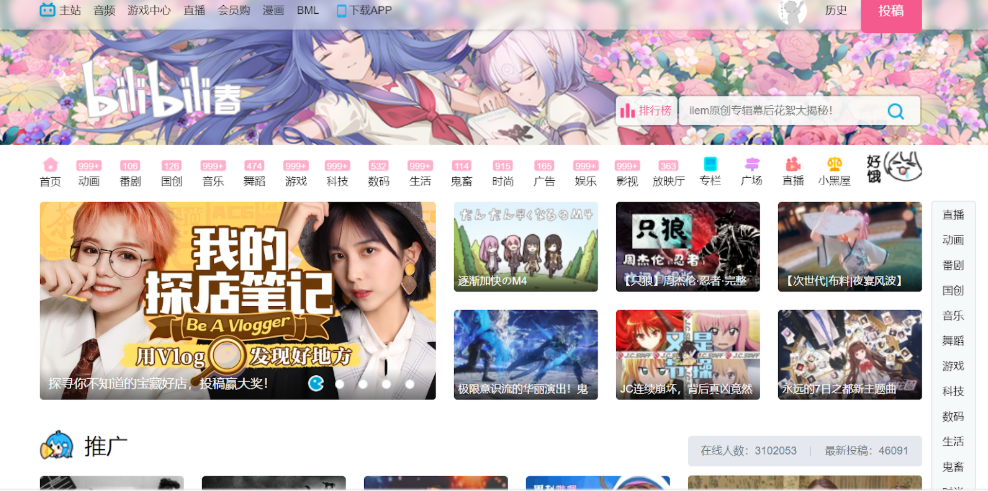 Bilibili
If video platforms are able to succeed in China by targeting certain regions and age groups, Bilibili shows that it's also possible to succeed by hitting a specific cultural demographic too.
Bilibili is probably the most special as it is a main hub for followers of Anime, Comic and Game (ACG) culture in China.
While there are other platforms that do appeal to users interested in those demographics – such as Twitch like platform Hooyah – Bilibili appeals to the cross section of users successfully.
Partly, this is through the content. But it's also because Bilibili has something called the "bullet-screen", which encourages interesting social interactions amongst users.
Originating first in Japanese video website Niconico and first introduced in China by Bilibili, users are able to make comments on videos and watch them fire across the screen like bullets. First reported in 2014, it's essentially a more interactive and dynamic version of Twitch chat interactions.
And with this feature gaining traction across other platforms, Bilibili shows that smaller players in China's market are able to drive innovation across the whole sector.
Interested in acquiring users on Douyin, Kuaishou & more? Leave us a message.
Tencent Video
Tencent Video is owned by the massive conglomerate of the same name. It is the 10th most downloaded mobile app and has surpassed YouKu in terms of mobile market share.
Why is Tencent Video so popular? The answer is simple: WeChat. WeChat is the world's largest messaging and social media app. It is often described as the mobile portal to the internet for Chinese users.  And in order to embed videos in WeChat articles, users must download Tencent Video.
The well nested nature of Tencent Video isn't the only reason for its success. The platform also provides paid subscriptions to its inclusive content, including all HBO series.
This year, Tencent is predicted to surpass 100 million paid subscribers.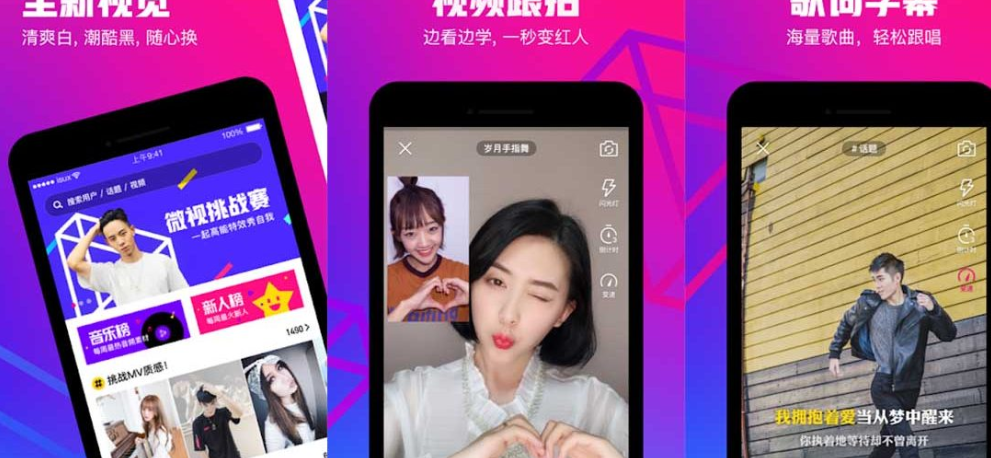 Weishi
Tencent Video is not the only platform to find success via WeChat's unwavering popularity. After a scandalous controversy that Douyin and Kuaishou had been holders of inappropriate content, WeChat banned the sharing of short videos on its platforms. Then Tencent quietly re-released Weishi.
Weishi was originally launched in 2013 and was then taken offline because of stagnating growth. As soon as short video platforms flared up in popularity again, it was relaunched and allowed users to directly share and post videos from the app on WeChat. In fact, it is the only way to share short videos on WeChat.
The platform now ranks first on Apple App Store free apps section in China and is gaining traction in an attempt to grab its own corner of the short video market.
YouKu
YouKu is the Chinese YouTube. More than 800 million videos are viewed per day on this platform by more than 500 million monthly active users.
However, like Tencent Video and iQiyi, it too provides a subscription model for exclusive content in order to compete with its rivals. Subscriptions are one of the top three reasons that YouKu has found an increase in revenue over the past year, after having secured rights to stream the FIFA World Cup.
In the coming year, YouKu is expected to invest in more original content and is looking at Alibaba Pictures to produce it. Meanwhile the platform is licensing deals with NBC Universal and Sony Pictures TV to bring the Hollywood classics to China.
Conclusion
The Chinese video app market is already huge and only getting bigger. This presents an opportunity for marketers, but there are also challenges that need to be overcome too.
The boom has been such a shock to Chinese culture that the government has required shot video platforms to roll out anti-addiction parental controls by June.
This suggests that while online video is a huge route to consumers in China, companies will have to – once again – adapt their marketing strategies and tactics to fit the unique nature of the market.