Chinese netizens spend close to four hours online every day, according to eMarketer, second only to the United States. In contrast to the US, 98% of Chinese internet users accessing the net via their mobile devices, making the mobile operating system market a critical one for developers and marketers alike.
And in China, Android reigns supreme. The operating system accounts for over 70% of the Chinese market, according to Statcounter. And considering that China has nearly 700 million smartphone users, it's safe to say that the Chinese android market is immense and holds incredible opportunities for advertisers unlike any other country.
However, its market is completely different to the global market. The combination of the banning of Google Play in the market and the number of major tech players in the country has led to a variety of Android stores popping up across the country.
But what are the major challenges and opportunities in the Android market in China? Which stores are the biggest? And how do they differ from one another? Here's our breakdown of the android market in China.
The Android market round up – opportunities and challenges
As mentioned, the Android market in China is enormous and it is fragmented. Its enormous consumer base is served by dozens of different stores. And those customers access and pay for services on mobile in different ways.
For many developers heading into China for the first time, this presents real challenges in the Android space.
Beyond the administrative challenges of releasing into China, companies releasing into the Android market will face a number of similar challenges.
These include working out how to release their title across multiple stores simultaneously, how to integrate relevant SDKs into games or apps to do so and then how to tie their apps into China's digital ecosystem (such as its home grown social media market and advertising networks).
As we discovered in our report about mobile game developers moving into China, this is hard to do without a top quality partner capable of leading the way through. This means that tapping into China's enormous Android market can be a significant challenge.
However, once that hurdle has been overcome, the Chinese Android market also offers serious opportunity for businesses that simply can't be realised elsewhere.
First, the sheer size of the Chinese market means that it is possible to use the fragmented nature of the Android stores to craft a strategy to reach the users you want at a platform level.
Handset makers like Xiaomi and Huawei both have stores. But those stores appeal to users at differing end of the spectrum (with Xiaomi appealing to the lower end and Huawei higher end).
When added to the range of third party stores and social media apps that are aimed at different audiences in the country, it is possible to marshal the fragmented landscape in a favourable way for your business – hitting your target market effectively.
Second, the malleable nature of China's app economy also confers advantages to developers able to adapt apps or services to its quirks.
For example, mini-programs – tiny versions of apps that can be used in services like WeChat – are a hugely popular way for Chinese users to interact with their favourite games or stores. But they sit just outside of the app store ecosystem, allowing users to download them directly to their devices through APKs to access their functionality.
This informality is unusual for developers operating in the West. But if companies can reconceive their products to fit these habits and take advantage of a less restrictive relationship with content providers, then it's possible to succeed.
Finally, the Android ecosystem in China benefits from the presence of home grown brands with powerful devices.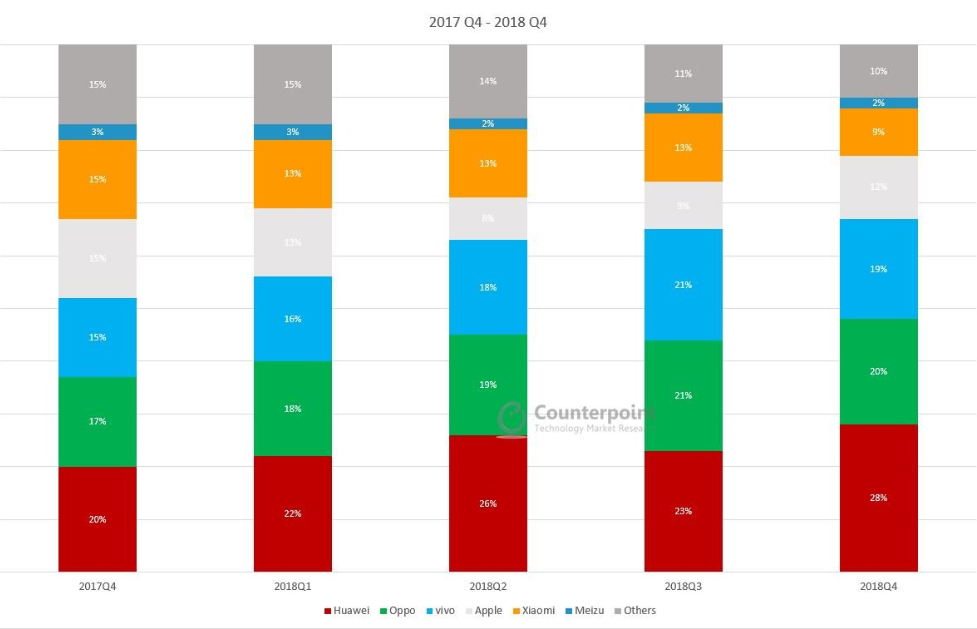 Handset market share in China by percentage: https://www.counterpointresearch.com/china-smartphone-share/
The likes of Huawei, Oppo and Vivo all provide Chinese users with low cost devices. But the clout of such devices are increasingly in line with – or above – the specs of the latest high end devices in the market from the likes of Samsung and Apple.
This creates a fertile market in which a wide variety of apps can succeed. With better devices comes a better environment in which to play games, consumer video content or view other rich media content. This means that the idea of Android being a low end market is firmly bucked in China.
Chinese android app stores
So which Chinese app stores should you be paying attention to in the Android market? The answer will depend somewhat upon your strategy, as we've already said.
But for those of you looking for a starting point, we recommend taking a look at the biggest markets in the region first.
Here's a quick breakdown for you of those biggest markets, with a bit of an explainer of how each one differs.
Tencent My App by Tencent
Market share – 26%
Tencent's My App is the number one Chinese app store by a fairly large margin. The internet giant owns some of the most popular apps in China such as WeChat and is the funding force behind many successful mobile games.
We are unlikely to see this app store falter, but it is possible that WeChat could become the main gateway for software in the region due to the use of mini-programs.
Huawei App Market by Huawei
Market share – 13%
Huawei is the most popular handset brand in China as it currently stands. While it's reputation in the West has been under threat – especially since Google recently withdrew its access to the Play Store – but at home it is the second most popular store (just) by edging out its rival Oppo.
Huawei's appeal is much more towards the higher end of the Android market in China. Interestingly though, it may also become a great bridge into the market for Western developers.
As a result of Google Play's ban on the use of its store in the West, Huawei is likely to integrate its own store onto Western devices. This could make it the Android equivalent of Apple's App Store.
Oppo Software Store by BBK Electronics
Market share – 13%
The Oppo Software Store is the official app platform on Oppo devices, the fourth most popular mobile brand in the world and second in China after Huawei. The success of their app store is tied tightly to their hardware market share where they fiercely compete against Huawei and Xiaomi.It also has a strong presence in the West through it's alternative OnePlus branding. The question is whether it'll be able to overtake its rival Huawei, especially if global pressure forces it to turn back towards China first.
360 Mobile Assistant by Qihoo 360
Market share – 10%
360 Mobile Assistant used to be the second most popular app store before it was taken over by hardware manufacturers, Huawei and Oppo. Qihoo 360 is a Chinese internet security company which provides a widely used web browser. The trustworthy brand brought about the app store's success and means that it will continue to have a foot print, even if it has been overtaken elsewhere.
Baidu Mobile Assistant by Baidu
Market share – 9%
Google is blocked in China and so Baidu stepped in to become the largest search engine in the country. The company's reach extends to 1.1 billion monthly active devices, providing users with AI assistants, searches, and, of course, an app store.
Honourable mention: MIUI App Store by Xiaomi
Market share – 9%
Xiaomi's app store is the default store which comes with every Xiaomi device. These devices are slightly different from others in that they have their own flavour of Android's operating system called MIUI. Like Huawei and Oppo, the success of the app store is tied to hardware sales. Xiaomi is the fifth most popular smartphone brand. But its focus on consumers in developing markets in China and abroad ensures the store has a different appeal.
Conclusion
The Chinese Android Market provides real opportunity for success, but entering it requires a deep knowledge of the local app economy, a clear idea of the customers you want to reach and a partner capable of taking you there.
By yourself, it will be tricky to find your way through the administrative challenges posed by a fragmented enormous market. But with the right support, it's possible to find the right markets for your app and successfully distribute them to users across the country.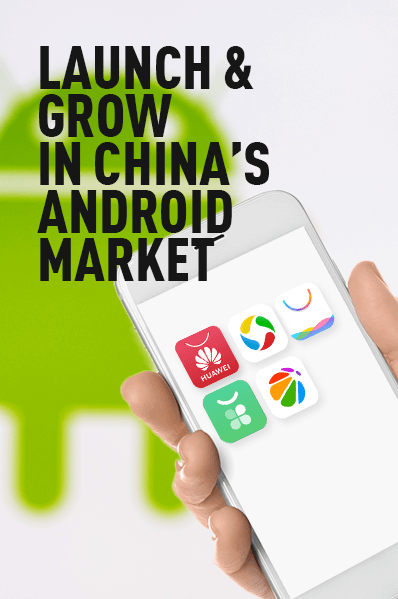 Launch on the most important Android stores in China with Nativex. Click below and learn more about our services.