The scale of the global video advertising sector is massive and only going up, with China alone forecasted to have over 900 million digital video viewers by 2022 according to eMarketer. To keep and increase retention rates, top media platforms like Facebook and Google, along with popular short-form video apps like TikTok, Snapchat, Douyin, or Kuaishou are creating more opportunities for in-app video content.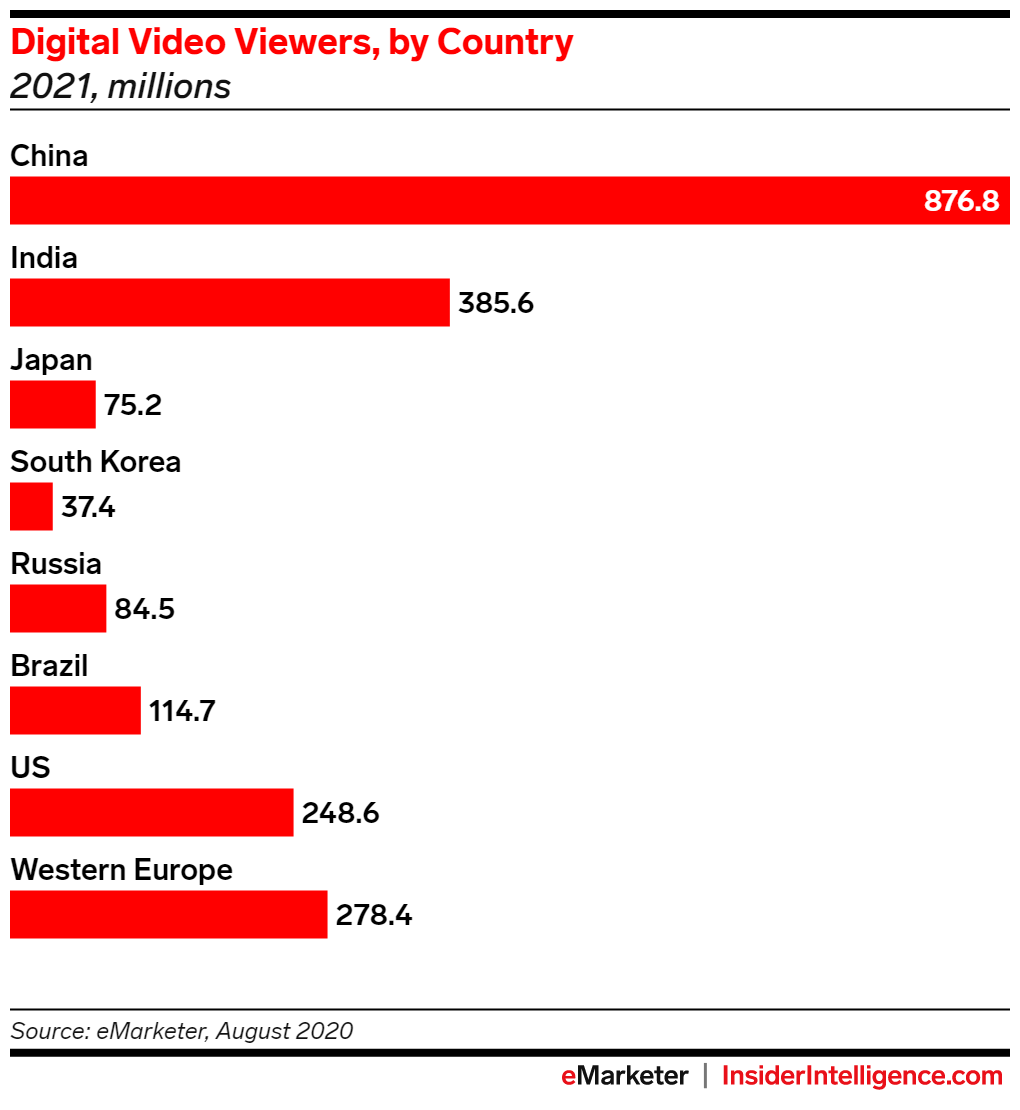 Digital video viewers in 2021 across key markets; source: eMarketer
In 2020, online video content consumption saw a 40% growth according to App Annie's 2021 State of Mobile report. With this incredible volume of video content available anytime, anywhere, it's easy for users to get bored or lose interest in the videos they're watching, especially if they're all served in the same manner inside an app feed. This is a challenge that more and more advertisers, marketers, and video producers are facing.
Tackling the user engagement challenge in an era of unprecedented video content availability can be difficult, especially if it's hard to find a starting point. To do that, we need to ask ourselves a few important questions: what kind of video creatives work best, how can we produce them at scale, and how can you maximize your campaign ROI using video ads? Let's try to answer these questions below.
1. Good story-telling can energize your video ad creatives
Promotional materials like posters filled with keywords are no longer interesting or effective – but a story is. Telling a story with your ad creates a subconscious, emotional connection with the user, increasing the chance of delivering your message to your target audience.
Inserting story-telling elements into video ads means advertisers have to pay attention to elements like the narrative, its relevance to the target users, and the plot itself. Narrative is the story you're trying to tell, relevance is about whether the audience can understand and relate to the video content, and plot (or conflict) is what can leave the audience with a lasting impression. One common strategy that narrative writers use is to include recent or current news and events for stronger relevancy.
To give you an example of these elements in action, TopWorks worked with a game publisher to help them acquire and convert TikTok users. The video ad had a compelling story and used actors and elements relevant to the target audience; the campaign was extremely successful, both in terms of acquisition and conversion rates.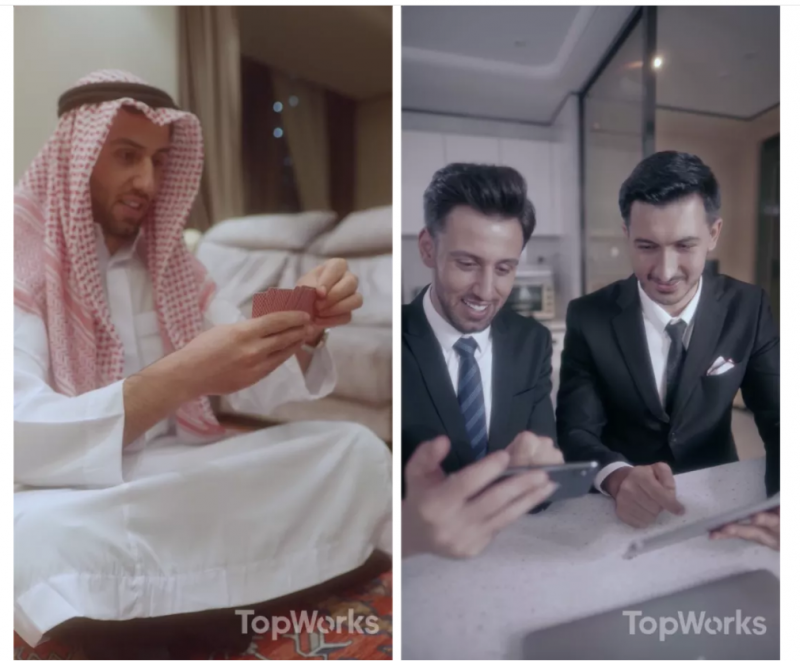 Being able to tell a story can often make or break a video ad campaign
2. Memes are the new advertising catalyst
COVID-19 has changed the way we use social media. With more free time on our hands, we tend to spend it on social media, particularly on mobile video content. This has resulted in a new so-called "social currency" emerging: I'm talking about memes.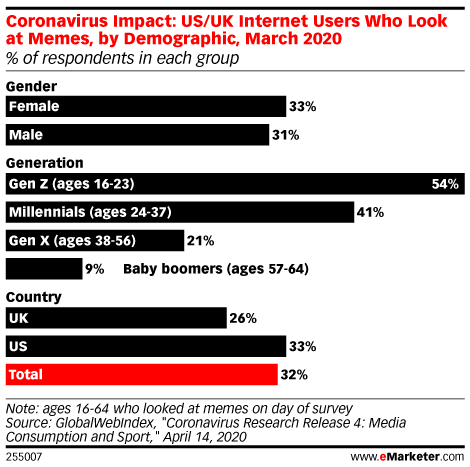 The power of memes; source: eMarketer
As users spend more time digesting video content, funny videos and memes become a socially-acceptable means of communication. Interestingly enough, memes have also become a key ingredient for mobile ad monetization.
By implementing or turning the latest memes and funny videos into video ad creatives, advertisers are finding it much easier to reach their audience, increase their ad exposure times, and improve monetization levels. Creatives based on memes can be relatively easy to produce and replicate, as you can find many sources of inspiration online – the latest memes can be an incredible source of inspiration.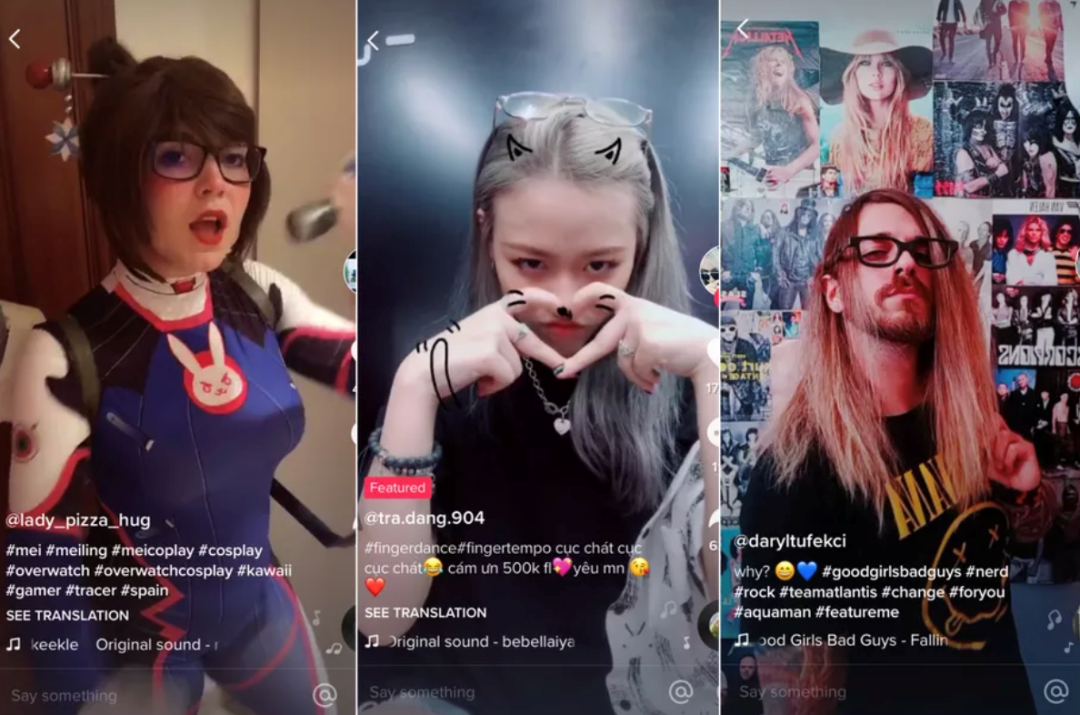 Popular TikTok challenges can be turned into viral video ad campaigns
TikTok challenges are a great example of memes turning into great video ads. When we helped Dragon Storm Fantasy create a viral TikTok hashtag challenge with over 1.3 billion views, one of our key strategies was to research the target market and understand what the most viral videos were. For this campaign, we designed 10+ new sets of dance moves, combined them with trending songs, and added special effect stickers. And just like with popular memes, our campaign spawned more spin-offs, with over 1 million user-generated videos being created based on our campaign elements.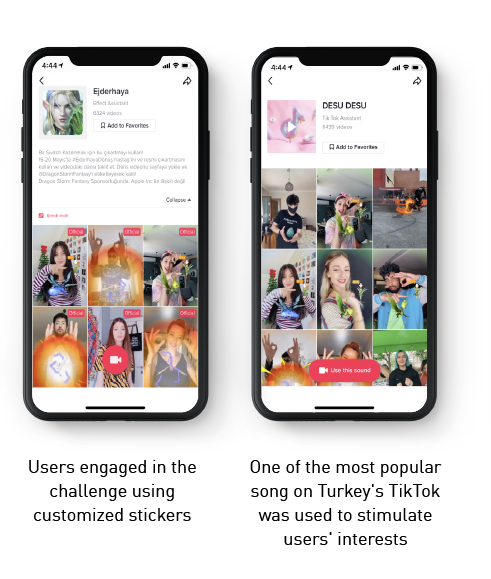 Unleashing the power of TikTok challenges
3. Leverage the power of KOLs
Influencers, which in China are called Key Opinion Leaders (or KOLs), are a major component of successful ad campaigns. Brands and advertisers who can leverage the power of KOLs can achieve incredible campaign ROI, but there's another important reason why KOLs are valuable. 
While the primary goal of working with a KOL is to reach their audience, advertisers should also look at these partnerships from a creative angle. By including KOLs in the creation process, advertisers can generate higher-quality content with better engagement. Why? Because nobody knows these audiences better than the KOLs themselves.
For example, when we worked with Lightricks to promote Facetune2, we used KOL marketing and generated more than 12 million video ad views. For our partnership with Reign of Dragon, we leveraged KOLs at the game launch phase to boost its exposure, resulting in 30% lower CPIs for this campaign. Remember: in a KOL's house (their channel), you're the guest, so they know the best ways to reach their own audience. Work closely with them and the results will show.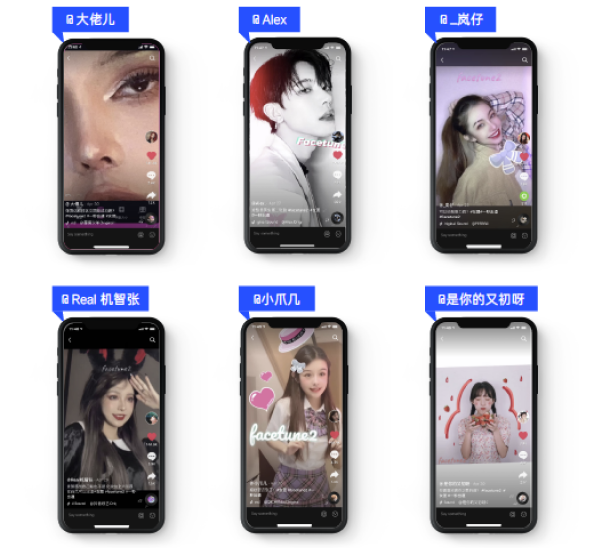 Using KOLs to promote Facetune2 on Douyin
4. Local execution is crucial
Good story-telling, incorporating memes, and adding KOLs into your marketing mix are the strategies, but there is one key ingredient behind them: local execution. Being able to execute these strategies locally can make a campaign incredibly successful. With teams in 30 countries around the world and partnerships with over 160 creative partners, TopWorks can be the driving force that powers this success
Understanding the power of creatives and the subtleties behind each video element is key to success. When Rise of Kingdoms needed help with creatives for their media buying campaigns in the US and EMEA markets, the TopWorks Creative Studio answered the call. By crafting an ad narrative built on every-day life in a COVID world, the TopWorks team highlighted the importance of good quality games like Rise of Kingdoms on helping users fight off boredom. We also recruited local actors and built the story around the target audience, which resulted in strong user engagement rates. Here's how the video ad looked like:
Conclusion
Video content is king. As the world moves more and more towards online video (mobile videos, in particular), advertisers need to follow and adapt to new creative trends. Reacting to market needs fast enough and producing a high volume of ad creatives can help bring in traffic in the short run. However, if advertisers focus more of their efforts on the quality of ad creatives versus quantity, that's when they can witness long-term sustainable growth.
About TopWorks
The TopWorks Creative Studio is a global creative network. With 14 teams established in over 30 countries across the world, TopWorks connects you with 200+ creative studios worldwide. Our mission is to empower advertisers with excellent creatives that drive performance and enable visible returns. Find out more about the TopWorks Creative Studio.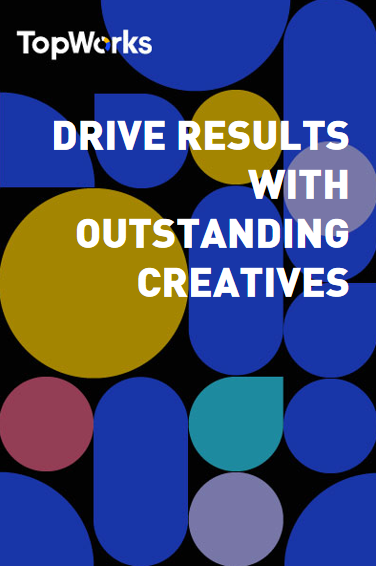 The TopWorks Creative Studio can produce high-quality, results-oriented creatives to boost your mobile campaigns, wherever your target audience is. Get in touch to find out how we can craft the ad creatives that generate visible returns.
1
CONTACT US
⟶