The 2021 Singles' Day shopping festival broke new records so what can brands and advertisers learn from it and how can they take advantage of these new trends?
Singles' Day, also known as Double 11, has become a shopping phenomenon. Every year since 2009 when Alibaba started officially promoting it, Singles' Day has grown so much that it has now become the biggest shopping event in the world.
With more consumers joining the Singles' Day sales than ever, it's become a great opportunity not just for shoppers looking for great deals, but also for brands and advertisers to get a better understanding of the latest shopping trends and leverage them to boost their ROI.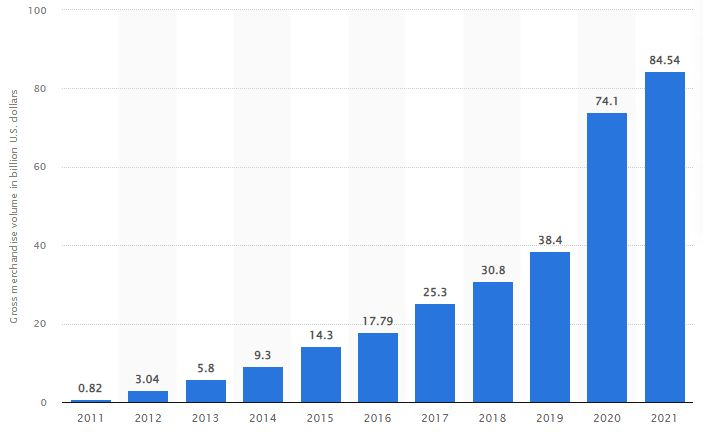 Alibaba Singles' Day GMV reached $84.54 billion in 2021. Source: Statista
According to recent data, the 2021 Singles' Day has managed to generate over $140 billion in sales, with 59% of this coming from Alibaba. So what can we learn from this year's Singles' Day festival? We've noticed not one, but four key trends that global advertisers should pay attention to.
Table of contents:
Trend 1. Live streaming is a major sales drive
Trend 2. Virtual influencers are taking the e-commerce world by storm
Trend 3. Gen Z is crucial to generating buzz (and sales)
Trend 4. Membership services are booming
Nativex is here to help you
1. Live streaming is a major sales driver
Social commerce is on a whole new level in China, with live streaming playing a huge part in that. How big of a part? Li Jiaqi and Viya, two of China's biggest live streamers, managed to sell over $3 billion worth of products during their streaming sessions on October 20.
In terms of live streaming hours, Douyin users watched over 25 million hours of live streaming content during this year's Singles' Day for a total of 39.5 billion views. According to eMarketer, over 320 million Chinese are expected to make at least one purchase from a live streaming session, most of which will be coming from the Singles' Day festival.
The importance of influencers is huge – according to data from our ebook "The Power of Influencer Marketing in China", more than 50% of China's mobile users look for shopping suggestions from their favorite influencers and more than 30% of those recommendations result in sales.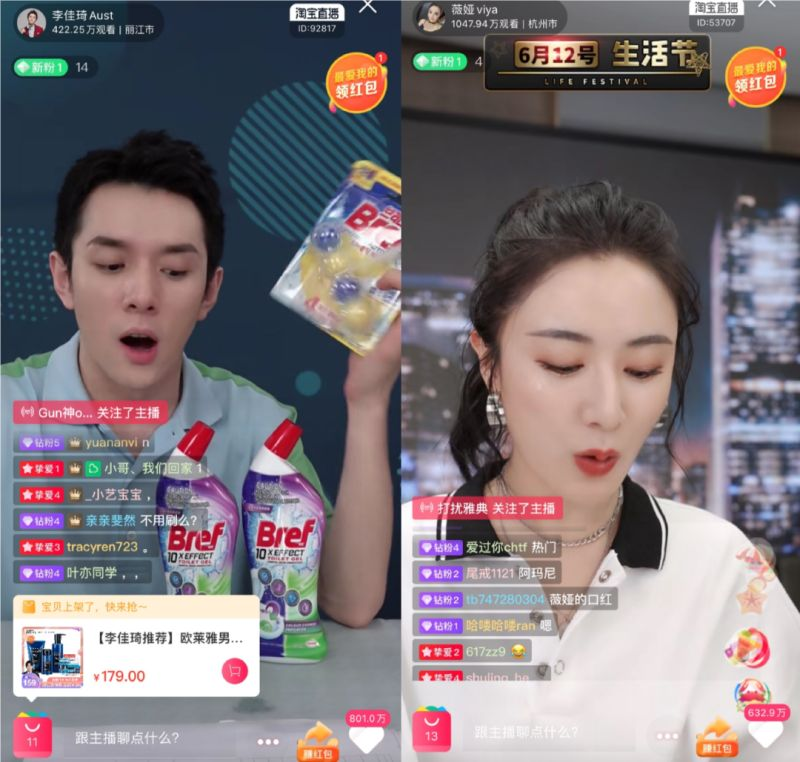 China's live-streaming superstars: Li Jiaqi (left) and Viya (right)
2. Virtual influencers are taking the e-commerce world by storm
If regular, human influencers aren't enough to drive sales, then virtual influencers are the next best thing. Virtual influencers have blown up in China, and some of them became celebrities in their own right, with millions of loyal fans. There are many instances of virtual influencers generating massive amounts of publicity and sales, especially around shopping festivals like Singles' Day.
Take Ling Ling, for example. She's China's first virtual influencer and she was invited by Tmall to be their "digital recommendations officer" for Singles Day. Another example is Liu Yexi, a virtual influencer who started on Douyin in early November as a beauty vlogger and managed to get over 2.8 million followers in just 4 days.
And let's not forget Ayayi, China's first meta-human, who also partnered with Tmall for the 2021 Singles' Day. What about Luo Tianyi, a virtual singer with over 5 million Weibo fans, who actually did a cross-over live streaming session with Li Jiaqi? The virtual influencer market is massive and will only grow stronger in the next few years.

Some of China's top virtual influencers: Ling Ling (left), Ayayi (center), Liu Yexi (right)
3. Gen Z is crucial to generating buzz (and sales)
Digitally native Gen Z has been one of the key drivers for this year's Singles' Day, particularly around leading online discussions about the event. In fact, Gen Z users were the biggest segment to lead or participate in these discussions, generating most of the buzz around Singles' Day.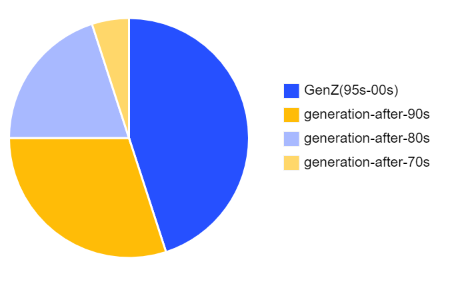 The age distribution of Chinese users talking online about Singles' Day
With a focus on innovation and personalization, Gen Z users tend to be less brand-loyal, making their opinions closer to neutral, and thus more valuable to other consumers. Brands saw that opportunity, with big names like Tencent's popular game Honor of Kings and MAC Cosmetics partnering to offer "Honor of Kings"-themed cosmetic products that sold out within an hour of being available.
Another key thing to note is that Gen Z users tend to focus quite a bit on the user experience – to them, it's not just about the product itself, but also the experience associated with it, so brands need to pay attention to that if they want to reach this massive audience.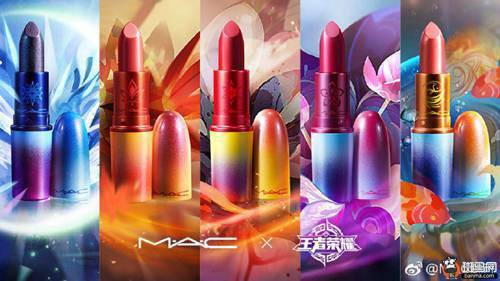 MAC Cosmetics and Tencent's Honor of Kings partnering for Singles' Day
4. Membership services are booming
Platforms will often use discounts, coupon codes, or various other promotional elements to attract more users to their shops during special events. It turns out that the 2021 Singles' Day was no exception, with many platforms looking to leverage their membership benefits to increase sales.
Millions of Chinese users purchase products using discount coupons or codes and this Singles' Day is no different. In fact, Chinese e-commerce platforms make it easier to get these discounts by adding them as extra perks when users sign up for membership packages. For example, 88VIP, Tmall's subscription service, allows users to get discounts on its platform, as well as across other partnered apps & service providers. JD.com also has a popular subscription service called JD Plus which works in a similar way.
So why are membership systems so valuable? For consumers, it's about personalization, convenience, and of course, discounts. For brands, it's about increasing user stickiness, as they are more likely to either come back or make more purchases if they are already part of a membership system.
One thing to note is that it's not all about discounts. User experience has played a massive part in generating sales on Singles' Day. Take skincare brand Valmont, for example. They partnered with Nativex to help with their e-commerce efforts, which resulted in 180 partnerships with key influencers in China, 20% higher search volume on Tmall, and more.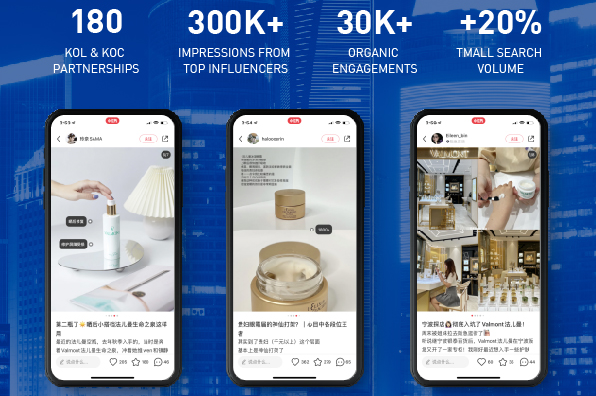 Key results from the Nativex & Valmont partnership on Tmall and RED
Leverage the power of China's top media and influencers with Nativex
Success in China's massive mobile market is not possible without taking advantage of China's biggest media platforms like Douyin, WeChat, Kuaishou, and more. We know how to launch your campaigns in China's top media landscape and we work with over 40,000 Chinese influencers to get your brand in front of China's mobile population. This is why we created XploreChina, an initiative dedicated to helping global brands and advertisers launch and grow in China's mobile ecosystem.
As the only China-based agency equipped to offer acquisition, monetization, and creative services at scale and across multiple verticals, we believe that our revamped XploreChina initiative will help you thanks to our wide range of customized solutions. If you're looking to make your way into China's massive mobile market, get in touch with the Nativex team today.