XMP allows you to streamline ad campaign workflows across platforms including TikTok, Snapchat, Douyin, Facebook, WeChat, and Kwai. UNRIVALED REACH, GLOBAL IMPACT
Automate your creative and campaign management with XMP across the most important channels in today's digital world.

OUR API INTEGRATIONS
China Top Inventory



Global Top Inventory




Programmatic Video Inventory



Mobile Measurement Partners



Mediation Platforms

REVOLUTIONIZE YOUR MEDIA BUYING WORKFLOW
Run campaigns in China with confidence
XMP is the very first tool that allows you to manage Chinese top inventory with ease. Currently supporting all channels of Bytedance, Tencent, and Kwai; Manage your campaigns intuitively and with confidence with XMP's fully localized English interface.
Drive better performance with top creatives
XMP helps you produce creatives that click, and works out the best formula for creative + platform with in-depth analysis. Powered by TopWorks creative studios, develop quality creatives at scale and stand out from the crowd.
Certified marketing partner with leading platforms


CLOUD-BASED CREATIVE MANAGEMENT & OPTIMIZATION
Create & implement high ROI creatives

Upload creatives across channels and accounts quickly & easily.

Identify top-performing creatives with in-depth data analysis.

Categorize creatives with customizable creative tags.

Manage and share creatives with creative folders.

Order high-quality creatives directly from XMP to keep your campaign fresh.
INTELLIGENT AD AUTOMATION
Increase your efficiency by up to 1000%

Batch ad creation: Split by targeting, placement, creative group.

Template-based ad creation.
Batch editing: status, bid or targeting for different ad sets.
Automated naming of campaigns, ad sets & ads.
SMART AI ASSISTANT
Take full control of your ROI with our AI-powered management
Monitor and adjust your campaigns automatically, 24/7, and in real-time based on customizable rules.
MULTIDIMENSIONAL DATA ANALYTICS
Make informed media buy decision with comprehensive data analysis
Analyze data at the level of the app, team, media buyer, media, account, and creative.

View media data and attribution data from Tenjin, Adjust, or AppsFlyer in real-time.
Synchronize real-time data to your BI system with XMP Reporting API.
POWERFUL TEAM COLLABORATION
Improve team and task coordination through centralized account management

Manage your media buy team, design team, and agency team.
Separate data between different teams and users.

Support team collaboration functions such as advertising account assignment, creatives sharing, template sharing, etc.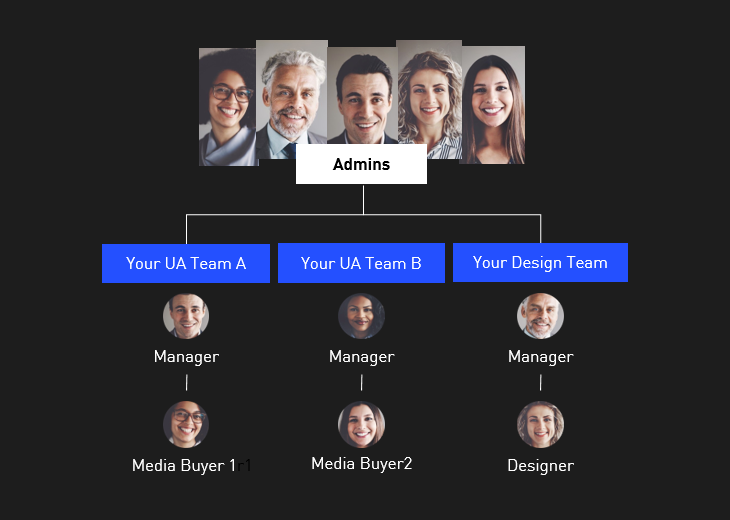 DO MORE WITH XMP.
Bespoke professional services, extra functionality, flexible budgeting.
Ad account and top up solutions for global media channels
Don't have ad accounts on certain Chinese media? Leave that to us! Whichever media you plan to do UA on, we will sort out all the paperwork for you.
Professional, high-quality creatives services
Not enough creatives? XMP offers creative production solutions with competitive pricing.
Managed agency service for global media buying
Nativex's media buying experts are here to help with any media planning and buying strategies.
WANT TO LEARN MORE BEFORE YOU GET STARTED?