1. I want to buy Chinese media, but I don't even have ad accounts for ByteDance, Tencent, or Kuaishou. How do I get started?
The XMP team can help you open new accounts and top them up – this applies to all Chinese top media. To find out how we can help you with this, please contact us via xmp-support@nativex.com.
2. Are there any differences between the XMP campaign management features and the top media's own platforms?
XMP has all the targeting capabilities that the media's campaign management platforms have but offers more powerful features beyond that. For example, you can manage all ad accounts across multiple media. You can create and save customized targeting templates in batch for each ad or ad set. With XMP, a media buyer will be able to manage 50+ ad accounts on average, with the least amount of effort as they can reuse or modify saved templates each time they create a new ad.
3. How does XMP integrate with all the top media? How can I get updates on future integrations?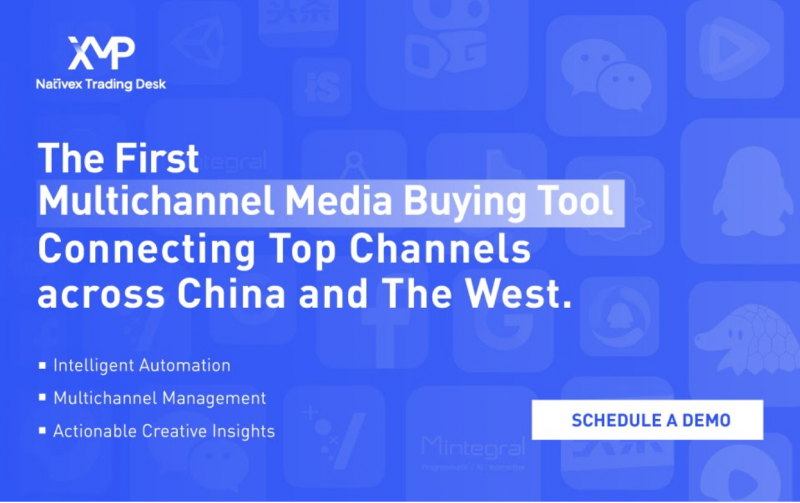 XMP uses APIs to integrate with all key media across China and the West. So far, XMP has campaign management support for TikTok, Snapchat, Tencent, Google, Facebook, ByteDance (including all ByteDance products: Douyin, Toutiao, Huoshan, Douyinhuoshan, Pangle), Kuaishou (Kwai), Twitter, Vungle, Unity, AppLovin, Mintegral, ironSource. Apple Search Ads and other platforms will be available in the near future. Sign up for our newsletter or follow us on LinkedIn, Facebook, or Twitter to be among the first to read about any future XMP product updates.
4. Can XMP improve my media buying performance?
As a performance-focused agency, Nativex has an industry-leading media buying team. We can run diagnostics based on your current performance and provide you with consultancy services and customized optimization solutions.
5. I already use a campaign management tool and I run campaigns on certain Chinese top media which my current tool doesn't support. How is XMP better than other similar tools for western media?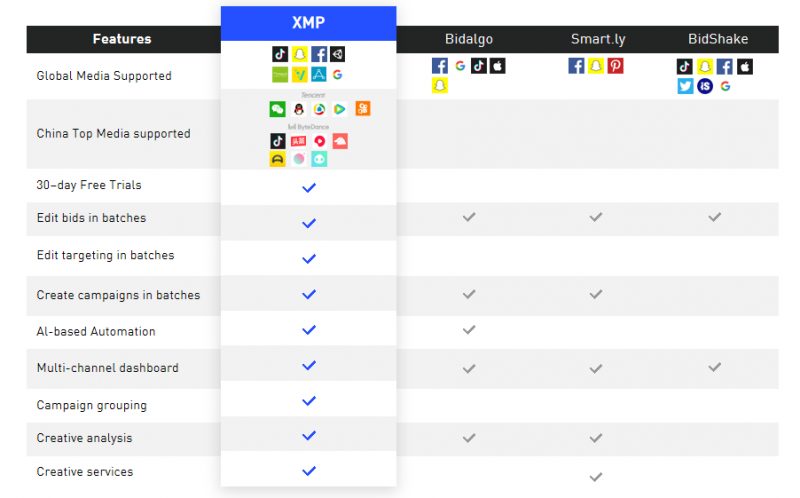 With XMP, you can manage your campaign budgets across both the western and Chinese top media, all from a single platform. XMP is also the industry's first campaign management tool that connects with key social, search, and programmatic media in China, as well as the biggest social, search, and video ad platforms in the west.
6. Can I export campaign data from XMP to my internal BI platform?
We are working on a data integration API and we plan to release it later this year. Once integrated, you will be able to export your campaign data to any platform of your choosing.
7. Does XMP provide support for creatives? If so, how does that work?
You can purchase creatives for your campaigns directly from XMP. TopWorks Creative Studio, Nativex's creative arm, has over 20+ teams across the globe. All of our teams manage over 168 creative studios across 20+ countries around the world. TopWorks is also able to create high-quality video creatives including AR ads, interactive ads, short-video ads featuring real actors and actresses, and TVC. The TopWorks team includes 4A veterans, experienced cinematographers, and seasoned graphic designers. Please contact us if you would like to learn more.