The effects of Covid-19 continue to reverberate around the world, with the global economy facing a host of unprecedented challenges. Governments, industry and consumers have had to navigate their way through a period of immense change, with prolonged lockdowns having a drastic effect on many. 
For many companies, the economic challenge of lockdowns meant a pause in expansion and overseas growth. Pre-pandemic, China was seen as a major opportunity for many overseas companies, thanks to an audience of 1.4 billion tech-savvy consumers. So as companies return to growth and look once more at overseas markets, what is the best way to get your brand in front of Chinese consumers?
The good news is the Chinese economy has rebounded extremely strongly from 2020's Covid lockdown. As the country first to enter into a major economic freeze, China has also been one of the first to emerge. Fuelled by pent-up domestic demand as well as strong demand overseas, China is expected to be the only G20 economy to have seen GDP growth over the past year.
Navigating China's media landscape remains a complex task
China is one of the most digitally literate markets on the planet, with a population far more engaged with mobile commerce and social media than pretty much anywhere else. More than 850 million Chinese consumers spend an average of six hours a day on their phones – that's more than twice the time spent by consumers in the US. And Chinese consumers are keen shoppers too. Online e-commerce destinations like TMall and JD.com compete with brand-specific stores on platforms such as WeChat, whilst social media stars can generate millions of sales from a single livestream. It's no wonder that, according to data from McKinsey, Chinese consumers spend more than $2 trillion on goods and services annually.
However, reaching those consumers remains a complex task, with a significant language barrier and strict domestic regulations just two of the hurdles facing non-Chinese companies. But perhaps the biggest challenge is the dynamic and fragmented media landscape.
A handful of companies still dominate online life in China, with Bytedance, Tencent, Kuaishou being the best known. These companies have created products and channels encompassing everything from gaming to digital payments, launching new features all the time.  
Rather than consolidate these services under a single site or brand, they have splintered into dozens of different mini-apps and channels, each competing around a particular niche. For example, just the short video app category sees Douyin (TikTok in the West) competing with Kuaishou, Xigua Video and Weishi, with all of these offering a combination of livestreaming and e-commerce – one of the hottest trends in China right now.
This is where Nativex's XMP is invaluable to advertisers. It's the only cross-media buying and campaign management platform with direct links to key Chinese media platforms. Currently, XMP supports all media under Bytedance, Tencent, and Kuaishou. This allows advertisers to navigate a Chinese digital media landscape that's simply not designed for non-Chinese speakers; very few if any of the key media platforms have dashboards or interfaces that accommodate non-domestic users.
Related article: Learn about XMP's full capabilities
Success begins with a deep understanding of Chinese media platforms
For overseas brands and publishers, it's always been important to find an effective local partner when addressing the Chinese market. But the dominance of key media platforms and the rapid rise of newcomers such as Kuaishou and Bilbili has, if anything, increased the barriers to entry. 
Without a solution like the one XMP offers, overseas companies instead face the high cost of developing a dedicated in-house team, or the complexity of managing partnerships with Chinese media buying specialists. XMP gives global advertisers the ability to reach Chinese audiences at a fraction of the cost of either alternative approach.
For example, the ubiquity of apps from Bytedance (owner of Douyin and TikTok) and Tencent (creator of the everything-in-one phenomenon that is WeChat) means that some 80% of Chinese consumers can be reached through just these two media giants. Add in Kuaishou, which is hugely popular with users beyond China's tier 1 cities, and you are able to reach almost the entire online population. So it's not an exaggeration to say that working with a platform or company that has access to the right media platforms is the difference between success and failure.

Mobile gaming continues to thrive post Covid-19
China also continues to be a crucial market for mobile games companies with ambitions to be truly global. Although meeting the regulations can be a challenge for smaller publishers, there is a huge opportunity, with the audience for mobile games continuing to grow. 
According to the latest data from Niko Partners, mobile game revenues in China grew by 31% in 2020 – despite the pandemic and China's strict lockdown. This was the fastest rate of annual growth since 2017, generating just shy of $30 billion. 
As well as revenues, the audience for mobile games in China also continues to expand. Chinese consumers have a huge appetite for games, with mobile the biggest category. At the end of 2020 Niko Partners estimated there were 681.7 million mobile gamers in mainland China, which they expect to reach 748 million in 2025.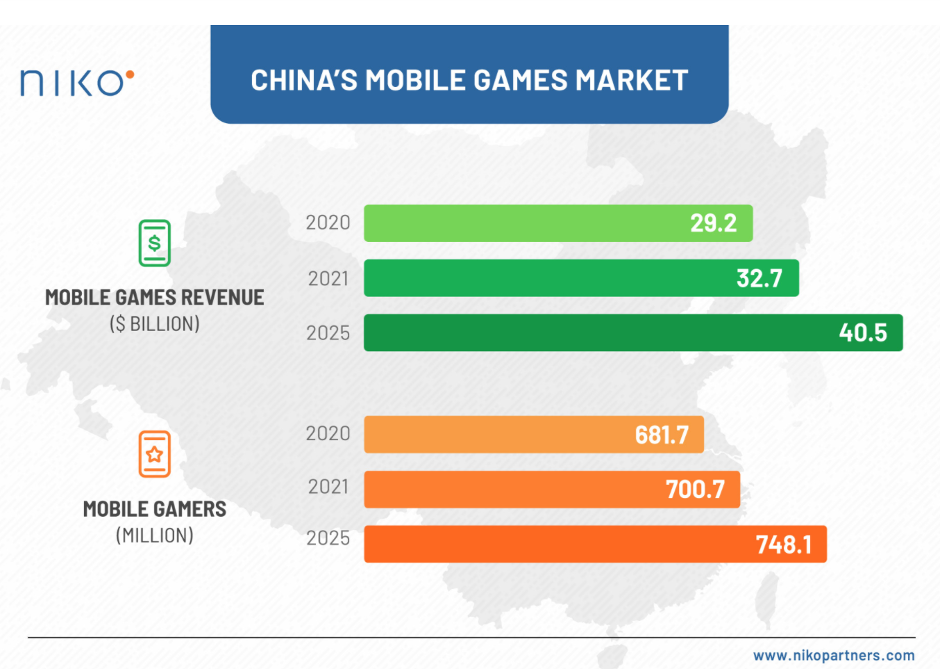 Once again, the diversity of the Chinese media landscape presents both a challenge and an opportunity for mobile game publishers. The potential audience is huge, but competition is fierce, and Chinese gamers have high expectations when it comes to app advertising. There is extensive use of interactive ad formats such as playables and rewarded video which, combined with the expectation that ads should be culturally relevant and ideally capturing the latest online trends, means that local expertise is essential.
With XMP, Nativex can offer the best of both worlds; the ability to control your UA campaigns in-house, whilst having local experts on-call.
XMP is designed to simplify every part of your advertising campaign in China
One of the things that makes XMP so unique is its fully localized English interface. This makes it simple to manage multiple campaigns across key Chinese media platforms without needing to deal with the language barrier of going direct. Even major media platforms like ByteDance or Tencent only offer media buying tools in Chinese, designed for local agencies rather than international brands. This presents a significant barrier to any company not based in China or with access to native Chinese speakers. XMP does away with all this, opening up the Chinese market to a global audience.
XMP makes managing multiple top Chinese media platforms into a fast and simple process
This localisation also extends to ad creatives,  Thanks to its built-in tools, ad creatives can be analysed using data from billions of previous ad impressions, with actionable insights on how to improve engagement.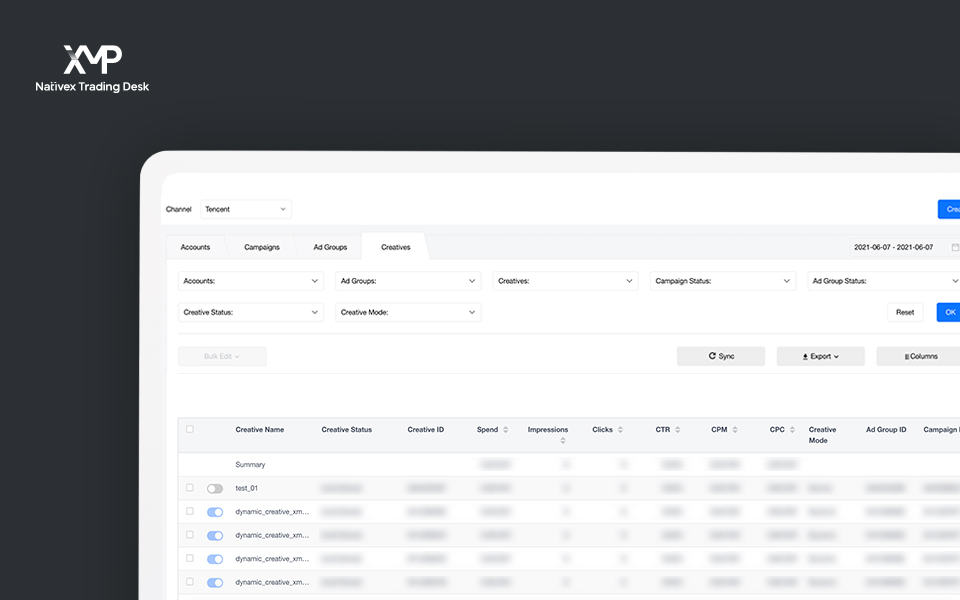 The opportunity for success in China remains as big as ever
Whilst the impact of Covid-19 has been a drag on much of the world's economy, China has emerged quickly and with its growth intact; if anything, consumer demand has increased. This means that the opportunity for Western brands and publishers is as big as it has ever been, but the challenge of navigating a market as diverse and as fast-moving as China continues to be a significant one.
The whole approach behind XMP was to create a single platform combining all the essential elements that advertisers need to build and run successful campaigns in China. Behind its simple, unified dashboard are AI-powered creative and campaign management tools,
data-driven campaign optimization and automated, scalable workflows. Taken together, XMP offers companies looking to capture the interest of Chinese consumers a host of cutting-edge solutions that generate measurable ROI.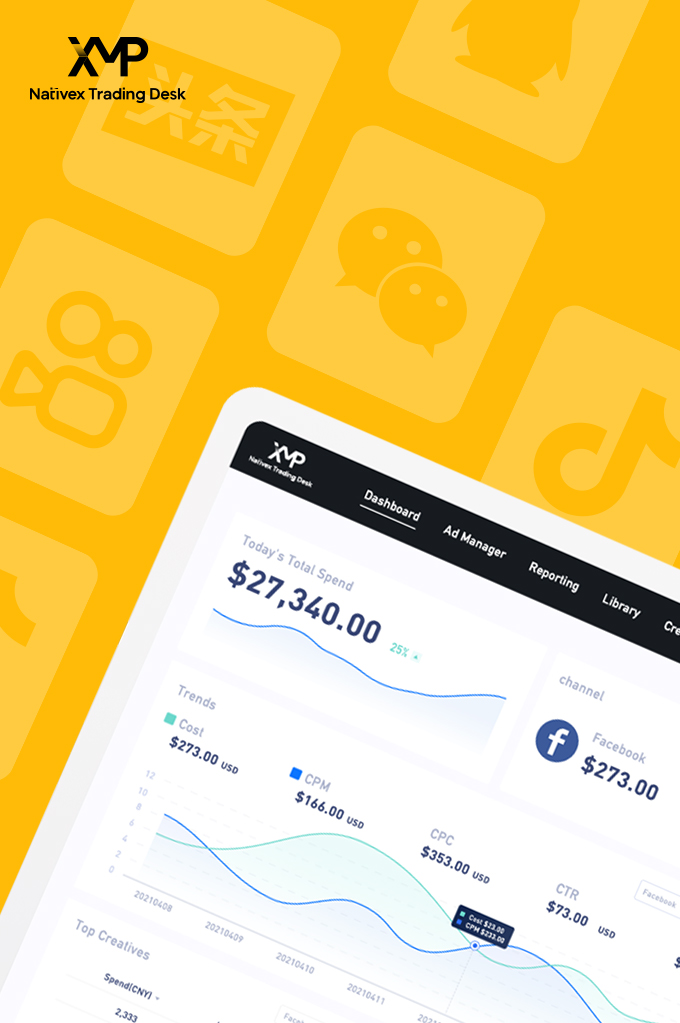 The industry-first campaign management tool that integrates the most important channels across the Eastern and Western markets. Nativex is currently offering a 30-day free trial of XMP. Sign up now for a free trial! 
1
GET MY FREE TRIAL
⟶